Things of interest
1) Incredible footage of a tsetse fly giving birth thanks to the perseverance and photographic skill of colleague Geoffrey Attardo at Yale University. 
2) "The Winged Death" by the infamous cosmic horror fiction writer,  H. P. Lovecraft. 
3) Take care of your micro biome! 
4) Entertaining and enlightening blog by the journal Parasites and Vectors called Bugbitten: 
Research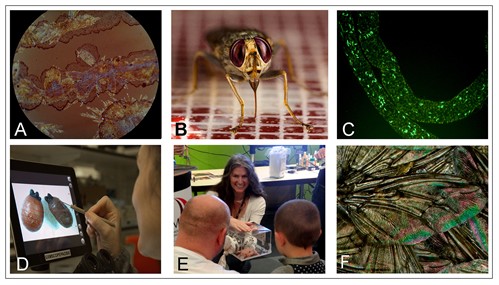 A. Plated bacterial symbionts
B. Tsetse fly feeding through a silicone membrane (photo credit: Ray Wilson) 
C. Trypanosomes expressing green fluorescent protein within an excised tsetse salivary gland (photo credit: Urvashi Ramphul)
D. Lesson on the physiology of tsetse pupae  (photo credit: Lauren Knerual)
E. National Insect Week 2014 at the World Museum (photo credit: Deirdre Walshe)
F. Seeking Art within Science
Memberships
British Society of Parasitology

Royal Entomological Society

American Society for Biochemistry and Molecular Biology

British Society for Protist Biology

Infectious Disease Research Network

National Trust
Public Engagement
13 September 2019    LSTM Blog: Have you ever experienced only one side of your body being bitten by blood-thirsty insects?
23th March 2018       Radio Merseyside "SciFri" . You can listen to the podcast here.
15 March 2018          Microbes to Mosquitoes workshop at Centre 63 
15 September 2017  Radio Merseyside "SciFri" . You can listen to the podcast here.
26 November 2016.  Artist Teachers Association SciArt Intervention project 
12 February 2016     Zika virus symposium: Facts, research questions and knowledge gaps
21 April 2016            Zika virus: Separating Fact from Fiction at Kirkby SciBar
6 September 2016   "Zika fever: truths and half-truths" at Knutsford SciBar
23 Jun 2016             Zika virus: Separating Fact from Fiction at Wilmslow SciBar