The COUNTDOWN consortium was formed in 2014 to conduct 'Implementation Research to Inform the Effective and Sustainable Scaling-up of Integrated Neglected Tropical Disease Control Initiatives.   It is funded by The Research and Evidence Division (RED) of The Department for International Development (DFID).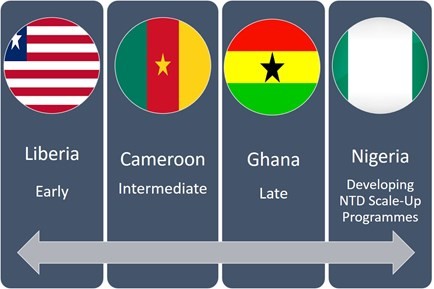 A multidisciplinary project in nature, the COUNTDOWN team is made up of health economists, social scientists, parasitologists and entomologists. To generate evidence-based knowledge responding to the realities of increasing the reach of NTD treatment, Neglected Tropical Disease (NTD) researchers, policy makers, practitioners and implementation Research (IR) specialists, from Ghana, Cameroon. Liberia, Nigeria, the UK and the USA. 
Research is conducted research in four African countries, with each country reflecting a different level of health expenditure, diversity in disease ecologies & NTD skills, differing stages of programme implementation and experience.
Liberia - Early stages
Cameroon - Intermediate stages
Ghana - Late stages  
Nigeria – Scale-up of programme
By focusing our research on different contexts, including complex ones where there is conflict and/or unstable social and environmental conditions, the COUNTDOWN programme seeks to generate transferable knowledge that can help improve NTD programmes in other countries. 
In the latter stages of our programme, our findings will be used to help develop a scale-up NTD programme in Nigeria, where there is a high prevalence of NTDs.