MSc Biology and Control of Parasites and Disease Vectors,  2017/18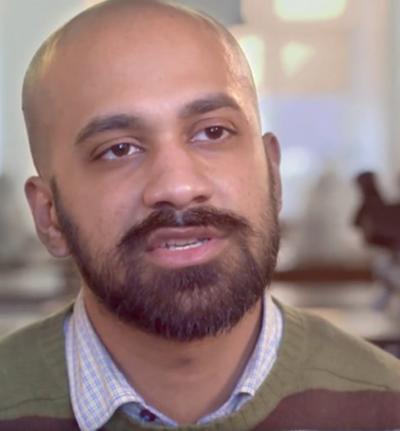 Can you tell us a bit about what led you to study vector biology?
Sure. I studied medical entomology for my Master's degree at home in Pakistan, and after graduation took a 5-month job in dengue fever control during the epidemic season. It was there I got to learn about public health and how communities are facing big problems with very limited resources.When you see people's emotions, people suffering, first-hand experience, it really affects you. I realised then that this is what I really want to do, something to help the community. 
Why did you leave Pakistan and come to LSTM?
When I looked at published research I realised that I had a big knowledge gap, a hole in my understanding that I needed to fill, so a Master's seemed the right option. However, I live in a country where there are very few people who are working in medical entomology and vector biology.There wasn't much focus on education or research and limited resources. I found LSTM online and thought,"This is Harvard or Princeton for me! I should go there!" Then I got a scholarship and thought,"This is it – Liverpool is final!" 
What did you get from your course?
I learnt so much. When I came here all I was thinking about was mosquitoes, but LSTM does a lot of different vector biology research which is good in terms of capacity building. I looked at sandflies but my classmates did snakebites, tsetse, black flies – you can choose. The course has given me knowledge on all sorts of aspects of vector biology – entomology, parasitology, everything, and most things were really new to me. For example, I'd never done lab work before I came to LSTM and wasn't looking forward to it, but I really liked it. 
Also, everybody in LSTM, from professors to students, collaborate to provide you with knowledge.The people are from all over the world and they have experiences from all over. Many are working in different sectors of global health and so we talk, sharing ideas and knowledge. You learn a lot. 
Is studying in the UK very different to studying in Pakistan?
Definitely. People always said to me,"Studying in Pakistan your whole life is something very different to studying in the UK."I used to think it was just their opinion about things but now I know it's not – it's true. It was a different experience living here. 
Has it changed you?
It has definitely changed me - this one year has changed me a lot! I'm not the person I was when I arrived in Liverpool last September. I think it has made me more... I can't explain it! People say to me "You're not the person you were before" and I agree. 
What is the next step for you?
I'm looking to do a PhD, possibly on sand flies, and then get into research. My Master's dissertation was on molecular markers of resistance in sandflies [the spreaders of the disease leishmania] – it's a big issue in India. Many people are doing research with mosquitoes but sandflies are hardly looked at, especially in Pakistan. There's a lot of research that should be done. The other possibility is snakebites. India is progressing but Pakistan... I have no idea what they are doing. It needs more research! 
How has your scholarship impacted on you?
It allowed me to come here and that's the most important thing.When I first looked at the costs of fees and housing I thought,"that's too much for me", but the scholarship helped me come here and I am very grateful. My recommendations for LSTM are high!