MSc Tropical Paediatrics, 2017/18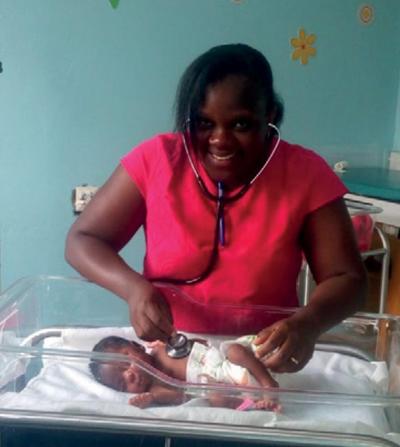 Can you tell us a little about your life before you came to LSTM?
Yes, I'd been working as a Medical Officer in the newborn unit in Pumwani Maternity Hospital, which is located in Nairobi. It's the largest maternity hospital in the country with the largest newborn unit. I had worked there for three years but I've had a passion for paediatrics for much longer. 
It must have been a big step leaving your job and home.
Why did you come to LSTM?
I have a real interest in working with children, especially newborns, and when I saw this course I saw the chance to develop more skills and knowledge in evidence-based paediatric practice. I'd been a clinician all the way through my career and wanted to spend some time in research, especially in the area of maternal and child health. I had a strong interest in research – at the Pumwani newborn unit I was conducting the monthly neonatal mortality audit and my undergraduate thesis had been published – so I applied to study in Liverpool. And yes, it was a big step. I had to leave my two sons and husband in Nairobi for the year. It wasn't easy, but it was worth the sacrifice. 
Tell us about your experience in Liverpool. What did you get from your course?
I loved the experience. I learnt so much. Before, when managing a patient, I was really clinical in my approach, but the focus on evidence-based medicine has encouraged me to think about what we can do better. What evidence can we gather to support a specific cause? I've also developed my research skills, from knowing nothing to having a dissertation that people are amazed at! 
Also, my class was very diverse, with people of different cultures, skills and knowledge. I learnt so much from them and have come to know that the problems we have in health care in Kenya are not peculiar or unique – we share a lot with other developing countries and can learn from and work with them. The course has really widened my perspective, and I feel that I'm ready to venture into maternal and child health research.
Have your experiences impacted on your community?
That has definitely happened, yes. As part of my scholarship year I learnt about quality improvements in global child health, and now understand that there's a lot we can do to make things run better with the few resources we already have. I've actually been appointed to the training and research committee at the hospital and pick up quality-improvement projects, so I can improve service delivery while I'm passing on my knowledge and skills to others. 
Also, colleagues have done some data collection and analysis but did not know how to write up their findings. I have been through that as part of my master's degree so have been able to support them.They were actually looking forward to my coming back so I could help them develop their own proposals and papers.
And personally, how has the experience affected you?
It has really changed me. It's made me a better clinician. Being at LSTM has really opened my eyes to how much I can contribute to child health care, especially in the area of research. My confidence is better and my networks are much wider. 
Finally, how important was the scholarship to you?
Without it I wouldn't have done my masters at all. It was an amazing opportunity for me and I am really grateful. It would be great if more of such opportunities could be opened up for more people who have the passion and determination to improve clinical practice through research.