Professor in Medical Entomology
Hilary obtained a BSc in Biology from the University of York (1991), an MSc in Medical Parasitology from the London School of Hygiene and Tropical Medicine (1992), and a PhD in Molecular Entomology from Cardiff University (1996).  A Wellcome Trust International Travelling Fellowship took Hilary to the University of Notre Dame, USA for two years.  This was followed by a Royal Society Dorothy Hodgkin Fellowship, held at Cardiff University and subsequently transferred to the Liverpool School of Tropical Medicine in 2001. Hilary spent a brief period at Imperial College London from 2005 to 2006 and then returned to the Vector Group at LSTM in 2007. 
Hilary has been Head of the Department of Vector Biology since 2010 and was awarded a Royal Society Wolfson Research Merit Award in 2013.
Teaching
Hilary participates in the teaching of the Masters programmes in Biology and Control of Parasites and Disease Vectors and Molecular Biology of Parasites and Disease Vectors, and the Diploma in Tropical Medicine and Hygiene at LSTM and acts as an occasional guest lecturer at London School of Hygiene and Tropical Medicine.
Research
Hilary's research activities encompass various aspects related to the control of mosquito vectors of human disease.  She has a particular interest in the causes and consequences of insecticide resistance and her group has been using a variety of molecular approaches to study the mechanisms of insecticide resistance in Anopheles and Aedes mosquitoes. 
Hilary is the coordinator of a European Union FP7 collaborative project, AvecNet, involving 16 partner institutes in Africa and Europe.  This project is  developing and evaluating new tools for malaria vector control, focusing on strategies that will help combat insecticide resistance. 
 Liverpool Insect Testing Establishment (LITE)
Hilary established the Liverpool Insect Testing Establishment (LITE), in 2011 in response to a call from IVCC for a facility to screen new insecticide products produced by commercial partners against insecticide resistant populations of mosquitoes.  The unit, managed by Mrs Helen Williams now employs 9 staff.  It maintains a range of insecticide susceptible and resistant colonies of mosquitoes, many unique to LSTM, and offers a number of alternative protocols for insecticide efficacy testing.  For further information, please see the website (http://www.lite-testing-facility.com)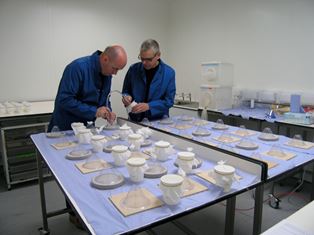 Current PhD Students
Mr Azael Che Mendoza:  (co-supervised by P McCall) Impact of insecticide resistance on the use of insecticide treated materials for dengue control.
Ms Angela Hughes, (Part time) The lifelong effects of insecticide exposure and how to measure them.
Ms Kemi Tesfazghi 

(co-supervised by E Worrall and J Hill) Maximising the translation potential of new malaria control tools through application of health economics and policy analysis

Mr Nelson Grisales:  Evaluation of the impact of a combination bednet on a pyrethroid resistant population of malaria vectors in Burkina Faso.
Mr William Garrood (Based at Rothamsted Research, local supervisors Chris Bass and Emyr Davies) 

:  

Investigating the breakdown of chemical control in brown planthoppers from Asia

 

Jessica Thompson (Part Time): Preparing for field release of new insecticides

Dave Malone (Part Time): Evaluation of space spraying for mosquito control.
Postdocs and Programme Managers 
Mrs Helen Williams: Manager of LITE
Dr Eve Worrall:  Programme Manager AvecNet
Dr Vicky Ingham:  Postdoc studying mechanisms of pyrethroid resistance in Anopheles gambiae
Dr Rosemary Lees:  Postdoc with LITE
Technicians
Ms Angela Hughes:  Lab Manager Vector Department
Ms Joanna Solino:  Insectary Technician
Current grants
Wellcome Trust Collaborative Award:  Malaria in Insecticide Resistant Africa (PI)
European Commission, AvecNet:  New tools for malaria vector control  (PI)

Innovative Vector Control Consortium, Liverpool Insecticide Testing Establishment. (PI)

Royal Society Wolfson Research Merit Award

NIHR , HPRU on Zoonotic and Emerging Infections (Deputy Director)
Other relevant expertise, professional memberships etc.
Member External Scientific Advisory Panel IVCC
Member of the Editorial Board of Insect Molecular Biology and Medical and Veterinary Entomology
Member of Against Malaria Foundation Scientific Advisory Board
Member of UK Advisory Committee on Malaria Prophylaxis
Fellow of Royal Entomological Society
Member of British Society of Parasitology