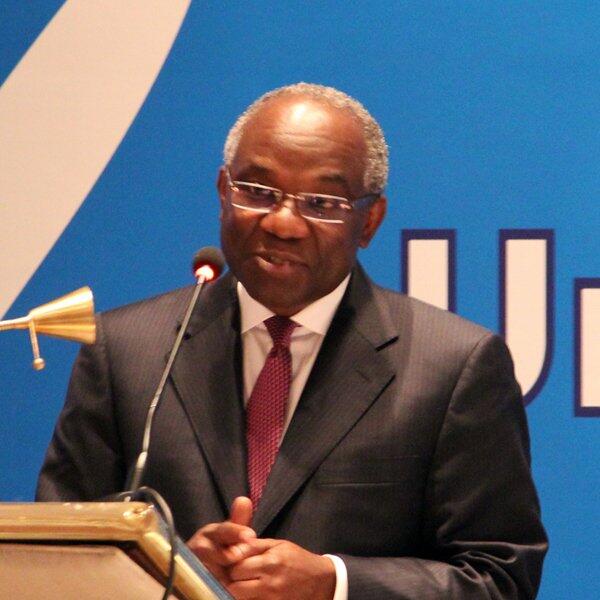 Dr. Anarfi Asamoa-Baah an alumnus of LSTM (MSc Community Health, 1989), and a respected global health leader with an impressive employment track record, who eventually became the Deputy Director-General of the World Health Organization.
Prior to WHO, Dr Asamoa-Baah was Director of Medical Services in the Ministry of Health, Ghana. He has considerable experience in health sector development, reform and planning. He initially trained as a doctor with special interest in paediatrics. Whilst working as a doctor in charge of a small 150 bed mission hospital in rural Ghana, he developed an interest in public health and working with poor communities. He became a District Medical Officer and within two years was appointed as Deputy Director of Health Services in charge of Communicable Disease in the most populated region/province of Ghana.
In the late 1980s, Dr Asamoa-Baah left Ghana for further studies in Britain and the USA where he obtained postgraduate qualifications in community health, health planning, health economics and health policy analysis. 
After graduating from LSTM, he spent a short stint as lecturer at the Liverpool School of Tropical Medicine, then returning to Ghana in 1990 to head the Policy, Planning, Monitoring and Evaluation Division of the Ministry of Health.
In 1997 he was appointed as Director of Medical Services, Ghana, which at that time was the highest technical position in the Ministry of Health.
Dr. Asamoa-Baah left Ghana in 1998 to join WHO as Senior Policy Advisor to the Director-General. Since then he has held the following positions at WHO:
• Assistant Director-General for External Relations and Governing Bodies.
• Assistant Director-General for Health Technology and Pharmaceuticals.
• Assistant Director-General of Communicable Diseases.
• Assistant Director-General of the HIV/AIDS, Tuberculosis and Malaria programme.
• Deputy Director-General (second in command) of the World Health Organization.
In 2020, President Akufo-Addo of Ghana appointed Dr Asamoa-Baah as the Presidential Coordinator for the Government's Coronavirus Response Programme, where he is responsible for pulling together and co-ordinating all aspects of the response programme by Government.