Stillbirth prevention in Sub-Saharan Africa
Working to reduce stillbirth and improve care for mothers and babies.

The NIHR Global Health Research Group on Stillbirth Prevention and Management in Sub-Saharan Africa is a research collaboration between the Centre for Childbirth, Women's and Newborn Health (CWNH) led by Prof Dame Tina Lavender, at LSTM and the Lugina Africa Midwives Research Network (LAMRN), a midwifery led research network operating in Kenya, Malawi, Tanzania, Uganda, Zambia, and Zimbabwe.
After successfully completing a three-year programme at the University of Manchester, the NIHR Group has now moved to LSTM. In this new setting, the team aims to complete exploratory work and feasibility studies in different research areas: antenatal care; respectful care, co-morbidities (obstetric fistula and stillbirth) and bereavement care and support following stillbirth / early neonatal death. The team will use the findings from these studies to inform and evaluate sustainable interventions to prevent maternal and newborn morbidity and mortality.

An introduction to the programme
The Group is a unique midwife-led research partnership between Liverpool School of Tropical Medicine (University of Manchester until 2020) and the Lugina Africa Midwives Research Network (LAMRN). Its aims were to address a critical lack of research around stillbirth and identify best practice and support for families who endure a stillbirth in Kenya, Malawi, Uganda, Tanzania, Zambia and Zimbabwe.
Stillbirth and early newborn deaths and their impact on women and their families
Recent estimates have shown that every year about 2 million babies are stillborn (UN IGME Report, 2020); and 2.4 million children died in the first month of life (WHO, 2020). The vast majority occur in Low- and Middle-Income countries and could be prevented. 
Stillbirth is one of the most traumatic life experiences for parents and often results in psychological distress and long-term consequences for bereaved families. Stillbirth is often a hidden trauma in Africa, seldom discussed and highly stigmatised. This results in isolation and limited support from the healthcare system and the community.  In the event of any death during pregnancy, labour or following birth, it is essential that the affected women and families can access appropriate care and support.
Causes of stillbirth and neonatal deaths
Stillbirths are caused by complications during childbirth, post-term pregnancy, maternal infections during pregnancy (malaria, syphilis, and HIV), hypertension, obesity, and diabetes, fetal growth restriction, placenta disorder and congenital abnormalities. Neonatal deaths are caused by infections, including sepsis / pneumonia, tetanus and diarrhoea, intrapartum-related complications (birth asphyxia and lack of breathing at birth) pre-term birth, and birth defects.
What we do
We collaborate with LAMRN to promote knowledge sharing and capacity building in stillbirth prevention and management in Sub-Saharan Africa. Our partner countries are amongst the high burden settings for stillbirth and neonatal death rates:
Country

                     SBR

                Stillbirths (N.)

                NMR

Neonatal deaths (N.)

Kenya

19.7

30,030

21.0

31,343

Malawi

16.3

10,440

19.8

12,469

Tanzania

18.8

40,480

20.1

42,814

Uganda

17.8

29,928

19.9

32,914

Zambia

14.8

9,597

23.3

14,902

Zimbabwe

16.0

7,113

25.9

11,283

Sub-Saharan Africa

21.7

825,000

27.5

1,059,092

Europe

3.2

25,000

2.6

20,223

Stillbirth rate (SBR) per 1000 total birth (Source: UNICEF, 2020)

Neonatal mortality rate (NMR) per 1000 live birth (Source: UNICEF, 2019)
Our aims are:
to gain a better understanding of stillbirth, childbirth, and bereavement care in high burden settings.
to develop culturally relevant studies for further investigation in this unexplored area of stillbirth.
to establish ourselves in the global healthcare arena as a catalyst for change.
Together we are committed to ending preventable stillbirth and ensuring quality care for parents experiencing the death of their babies before, during or soon after birth.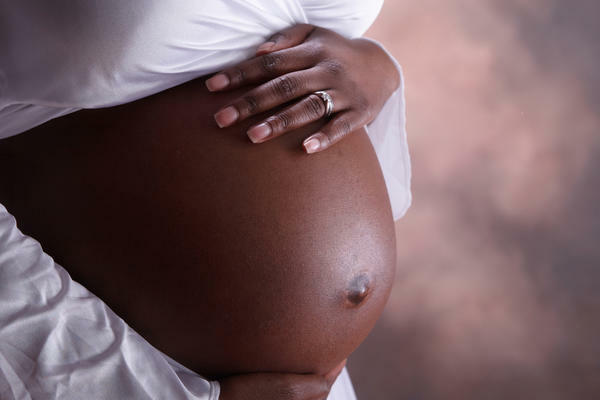 We work towards this by addressing three areas of care:
Prevention and Detection of Stillbirth: identification of women with high risk pregnancies, so that potential stillbirths can be detected at an earlier stage and preventative measures put in place. 
Promoting Evidence-Based Intrapartum Care: examining factors which influence how women seek and access care, the quality of the care received, and specific factors associated with stillbirth in local healthcare facilities.
Ensuring Respectful Care for bereaved parents: gaining a better understanding of the experiences of women, partners, and health workers after stillbirth, so that respectful care can be delivered more effectively.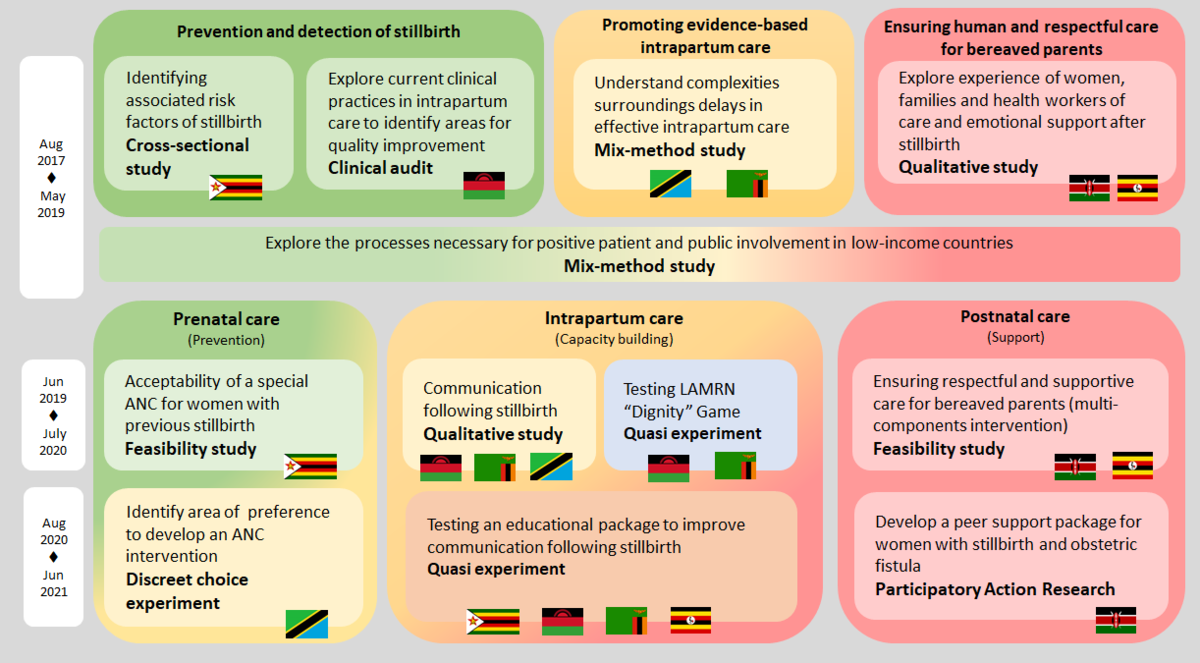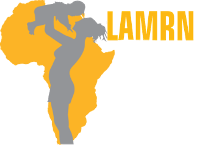 Key collaborator with the NIHR group, LAMRN is a network dedicated to improving maternal health outcomes in Africa through increasing evidence-based practice in midwifery.
LAMRN aims to support midwifery research, information sharing, networking and training activities in six countries in the region namely, Kenya, Malawi, Zambia, Uganda, Zimbabwe and Tanzania. Working across the six countries, LAMRN brings together a large network of dedicated midwifery researchers, teachers and practitioners.
News, events and blogs from the team
Contact us