Culture and study of COVID-19 virus
Researchers at LSTM are in the unique position to have the capacity to work with infectious SARS-CoV-2 (the cause of COVID-19) and complete assays to quantify infectious virus. There are very few laboratories in the UK which have this capacity and, consequently, LSTM has partnered with other research institutions to provide these skills and capabilities.
AGILE
The AGILE clinical trial platform is a new type of study designed for pandemic drug testing which represents a world-first for infectious diseases – capable of testing multiple potential treatments in parallel and speeding up testing by pooling control data across patient groups.
The AGILE clinical trial platform has been launched specifically to test new COVID-19 treatments, faster than ever before. It bridges the gap between non-human trials and large-scale testing, so potential new treatments can go through the important testing stages in a matter of months rather than years, while maintaining a high level of safety at all times.
This provides the potential for one or more suitable treatment options to become broadly available for patients with COVID-19 much sooner, and ultimately, allowing us to restart society.
The MHRA (Medicines and Healthcare products Regulatory Agency) has fully evaluated this platform and given its approval. The UK regulatory body has adapted rapidly to the altered circumstances in the pandemic to help efforts against coronavirus.
Establishment of a COVID-19 preclinical pipeline for therapeutics
The Centre for Drugs and Diagnostics therapeutics team, have been working with a cross-campus (University of Liverpool) consortium of some 40 scientists to establish a COVID-19 preclinical pipeline to identify, prioritise and validate preclinical candidates for therapeutics suitable for clinical Phase I and Phase II studies. 
The glycobiology of COVID-19
Dr Aitor Casas-Sanchez was awarded the Director's Catalyst Fund to investigate the sugars present on viral surface proteins as potential targets for therapy to treat severe acute respiratory syndrome coronavirus-2 (SARS-CoV-2), the causative agent of the current COVID-19 pandemic. This work is being done in collaboration with Dr Grant Hughes, Dr Alvaro Acosta Serrano and Dr Ian Patterson.
Dr Casas-Sanchez studies the role of the sugar units, called N-glycans, attached to viral surface proteins. These viral surface proteins are known to control viral entry into host cells, a crucial step in viral replication in the host, and their sugars have an important role in modulating the host immune response, and the efficacy of drugs and vaccines. Dr Casas-Sanchez aims to explore whether the attached sugar units can be a potential target for new and more effective treatments against COVID-19, vital in order to quickly control the current pandemic.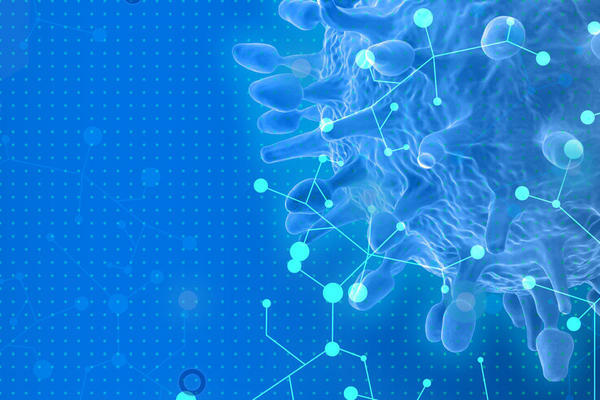 Therapeutic antibodies for COVID-19
Immunoglobulins, also called antibodies, are an important arm of the immune response helping to both eliminate pathogens and stop them causing disease.
While showing recent clinical promise there are considerable hurdles arising from the use of human plasma donors to treat COVID-19, in addition human plasma is costly and the requirements to screen for pathogens and the identification of donors with high neutralising anti-SARS-CoV-2 titres is time consuming.
LSTM's Professor Richard Pleass and team are currently exploring the role of utilising larger domesticated animals to generate therapeutic antibodies to target COVID-19.
While human convalescent sera may not be readily available in outbreak situations, already licenced antisera of animal origin containing high titres of neutralising antibody can be produced in 2-4 months. The availability of animal antisera may be of benefit to those LIC and LMIC countries.
His laboratory, together with Dr Alvaro Acosta-Serrano's, is investigating the repurposing of glycosylated Fc-fragments and/or viruses developed at LSTM for the control of COVID-19 mediated ARDS and cytokine storms. Together with colleagues at the University of Oxford they are also improving the efficacy of therapeutic monoclonal antibodies (mAbs) for COVID-19 and other emerging viral infections.
MALCOV - Malaria as a Risk Factor for COVID-19
A joint study by LSTM; the London School of Hygiene and Tropical Medicine; National Center for Research and Training for Malaria (CNRFP, Burkina Faso) and the Kenya Medical Research Institute (KEMRI) is assessing whether malaria infection affects the clinical course of COVID-19. Funded by the Bill and Melinda Gates Foundation, this 18-month clinical study, which started in November 2020 in multiple sites in Kenya and Burkina-Faso, will determine whether malaria or the type of antimalarial drugs affects COVID-19 disease progression.