COVID-19 Research pipeline – Diagnostics
The COVID diagnostics programme at CDD is enrolling patients suspected of COVID-19 for diagnostic evaluation and Dr Emily Adams's team has become the UK evaluation site for FIND, a programme which runs multiple rapid diagnostics for antigen detection, to rapidly identify active infection.
The programme works in partnership with industry that has developed a new rapid test to detect the presence of Coronavirus (COVID-19). Currently, the NHS uses the best test available to detect the
virus using a nasal swab. The current test can take up to 4 days before the results are available which
can lead to an extended amount of time in quarantine or a prolonged amount of time grouped with
other patients that are suspected to have Coronavirus increasing the potential for hospital transmission.
The new tests need to be validated against the current best practice. The programme needs to use the tests with real samples to check if they are as accurate as the current test. If successful, this study may change practice and policy allowing for early detection and appropriate isolation of patients.
Evaluation of rapid diagnostic tests for active infection
LSTM is working with FIND, a global non-profit organization driving innovation in the development and delivery of diagnostics to combat major diseases affecting the world's poorest populations, and other industrial partners to assess the sensitivity and specificity of new point-of-care antigen tests. The CDD team are working in a multi-centre study with FIND, Germany and Brazil to assess multiple tests, and data is presented by FIND to the World Health Organization (WHO) to make decisions on large-scale procurement.
These tests have the power to accurately identify active infection in minutes at the bedside of the patient. CDD is now investigating ways to implement these findings in the UK and further afield working with the MALCOV team for rapid screening of infection in Burkina Faso and Kenya.
The CDD team are working with multiple industrial partners, most notably Mologic, funded by Wellcome and DFID (now FCDO), to improve antigen tests by rapid analytical sensitivity and specificity testing to improve prototypes, and rapidly use clinical samples for clinical evaluation. 
Evaluation of rapid diagnostic tests for SARS-CoV-2 antibodies
The CDD team are validating several rapid tests to detect SARS-COV-2 antibodies in a finger prick or venous blood sample. 
These simple to use tests produce results in 10-15 minutes and can be run from home as well as at the point-of-care. Evaluations are being conducted both within LSTM and on behalf of the Foundation of Innovative New Diagnostics, a not-for-profit specialising in infectious disease diagnostics. LSTM is the only site selected from the UK. Samples collected through the FASTER and with LCL (Liverpool Clinical Laboratories), and a panel of pre-pandemic COVID-19 negative samples are being used to assess test sensitivity and specificity.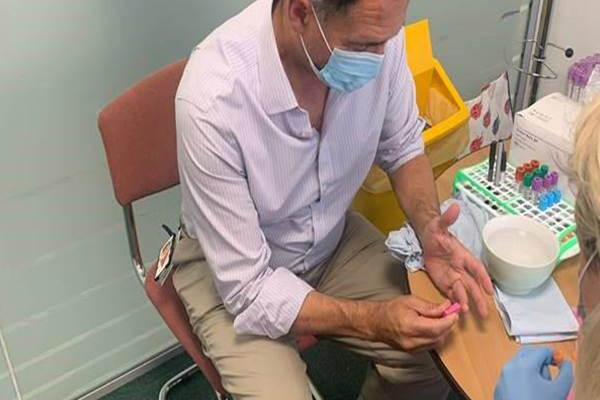 Investigating how effective antibodies are at inactivating SARS-CoV-2 virus
A positive antibody test for SARS-CoV-2 does not necessarily equate to immunity. Standards antibody tests may detect antibodies in the blood that are raised in response to SARS-CoV-2 but are not able to inhibit its replication, and therefore are not protective against future infection. 
LSTM researchers are using neutralisation assays to detect antibodies that can prevent the replication of SARS-CoV-2. This virus is added to serum samples from patients who have recovered from COVID-19, allowing us to see how effective their antibodies are at neutralising the virus. This approach is being used in combination with a range of other rapid and ELISA-based antibody tests, to assess how well they correlate to a neutralising response, so it can be said with certainty if an antibody positive result will be indicative of protection from further infection, and for how long.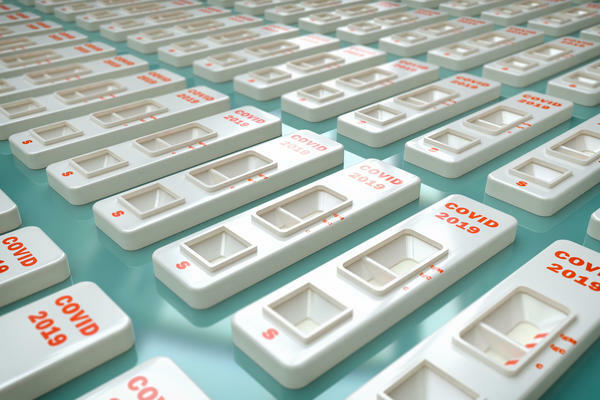 COVID-LIV virology study
LSTM's Dr Emily Adams and her team are involved in the COVID-LIV Virology study, alongside colleagues at the University of Liverpool, to assess the impact of SARS-CoV-2 transmission on Liverpool households.
Each member of a household, including children, over a 12-week period, will have regular samples taken from their nose and throat to look for evidence of COVID-19 infection. A blood sample is requested at the beginning and end of the study to look for any changes in the immune response at the start and end of the study.
The team hope to understand the incidence and rate of spread of SARS-CoV-2 in households, what factors control or exacerbate the spread within a household, and the contribution of mild or asymptomatic infections on transmission. In addition, the team will explore the role the immune system plays in disease severity.