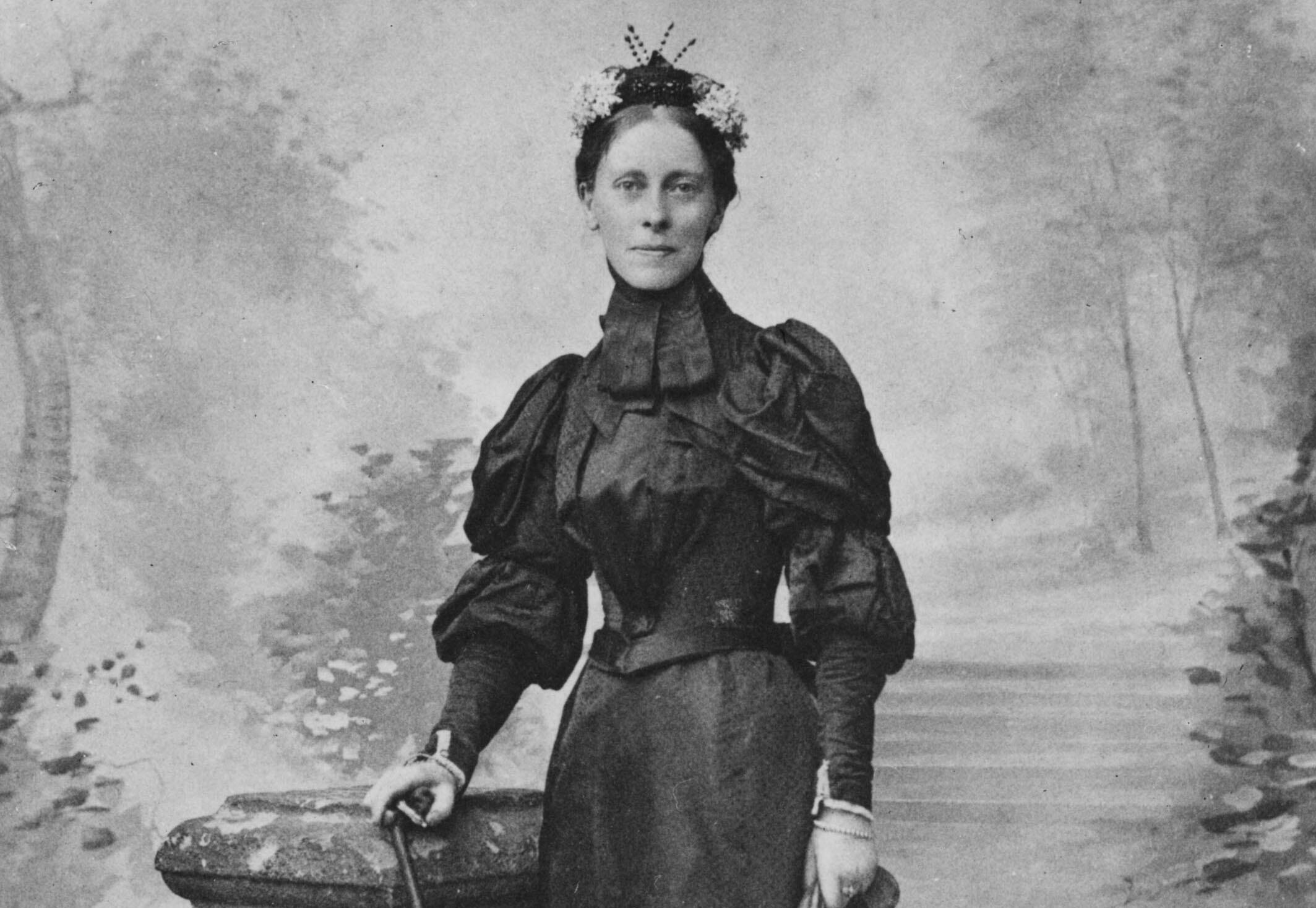 The medal is named after Mary Kingsley, a self-educated writer and traveller. Kingsley set sail from Liverpool for West Africa on a boat of the Elder Dempster Line of shipping magnate Sir Alfred Jones whose annual £350 donation was instrumental in founding LSTM.
Her resulting book 'Travels in West Africa', published in 1897, became an instant bestseller.
Through her experiences she acquired a detailed knowledge of African society and politics and was regarded as an expert in government circles.
She was a personal friend of LSTM founders Sir Alfred Lewis Jones and John Holt, with the latter acknowledging her role in 'getting us to think on the right lines and to work for the good of the African peoples.' Kingsley demanded a wider understanding of African social and legal systems and how they should be reflected in colonial commerce. It lead to the formation of the Fair Commerce Party, The Congo Reform Association and the African Society. It would be the ethos of equity, particularly in relation to improving health, that would continue to drive the work of LSTM.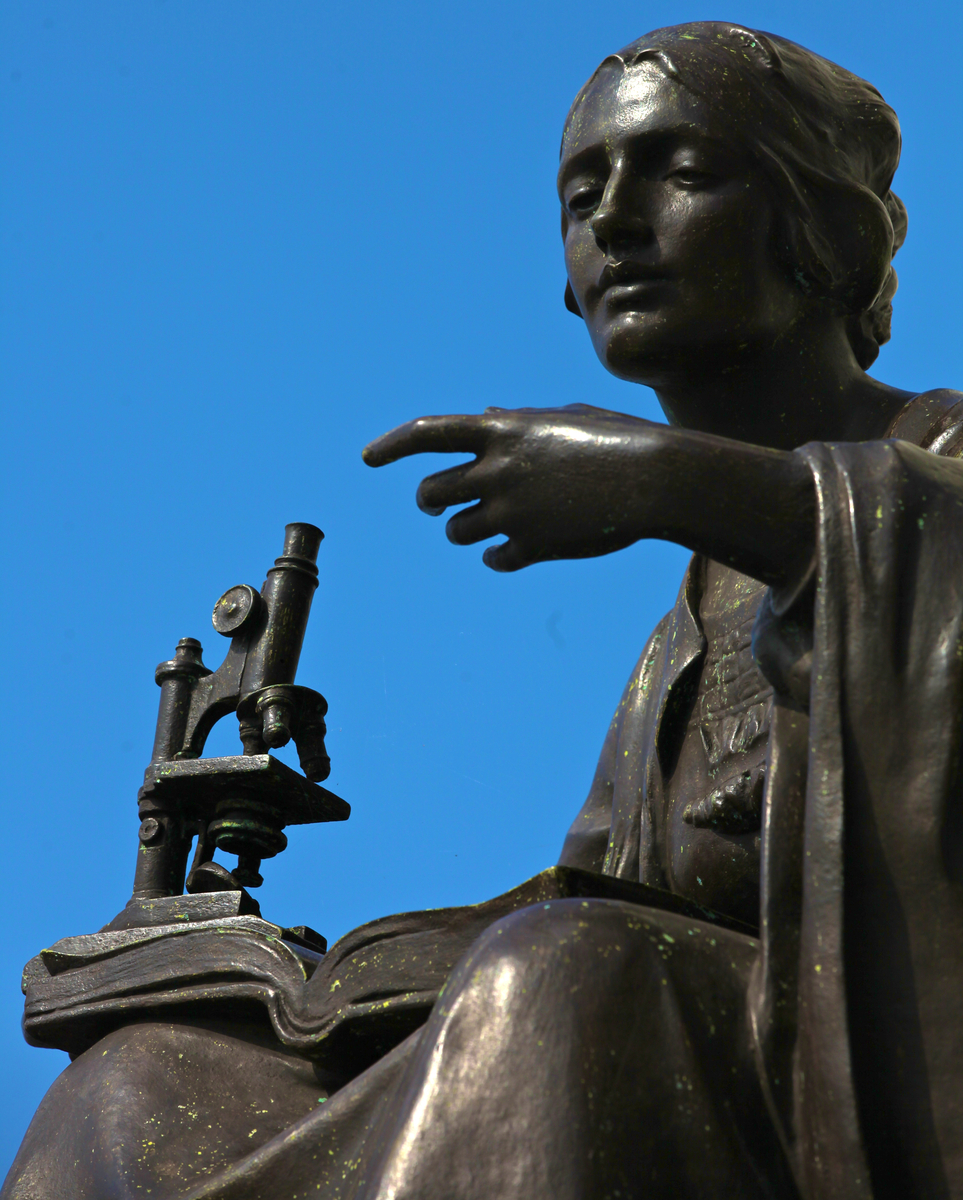 Mary Kingsley died in South Africa from suspected typhoid whilst tending to Boer Prisoners of War, aged just 38.
It is assumed that her legacy inspired the figure representing 'Research' as part of the Alfred Jones Memorial on Liverpool's waterfront.
In honour of her achievements and passion, the Mary Kingsley Medal was instituted by John Holt in 1903 and was issued for the first time in 1905 to Sir Patrick Manson, by many seen as the founding father of the field of tropical medicine.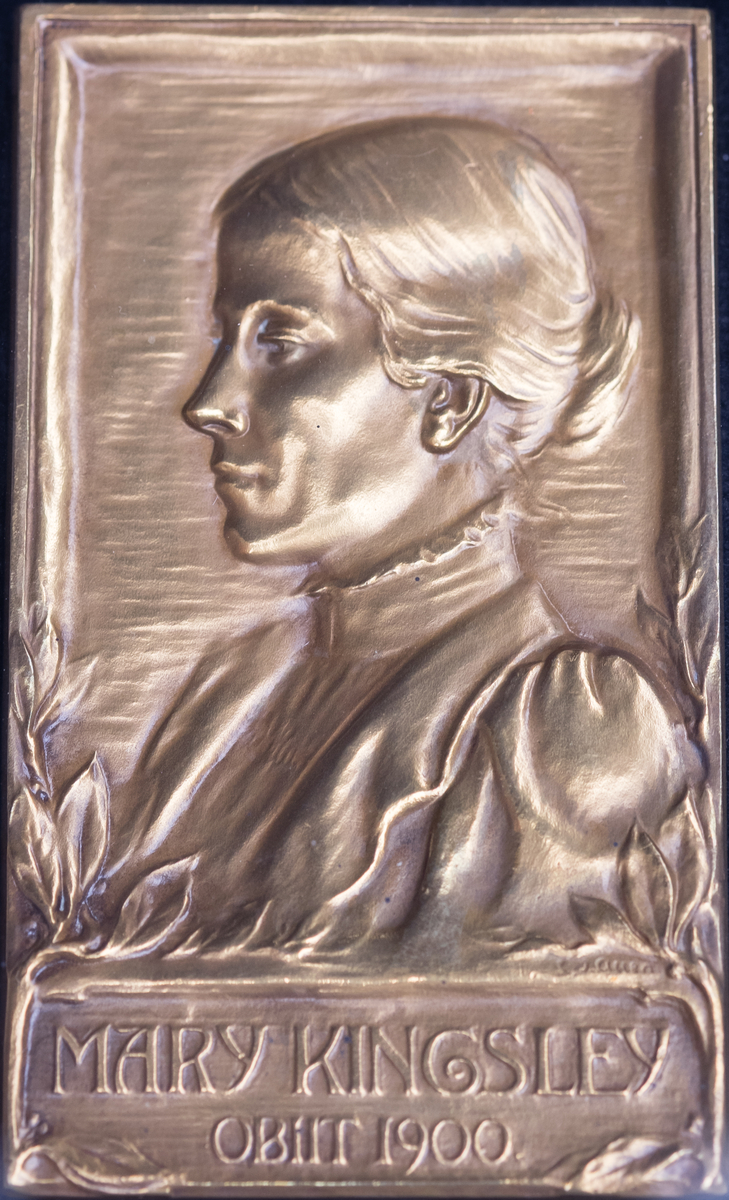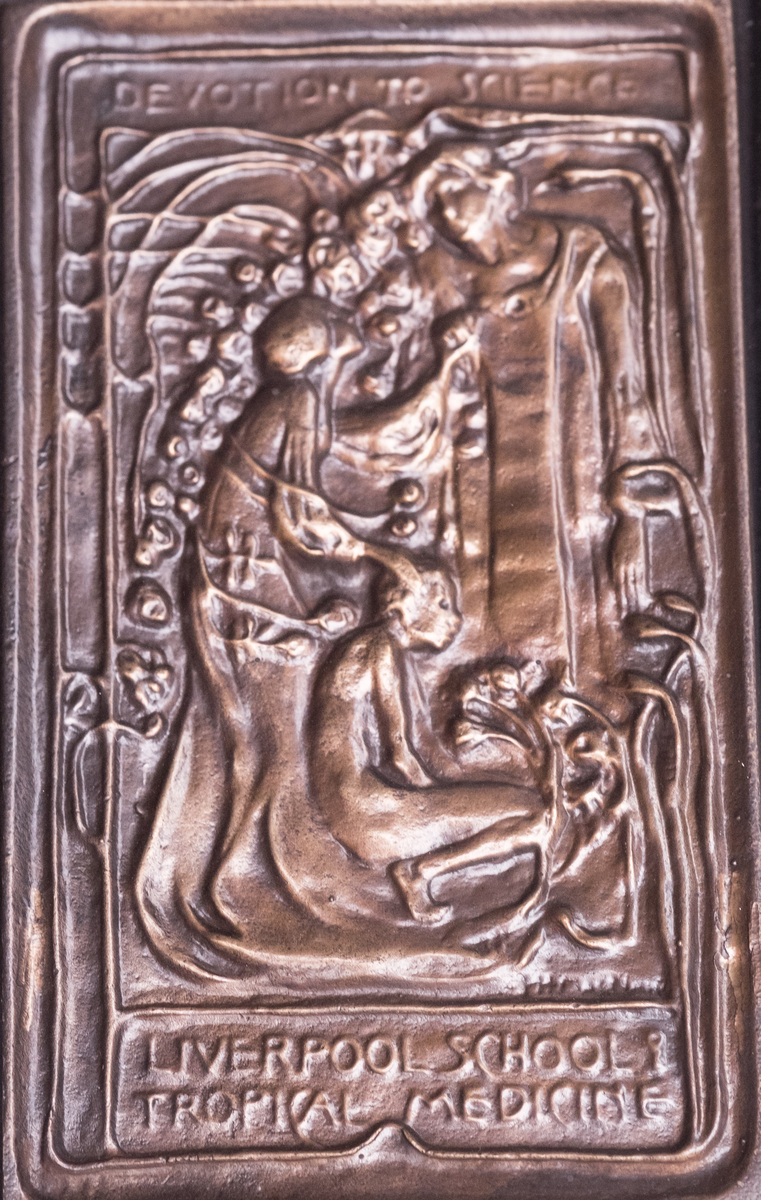 Recipients of the Mary Kingsley Medal   
1905
HRH The Princess Christian (Honorary)
One of the founding members of the Red Cross & President of the Royal British Nurses Association.
David Bruce
Scottish Pathologist/Microbiologist who identified the cause of sleeping sickness
Robert Koch
German Physician, discovered the bacteria Mycobacterium tuberculosis which causes Tuberculosis.
Charles Louis Alphonse Laveran

French Physician, eminent work on protozoan diseases.

Sir Patrick Manson
Scottish Physician, considered the founder of tropical medicine field and made important discoveries in parasitology.                                  
1907 
Basile Danilewsky
Russian Physiologist
Carlos Juan Finlay
 Cuban Physician and Scientist, recognised as a pioneer in yellow fever research
 Camillo Golgi
 Italian Physician, structures of the nervous system
 William Crawford Gorgas
 US Physician, worked on abating the transmission of yellow fever and malaria by controlling mosquitoes and Chief Sanitary Officer on the Panama Canal Project.
 Waldemar Mordecai Wolff Haffkine
 Russian Bacteriologist working in India, he was the first microbiologist who developed and used vaccines against cholera and bubonic plague. He tested the vaccines on himself.
 Theobold Smith
 American Epidemiologist
 1908 
 Joseph Chamberlain (Honorary)
 UK Secretary of State for the Colonies
 Joseph, Baron Lister (Honorary)
 English Surgeon who promoted use of sterile operating equipment
 1910 
 Prince Auguste Louis Alberic D'Aranberg (Honorary)
 French politician who focused on African colonial issues
 William Adamson (Honorary)
 Scottish Politician

Raphael Anatole Emile Blanchard

 
Anton Breinl
Medical Scientist whose pioneering work led to discoveries of drugs to cure sleeping sickness and he was the First Director of the Australian Institute of Tropical Medicine.
William Carter (Honorary)
 
Angelo Celli
Italian Physician, working on Malaria and known for his achievements as a Hygienist
Charles Wilberforce Daniels
Pioneer in the early work on Tropical Medicine
Alfred Henry Keogh
Surgeon Major of the Royal Army Medical Corps (RAMC) who encouraged research into Typhoid
Walter Gawen King
 
William MacGregor
Scottish Physician who worked throughout the tropics and assisted in the inauguration of the University of Queensland, 1909.
Bernard Albrecht Eduard Nocht
German naval physician who founded the Bernard Nocht Institute for Tropical Medicine in Hamburg, Germany
George Henry Falkiner Nuttall
American/British Bacteriologist

Mrs John Pinnock (Honorary)

 
Leonard Rogers  
Pioneering the treatment of cholera

John Lancelot Todd

 
Walter Wyman
President of the American Public Health Association
1913 
Frederic Vincent Theobald
Mosquito specialist
1917 
Griffith Evans
 
1919 
John William Scott Macfie
British entomologist, parasitologist and protozoologist
The Oswaldo Cruz Institute, Rio De Janeiro, Brazil (Honorary)
 
1920 
Ernest Edward Austen
British Entomologist

Arthur William Garrard Bagshawe

 

Andrew Balfour

 

Alphonse Louis Guillaume Broden

 

Albert John Chalmers (Posthumous)

 
Giovanni Battista Grassi
Italian Zoologist, known for work demonstrating mosquitoes carry malaria plasmodium in their digestive tract.
Robert Thomson Leiper

Scottish Parasitologist

Felix Etienne Pierre Mesnil
French Zoologist
Charles Wardell Stiles
American Parasitologist, remembered for his work in parasitic diseases
Temistocle Zammit
Rector of the University of Malta
1929
George Carmichael Low
Co-founder of the Royal Society for Tropical Medicine & Hygiene
Guy Anstruther Knox Marshall
British Entomologist with extensive knowledge of insect taxonomy

Robert Newstead

 

Ambrose Thomas Stanton

Discovered that beriberi, a debilitating and fatal disease was caused by a dietary deficiency

John William Watson Stephens

 

Charles Morley Wenyon

 
1934  

Henry Beeuwkes

 

George Seaton Buchanan

 

Annie Rose Caton (Honorary)

 
Samuel Rickard Christophers
 British Protozoologist

Mrs John Middlemass Hunt (Honorary)

 

Malcolm Watson

 
 1938 

Marshall Albert Barber

 
Emile Brumpt
French Parasitologist, credited with the discovery of the avian malarial parasite

Lady Danson (Honorary)

 

Walter Scott Patton

Dutton Memorial Chair of Entomology

Werner Schulemann

 
1949 Liverpool School of Tropical Medicine 50th Jubilee Year
Donald Breadalbane Blacklock
 1st Professor of Tropical Hygiene at LSTM (1934)

George Brocklehurst (Honorary)

 
 
Neil Hamilton Farley
Australian Physician, instrumental in saving thousands of Allied Forces lives from Malaria during the two World Wars.
Robert Longstaff Holt (Honorary, Posthumous)
 

William Hulme Lever, 2nd Viscount Leverhulme (Honorary, Posthumous)

 

Nicolaas Hendrik Swellengrebel

 

Alexander Francis Mahaffy

 

Philip Henry Manson-Hur

 
Edward Mellanby
Discovered Vitamin D and its role in preventing rickets.

Jerome Rodhain

 
Paul Farr Russell
American specialist in malaria
Henry Edward Shortt
British expert on Tropical Diseases
John Alexander Sinton V.C.
British doctor and malaria specialist

William Hay Taliaferro

 
Warrington Yorke (Posthumous) 
Expert Parasitologist and first Walter Myers Chair of Parasitology
1958
Rupert Montgomery Gordon
Holder of the Dutton and Walter Myers Chair of Entomology and Parasitology – gave 39 years service to the LSTM
1964
L'Institute de Medecine Tropicale Prince Leopold, Antwerp, Belgium
 
1966
Marcoline Gomes Candau
Director General of WHO, opened new wing of LSTM, 10 Feb 1966
1969
John Raymond Danson
 
1972
Philip John Denton Toosey
Merchant Banker and Army Officer, most famous as the senior officer in charge of building the Bridge on the River Kwai
1973
Percy Cyril Claude Garnham
Protozoologist

Pieter-Gustaaf Janssens

 
Brian Gilmore Maegraith
Pioneer in Tropical Medicine and longest serving Dean of LSTM (29 years).
Hans Vogel
German scientist renowned for his work on Helminthology
1976
George James Cole, Baron Cole of Blackfriars
 
1983
Peter Orchard Williams
British Doctor
1987
Adetokunbo O. Lucas
Nigerian Doctor and former professor of International Health at the Harvard School of public health
Kenneth S. Warren
American Scientist and expert on Tropical Diseases, in particular schistosomiasis.
1994
Herbert Michael Gilles
Warrington Yorke Professor of Tropical Medicine, 1972-86, awarded CMG 2005

Ian A. McGregor

 
Ebrahim Samba
Africa's Regional Director of the WHO, renowned for his exceptional leadership in the management of the Onchocerciasis Control Program in Africa
1998

HRH The Princess Royal – Royal Patron of LSTM

 

Mario Coluzzi

 
Philip William Bryce Lever, 3rd Viscount Leverhulme (Honorary)
 
1999

Lynda Chalker, Baroness Chalker of Wallasey

 
Cherubala Pathayapurayil Ramachandran
Malaysian medical scientist, Chairman of Technical Advisory Group, Global Programme to Eliminate Lymphatic Filariasis, WHO
Olikoye Ransome-Kuti
Former Nigeria Health Minister and WHO consultant
Sir David John Weatherall
British Doctor and researcher in molecular genetics, clinic medicine, haematology and pathology.
2005
David Alan Warrell
Professor of Tropical Medicine & Infectious Disease, University of Oxford.
2011
His Excellency Dr. Abdullah Al Rabeeah
Minister of Health, The Kingdom of Saudi Arabia.
2015
 
Kevin Marsh
Professor in Tropical Medicine, University of Oxford
2018
 
David Molyneux
 

Emeritus Professor and Senior Professorial Fellow. LSTM lead in neglected tropical diseases