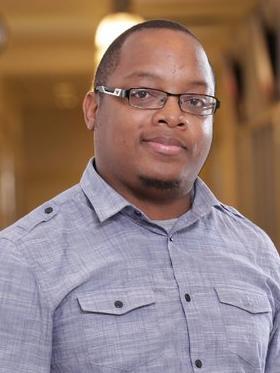 Dr Kondwani Jambo is based at the Malawi-Liverpool-Wellcome Trust Clinical Research Programme. He won a Director's Catalyst Fund (DCF) grant in 2018. 
My DCF experience is a little different to other grant recipients as I was already an experienced researcher when I applied for and won an award. Instead, I had identified an interesting area of research that I wanted to progress and required seed funding to get it off the ground.
My DCF project looks at the cells involved in preventing tuberculosis (TB). Mycobacterium tuberculosis (Mtb) causes TB and is mainly transmitted to the lungs of an individual via airborne droplets. Lung cells called alveolar macrophages and T cells are thought to be key players in controlling the progression of the Mtb infection, however, how these cells interact and prevent TB is unclear. I want to understand which T cell phenotypes are important for supporting alveolar macrophage control of Mtb infection. This is important as it could provide a rational framework for the development of future TB vaccines and potentially more effective immunotherapies, reducing mortality and morbidity across the world.
These are complex experiments and the work is slow but we are certainly making progress. We are about to publish our first paper on this work and have already secured further funding from the National Institutes of Health in the US to look at host-directed therapy. A PhD student is currently working on that. Also, the DCF funding has allowed me to set up assets which form a platform for future work which will really benefit us going forward.
From a personal perspective the DCF has been really beneficial, helping me to secure a fellowship from the Medical Research Council which comes with quite substantial funding. I am sure that having the DCF on my CV helped make my application competitive. It effectively said that LSTM – an institution with a global reputation - had endorsed me. DCF is not given to just anybody; it's given to people who the school thinks are going somewhere. Even its title - the Director's Catalyst Fund – shows that LSTM takes this very seriously, and that the school has real confidence in those successful individuals. It's an endorsement, and that gives other funders confidence in you
At the same time, DCF raised my profile within LSTM, putting me in front of senior staff who now know about my work and are part of my network. I am sure that it contributed to my securing tenure track in Liverpool, which in turn led to my promotion to senior lecturer.
That's not the end of my relationship with DCF. LSTM encourages people who have previously been successful to interact with and support those who are applying for an award, so I gave advice to two recent applicants. It's a very useful, self-sustaining process. Also, I sat on the decision panel for the last round of DCF submissions, which was a learning experience for me and also quite a transition – from candidate to decision maker. Sitting on this type of panel is a good experience for young, upcoming scientists such as myself, as a career in science often involves sitting on committees and reviewing and commenting on other people's grant applications.
LSTM has created a really useful scheme in DCF – for applicants, recipients and panel members alike - and I hope that it can long continue.