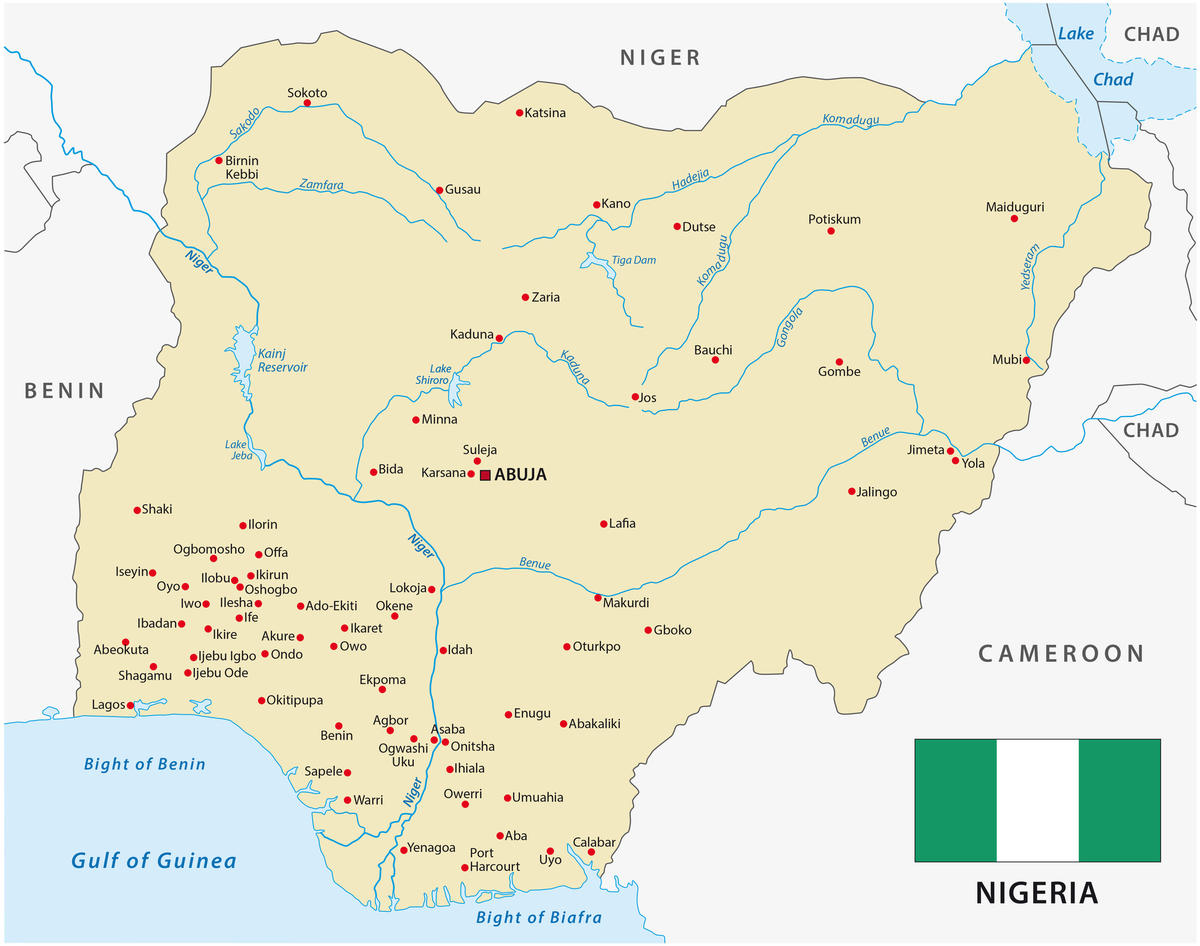 The Federal Republic of Nigeria in the south-east of West Africa is bordered by Benin, Cameroon, Chad, and Niger; it shares maritime borders with Equatorial Guinea, Ghana, and São Tomé and Príncipe. Nigeria accounts for about half of West Africa's population with approximately 202 million people and one of the largest populations of youth in the world. Capital city is Abuja, located in the centre of the nation, while Lagos is the country's primary port, economic hub and the largest city.
Nigeria's poor socio-economic performance, human rights abuses, widespread poverty, insecurity, corruption, and lack of trust in the political system have led to disenchantment amongst the electorate. The government faces the growing challenge of preventing the country from breaking apart along ethnic and religious lines. Thousands of people have died over the past few years in attacks led by jihadists in the north-east while separatist aspirations have also been growing. Nigeria's insecurity has added to its economic woes, hindering foreign investment.
The former British colony is one of the world's largest oil producers, but few Nigerians, including those in oil-producing areas, have benefited. Nigeria is highly vulnerable to the global economic disruption caused by COVID-19. Forty percent of Nigerians live below the poverty line, while another 25 percent are vulnerable. With COVID-19, as many as 53 million vulnerable people could fall into poverty. The magnitude of the health impact depends on the duration and the domestic spread of the outbreak, while the economic impact hinges on oil prices.
Maternal and newborn health in Nigeria
Over the past years money and expertise have been invested into overcoming Nigeria's position as the second largest contributor to maternal mortality worldwide. Yet, while Nigeria's maternal and child health indicators are improving, the numbers of children that die in childhood and mothers that die during childbirth has remained stubbornly high. According to the World Health Organization (WHO), the MMR of Nigeria is 814 (per 100,000 live births). The lifetime risk of a Nigerian woman dying during pregnancy, childbirth, postpartum or post-abortion is 1 in 22, in contrast to the lifetime risk in developed countries estimated at 1 in 4900.
LSTM Nigeria
LSTM Nigeria has been working in Nigeria since the year 2013 to support its vision of ending preventable maternal deaths, stillbirths and early neonatal deaths and improve the health of mothers and babies. 
News and blogs from Nigeria
Partners