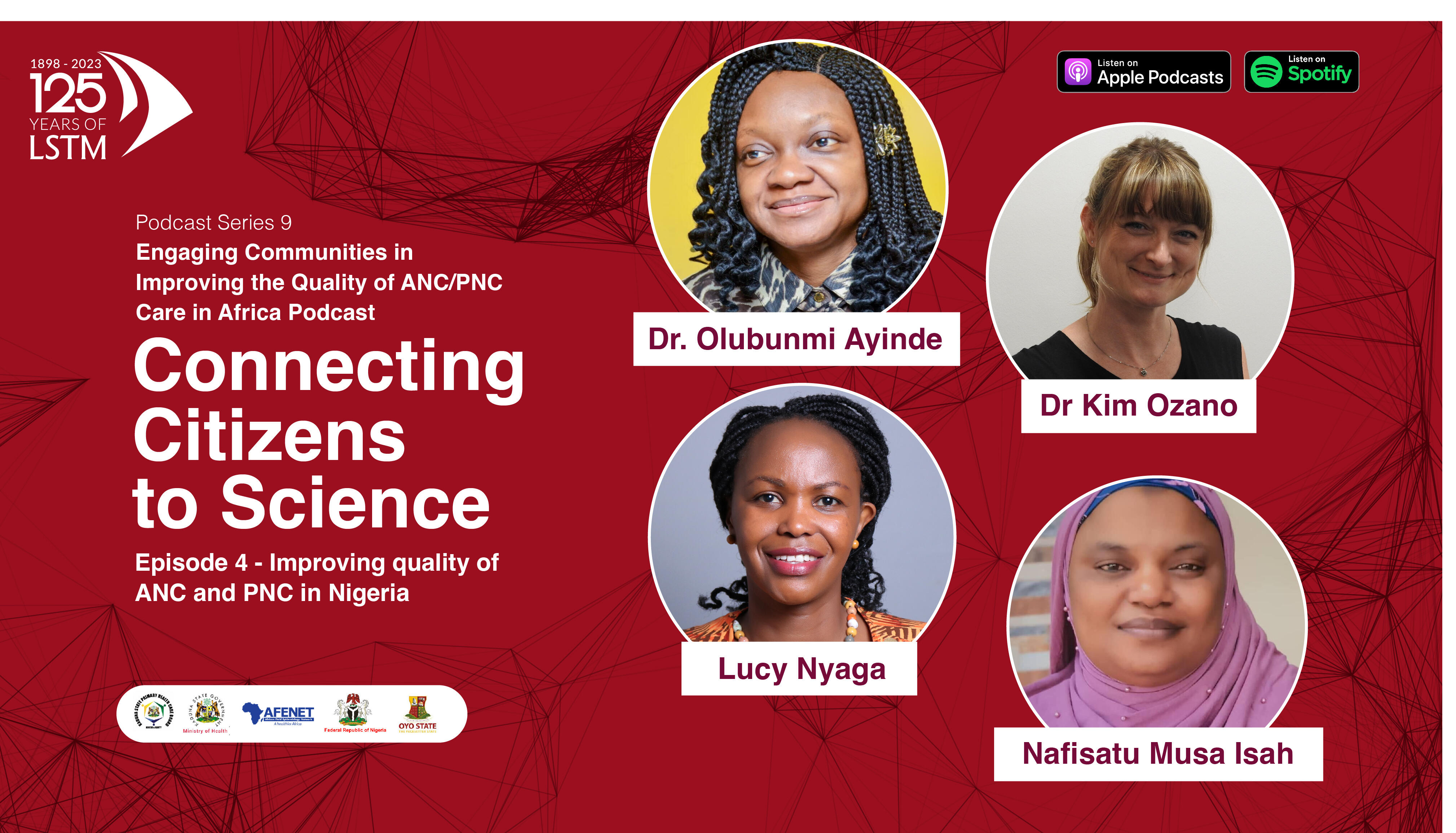 Read along to the transcript here
In this week's episode we hear from Nafisa Musa Isa, Deputy Director Family & Community Health, Kaduna State, Nigeria, and Dr. Olubunmi Akinboye, Director Public Health, Oyo State Ministry of Health, Nigeria. Together with co-host Lucy Nyaga, we discuss the community structures that are being considered within the Global Funded 'Quality Improvement (QI) of integrated HIV, TB, and malaria services in Antenatal and Postnatal care (ANC and PNC)' programme. We learn about the importance of including community members on Quality Improvement Teams, the mechanisms that have been used by the programme to drastically improve uptake of antenatal and postnatal services through integration, mentorship and training and the value of considering culture and needs in implementation research.  
Dr. Olubunmi Olufunmilola Ayinde
Director Public Health, Ministry of Health, Ibadan, Oyo State 
I am Dr. Olubunmi Ayinde a Public Health Physician and presently the Director Public Health at the Oyo State Ministry of Health. Over the past few years, I have worked in providing evidence-based, people-oriented, broad-based, purposeful, sustainable health care service delivery to strengthen Health Systems and ensure resilience; As well as leading cross-functional teams to consistently meet key program deliverables, while delivering efficient, affordable, accessible, effective and equitable services to the people across different communities. I coordinated the state HIV/AIDS program for over 12 years. I also had the opportunity to oversee malaria, tuberculosis (TB) and Reproductive Health activities which includes cervical cancer prevention (by screening for early detection across communities), ensuring testing for HIV, Syphilis and Hepatitis in Antenatal care services. I presently lead the implementation of quality improvement with integration of HIV, tuberculosis (TB) and Malaria at the state level which was initially achieved by collaboration with AFENET, but is presently being achieved by collaboration with LSTM. I am also the coordination Pillar lead for COVID-19 in the State.  
I successfully administered different HIV surveys as well as Insecticide Treated Net (ITN) distribution across all communities in the State. Community participation and engagement of key community stakeholders was a major part of the process to ensure full participation, service utilization and sustainability. This also reflected in the different community outreach services conducted across the state such as cervical cancer screening for community women and civil servants, HIV testing for pregnant women with ensuring linkage to treatment and acceptance of Seasonal Malaria Chemoprevention (SMC).
Nafisatu Musa Isah
Deputy Director Family and Community services (in charge of Maternal and Child health division) Kaduna State Primary Health Care Board.
I am a registered Public health nurse by profession with a master's degree in Reproductive Health, and a member of Public Health Nurses of Nigeria, member National Association of Nurses and Midwives of Nigeria. 
I also had professional Development certificates in: Leadership and Management in Global Health, Project Management in Global Health, Management Skills and Effective Leadership, Leadership Enhancement and accountability for Public sector, Health Financing, Health Economic and Public Health Policy also held the position of Chief Nursing officer in charge of 6 primary health care(PHCs) facilities in Kaduna State. I have attended 30 training/Workshops and carried out 5 research projects   
https//m.facebook.com/KSPHCA 
Twitter: @NafisatMusaIsah1, @contactkdsg, @mlgkad 
Lucy Nyaga
Country Director, Liverpool School of Tropical Medicine, Kenya 
My name is Lucy Nyaga. I am the Country Director, Liverpool School of Tropical medicine, in Kenya. I have a background in Medical Anthropology and Public Health with extensive experience in promoting implementation of research results into policy and practice with a special focus on MNH.  With twenty years' experience working in health programming, my experience and expertise in MNH has involved managing and implementing programmes that incorporate implementation research to inform effective programming and policy influence. Working with a range of organizations ranging from governments, academic and research institutions, UN agencies, and national & INGO, I have led and contributed to key MNH research that has led to policy influence in Eastern Africa. 
https://www.lstmed.ac.uk/about/people/lucy-nyaga 
https://www.linkedin.com/in/lucy-nkirote-2062832b/ 
TWITTER HANDLES 
@Lucynnyaga 
@MOH_Kenya