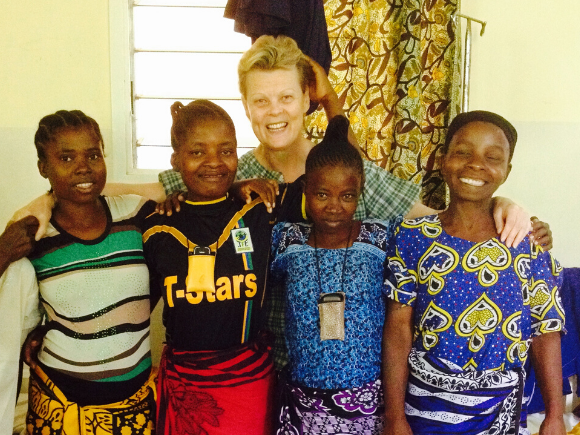 After completing her Nurse and Midwifery training in the UK, Gillian worked as a Midwife for 10 years in French speaking Switzerland, before returning to the UK to do a BSc in Health Management, an MSc in Public Health and a Teaching Certificate. In 2002, she went on to study the CTCM&H course in LSTM before joining Médecins Sans Frontières (MSF) and Save the Children as a field Midwife and Trainer in Mali, Chad, DRC and Sierra Leone.
Gillian then spent three years in MSF HQ in Geneva as Reproductive Health Advisor, leading maternal/new-born health activities in 25 low resource countries and had an active role in developing projects for women with obstetric fistula.
Since her time as a student in LSTM, she has returned to teach in LSTM many times as a visiting lecturer. In the last 15 years, deeply moved by the plight of women suffering with the devastating condition, obstetric fistula, Gillian has become an international activist for fistula and her involvement in fistula work has increased considerably over the years, taking her to New York for four years as Coordinator of the global Campaign to End Fistula with UNFPA,  then to the International Federation of Gynecology and Obstetrics (FIGO) in London in 2014, to undertake her  present role as Senior Manager of the FIGO Fistula Surgery Training Initiative.
Q. Why did you choose to study at LSTM?
After researching similar institutions, I chose LSTM because it is quite simply unrivalled in the area of Tropical Medicine and international Maternal/Newborn Health. I couldn't wait to be involved in such a renowned centre of academic excellence and my time and the contacts I made as a student in the School have been quite simply game-changing for me.
Q. How you feel your time here shaped your future? 
I have become a completely different person as a result of being a student at LSTM. After many years as a clinical Midwife in Europe, Liverpool literally changed my life-course by launching me into a whole different international arena where I came face to face with the harsh realities of geographical inequalities on a daily basis. This is where for the first time, I met multiple women suffering with obstetric fistula. I was filled with compassion for them, knowing that through no fault of their own, these women suffer so greatly, yet are stigmatized and often cast out of their societies because of their condition. Knowing their suffering, I could not rest; each one like my own sister and from that point to the present, I cannot possibly think of working on any other issue while I know these women continue to suffer and to be so neglected.
Q. What are you most proud of among your achievements?
My proudest achievements have, without doubt, all been linked to my work helping women with obstetric fistula, starting with 'Projet Papillon', an MSF-Switzerland fistula treatment facility that I helped set up many years ago in Abeche, NE Chad. This programme is still running today, transforming the lives of affected women in some of the most desperate situations on the planet.
After dreaming for years, if only we could have an identified 'global day' for fistula, this would be a huge opportunity to help women with the condition, I realized my dream when I worked in New York by driving this dream steadfastly through the UN system during my time with UNFPA, to establish a brand new UN approved International Day to End Obstetric Fistula, which was launched in the Head Quarters of the United Nations in New York on 23 May 2013. This was the best and without doubt, the proudest day of my life and continues to be marked round the world with increasing momentum to raise awareness and help for women with fistula on 23 May each year.
I am also very proud of my present programme in the International Federation of Gynecology and Obstetrics; the FIGO Fistula Surgery Training Initiative, which has grown from very small beginnings, with just a handful of trainee fistula surgeons –FIGO Fellows- when I started 5 years ago, to 65 Fellows presently, who with their holistic care teams, have provided more than 10,000 high quality fistula repair operations to date, helping women in 22 affected countries round the world.
With amazing fistula surgeons and many allies who work tirelessly to support my work, I am proud and overjoyed to contribute to helping every single one of my sisters. This work is not easy. Many of them live in some of the hardest to reach, most impoverished settings, and the surgery they need to cure them is complex, time consuming to learn and difficult to master. Tragically, there are also not enough trained, skilled fistula surgeons to treat the global backlog of cases, that's why the FIGO Fistula Programme is so important.
From being a nervous public speaker, who would avoid 'taking the floor' at any cost in meetings -including when I shakily presented my student assignment to my LSTM class mates in 2002- I have become a whole different person through my work on fistula, using my voice to carry the voices of my 2 million sisters to audiences and change-making platforms across the world. This has included making endless presentations in all sorts of events, from village gatherings to high-level UN meetings, to delivering key note speeches opening conferences alongside Ministers of Health and celebrities, to speaking on live TV and even twice in US Congress about obstetric fistula.
At every one of these speaking events, I have felt the same nervousness that I felt when doing my class presentation in Liverpool in 2002, but the nervousness I now feel is not for myself, it is because I carry a heavy responsibility to deliver a powerful message on behalf of my sisters by portraying their desperate situation and urgent need for help.
One of the first special sisters I met many years ago in a fistula treatment centre in Chad – a 15 year old girl, had travelled for weeks from her remote village in the desert to seek fistula treatment in the capital. She was in dire circumstances; acutely malnourished, incredibly poor, bare-foot and wrapped only in a yellow shawl. Meeting this girl broke my heart completely and changed my life. It is for this precise reason that I became and continue to be a fistula activist, some would say a 'fistula warrior'(!). It is for this precise reason that whenever I speak about fistula, I wear a yellow flower, to be in harmony with all my yellow girls, young and old round the world. It is for this precise reason that I dedicate this text to my sisters and will continue to fight on to help them.
Q. What advice would you give to our current students?
Aim high, drive forever forward in what you believe, because dreams can and do come true.