The Blended Learning Approach
The Blended Learning Course
The EmOC&QoC Unit at LSTM repackaged the antenatal care (ANC) and postnatal care (PNC) training course that had been previously implemented as a four-day standalone face-to-face training into a blended learning package in Nigeria, Kenya, and Tanzania. This blended learning course is split into three parts consisting of;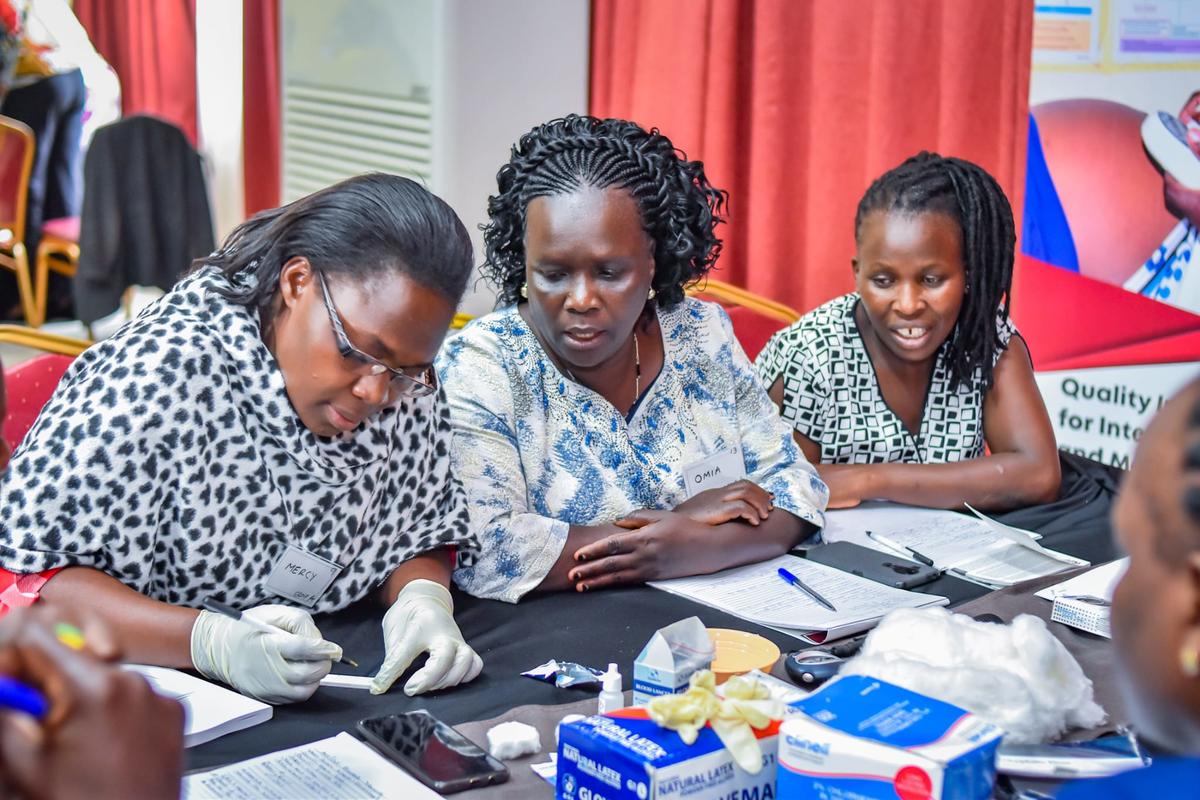 Part 1: Self-directed learning
Participants engage with online course content at their own pace and timing over a period of two weeks.
Course instructions, pre-recorded lectures and reading materials are uploaded onto an online platform developed by the World Continuing Education Alliance (WCEA).
Upon completion of the self-directed learning, participants are invited to complete part two, facilitated virtual sessions.
Part 2: Facilitated virtual/online sessions
Participants attend live sessions delivered via zoom.
Faculty led interactive sessions based on case scenarios.
The zoom sessions are delivered over a period of three days lasting for 2.5 hours per day.
Upon completion of the zoom sessions, learners are invited to complete part three of the blended learning course.
Part 3: Face-to-face sessions
This is the last component of the three-part course delivered over two days.
Participants engage in activities designed to enable them acquire hands on skills and apply the theoretical concepts covered in the self-directed and zoom sessions.
The ANC-PNC blended learning course has shortened the duration of face-to-face trainings and is expected to provide economic benefits of saving on human and material resources. The course has been translated into Swahili and participants' and facilitators' guidelines are now available on the World Continuing Education Alliance (WCEA) platform for use by Swahili speakers (see below blog on breaking language barriers). 
Integrated ANC/PNC training for health care providers in Kenya – The blended learning approach
Knowledgeable, respectful, motivated, and competent skilled health professionals (SHP) are critical in providing quality care to improve maternal and newborn health outcomes. Liverpool School of Tropical Medicine (LSTM) in collaboration with Kenya Ministry of Health is implementing a quality improvement programme for Integrated HIV, TB, and Malaria in antenatal and postnatal care. The three-year program is funded by Takeda Global CSR through the Global Fund. The programme has so far trained 154 frontline health care providers on integration of HIV, TB, and malaria services, as well as respectful maternity care, communication, emotional and mental health assessment of mothers. Piloting the blended learning approach for the first time, twenty-nine participants have undertaken the course in three sessions including self-directed learning, online live sessions (on zoom) and face-to-face sessions on skills application.
Feedback from Particiant
You know this program [blended learning course] is very nice because you come to the face-to-face session when you have the content. You have an idea of what you're going to do. You've already learned what you're going to discuss. So that thing sticks permanent you cannot forget.  Unlike other programs [trainings], you just go there blindly, you don't know what you're going to discuss. But as for this blended learning program, you come prepared. Already you have read for yourself at home or at your workplace. It's just like adding an ice on your cake. That's what was interesting about the program. Doctor, Kenya