The World Health Organization declared Corona virus disease (COVID-19) as a pandemic on 11 March 2020, after first being reported in Hubei Province, China in Dec 2019. As at February 12 2020 every country has confirmed cases and there are over 72 million confirmed cases in the world and over 1.6 million deaths globally.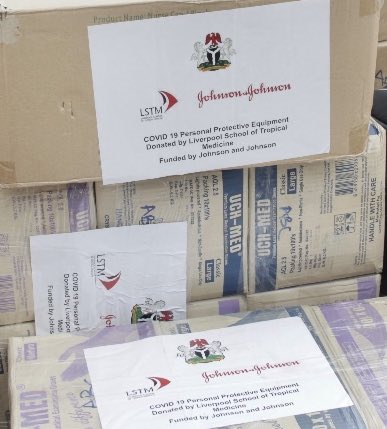 Nigeria is amongst the top 5 SSA countries with the highest number of confirmed cases.  According to the Nigeria Centre for Disease Control (NCDC) as at December 15 2020, there were 143,516 confirmed cases and 1,710 deaths in Nigeria. The highest number of daily confirmed cases are in Lagos state in the South, FCT Abuja, Plateau and Kaduna state in the North. Each state and the Federal Capital Territory, Abuja has a designated COVID isolation and treatment Centre.
The private sector has rallied around the Federal and State governments to support a coordinated response to the outbreak. There is high demand for Personal Protective Equipment (PPE), Hygiene and sanitary materials and COVID-19 Testing kits. The testing kits are being procured and quality assured through a central mechanism that involved the Africa and Nigeria CDC, WHO and FMOH.
Johnson and Johnson supported the Nigeria COVID 19 response through LSTM maternal and newborn health quality improvement programme.
PPEs and hygiene and sanitary materials were procured and handed over to national, state governments and key stakeholders. The following stakeholders requested support from Johnson and Johnson programme in Nigeria.
The Federal Government through the Ministry of Health and the Nigeria CDC
Lagos State Government
Kebbi State Government
Adamawa State Government.
The American Business Council (ABC)
A full range of PPE for use in patient (patient room, triage, laboratory, administrative areas), outpatient (consultation, waiting rooms, administrative and triage areas) were procured and supplied. The specific PPEs supplied include the following:
Eye protection (goggles or face shield)
Mouth and nose protection (surgical or medical masks)
Respiratory protection (N95)
Latex and nitrile examination gloves, small, medium and large sizes
Body protection gowns
Plastic aprons
Head covers
Heavy duty utility gloves
LSTM printed and supplied NCDC guidelines for the use of these PPE to each beneficiary stakeholder.