Post-Doctoral Research Associate
Aitor obtained his BSc in molecular biotechnology from the University of Barcelona (Spain) in 2013, after having carried out his thesis at the Trinity College Dublin (Ireland). In 2018, he obtained a PhD in molecular parasitology from the Liverpool School of Tropical Medicine (UK), funded by the EU-FP7 Marie Skłodowska Curie GlycoPar ITN. Presently, Aitor is a joint Post-Doctoral Research Associate at Alvaro Acosta-Serrano's (LSTM) and Andrew Jackson's groups (University of Liverpool) working on the BBSRC-funded MetaVac project, which aims to develop new vaccines against African trypanosomiases.
Research
His main research is currently focused on the development of new vaccines against African trypanosomiases. These vector-borne diseases are caused by several species of African trypanosomes and affect people and cattle, generating a huge economic burden in many sub-Saharan African countries. These vaccines overcome antigenic variation by targeting novel invariant proteins exposed on the infectious stage of the parasite, like the family of Metacyclic Invariant Surface Proteins (MISP) identified and characterised during his PhD. In addition, Aitor is interested in studying trypanosome-tsetse molecular interactions and trypanosome development within the vector.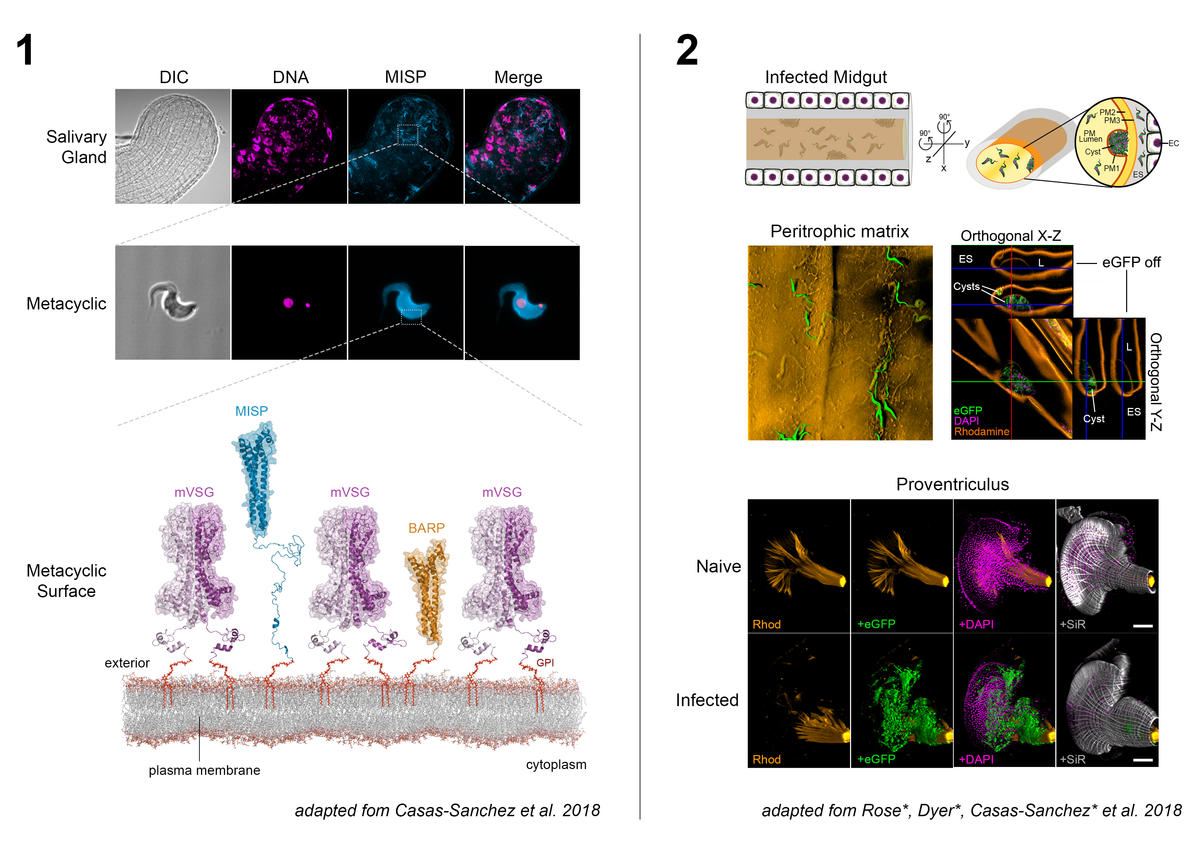 1. Novel metacyclic invariant surface proteins (left). Tsetse salivary gland infected with Trypanosoma brucei metacyclics stained using anti-MISP antibodies and imaged by Laser Confocal Scanning Microscopy (LSCM) (top); single T. brucei metacyclic obtained from the infected tsetse salivary gland (middle); new model of T. brucei metacyclic cell surface coat formed by mVSG, MISP and BARP (bottom). 2. Imaging trypanosome-tsetse interactions (right). Schematic of a tsetse midgut infected with T. brucei (top). Trypanosomes can be found inside the peritrophic matrix (PM), trapped between PM layers and in the peritrophic space. 3D-LSCM reconstructions of trypanosomes interacting with the PM (middle); 3D reconstructed tsetse proventriculus (naïve vs trypanosome-infected) (bottom). 
Teaching
Aitor lectures and runs lab practicals in several LSTM masters modules including Trop 775 (Parasite transgenesis), Trop 970 (Protein Structure) and Trop 936 (Research methods). He has also supervised three undergraduate and seven masters research projects and dissertations, including training and lab supervision. 
Awards
PhD Fellowship, EU-FP7 Marie Curie GlycoPar ITN (2014 - 2018)
Erasmus internship, EU (2013)
General Fellowship, Ministry of Education Spain (2008 - 2013)
CTT Fellowship, Polytechnic University of Catalonia (2010 - 2012)
Selected Courses
Machine Learning, LSTM (2018).
CRISPR-Cas9 in Kinetoplastids, Rio de Janeiro - Brazil (2018).
Vaccinology Summer School, Leiden - Netherlands (2018).
Home Office Animal Personal Licence AB (2018).
Biology of Parasitism, MBL, Woods Hole - USA (2017).
Selected Conferences
Molecular Parasitology Meeting, Woods Hole - USA (2018)
British Society for Parasitology Meeting, Aberystwyth (2018)
Glycobiology in Infectious Diseases, Keele (2017)
British Society for Parasitology Meeting, Dundee (2017)
Gordon Research Conference in Glycobiology, Ventura - USA (2017)
GlycoPar Second Workshop, Hannover - Germany (2015)
British Society for Parasitology Meeting, Liverpool (2015)
Kinetoplastid Molecular Cell Biology Meeting, Woods Hole - USA (2015).
GlycoPar First Workshop, Lisbon - Portugal (2014).
Professional Membership
British Society for Parasitology