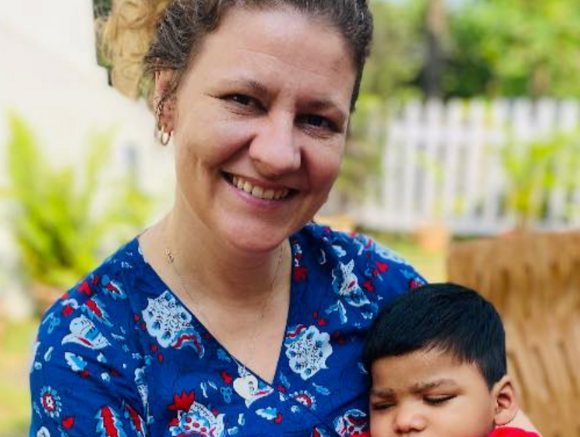 DTM&H, 2003
It was during a two-week humanitarian trip to India that Dr Cat Morris found her calling. Little did she know that she would still be there 15 years later.
Cat had done stints in the NHS and in clinics in Uganda and rural Australia when she was offered the chance to use her skills as a paediatrician on the sub-continent.
A decade and a half on and she runs an NGO with 135 staff that has helped thousands of the world's poorest children, and which donated 4 million meals to the vulnerable during the COVID-19 pandemic.
Dr Morris got a taste of her future life while doing conservation work in Uganda during her gap year.
She studied medicine for five years at Bristol and took a Diploma in Tropical Medicine and Hygiene at LSTM, where she met Dr Mary Cusack, who she works with in India to this day.
Dr Morris returned to the UK, where she worked in the NHS and volunteered at homeless projects with her now firm friend Dr Cusack. During this time they were offered a trip that would change their lives and ultimately the lives of thousands of children – a trip they almost turned down.
Tell us about your time at LSTM
I did it straight after my house jobs and was always passionate about working overseas. Enduring memories, the passionate speakers from all over the world who were passionate about their subjects and true pioneers. Disaster relief managment training has come in very handy on multiple occasions! It was an intense and fun few months!
Tell us about your experiences since leaving LSTM
Afterwards I spent a year in Darwin, Australia then trained in Paediatrics in Nottingham, gained my MRCPCH and with another graduate, Dr Mary Cusack moved to India in 2008 and since then have co founded and directed Love the One, which has organically grown in Odisha India.
What three words do you most associate with your experience of LSTM?
Fascinating, eye opening, empowering
Would you like to feature as an alumni profile? Get in touch!