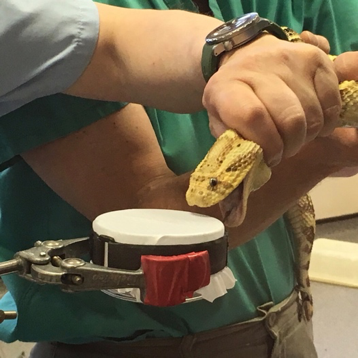 Pan Kakridas, DTMH September 2017
As the end of our course looms, there has been a new outbreak, an infectious disease that has swept over the DTMH students affecting almost all our numbers; DTMPEPGAD (or as it's more commonly known Diploma of Tropical Medicine Pre-Exam Panic and Generalised Anxiety Disorder). One would think that with our exposure to so many exams through university and beyond we would have been well-prepared but alas once DTMPEPGAD takes hold there is no known cure, and only certain anxiolytics, mainly those containing ethanol, integrated with group therapy, can have brief symptomatic control.
My highlight over the last few weeks has been without a doubt our visit to the herpetarium, where we became acquainted with some of the most deadly snakes in the world. As an Australian I erroneously thought I knew all there was to know about snake bites – from first aid to clinical syndromes and anti-venoms. Every time I would start work in a different emergency department a key part of the orientation would include showing us the venom detection kits, leading about which snakes are common in the area and the types of anti venom in the department. I was quite unaware of the massive global health burden of this neglected tropical disease and how much it affects people – particularly in Africa where the morbidity and mortality is enormous.
I learned that the staff at the herpaterium milked the snakes for their venom without sedating them, and their supplies make anti venom for so many places in the world.  The fact that we had been studying for so many months without the knowledge that hundreds of deadly snakes resided in the same building as us, only a few floors above our lecture theatre, was slightly alarming, and I felt no better hearing the graphic first hand accounts of when they had each been bitten.
Overall, this course has been so much more that I could have ever expected – mainly due to a combination of the incredible people who choose to study tropical medicine and the lecturers who share their stories with us. It has been a privilege to hear about how people performed surgery during the Rwandan genocide, how the Ebola crisis was managed first hand and a myriad of other personal experiences. I am looking forward to hearing about the things that our cohort will go onto do and hope that when our exams (and the DTMPEPGAD outbreak) are over we can all celebrate with international night, and go off into the world better equiped as clinicians.