Study in world-class digital learning spaces
As a student at LSTM you can access the immersive technology and connectivity at LSTM's flagship new learning and training facility, Pembroke House.
It has been designed to provide bright, flexible working spaces with high-quality simulation and immersive reality suites and digital learning common rooms equipped with charging points and interactive flat screens.
It is a professional multi-use space, where students can meet academics, partners, and local industry teams. It enables collaborative innovation, research, and design and whether you are studying in Liverpool or with our overseas partners you will be able to connect with other students, partners and academics through the use of technology.
Pembroke House opening times are 9am to 6pm during term time and accessible to all LSTM students and there's no need to book a space, just drop in.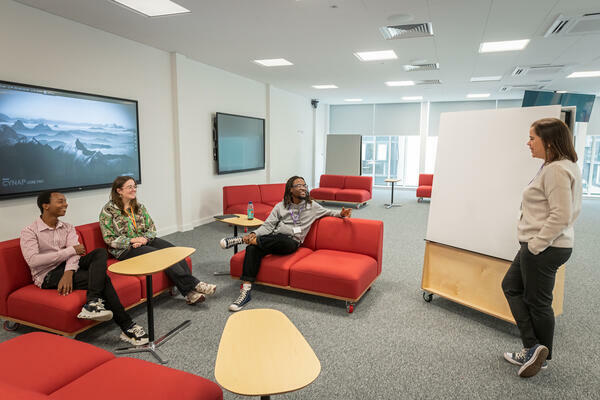 Facilities include:
Group study spaces – a mix of small rooms and open common areas enabling informal networking and collaborative working opportunities.  
Simulation Suite – Enabling students to take part in real time decision making involving complex and evolving scenarios

Hybrid learning spaces – Enabling students to connect with experts in the field and work collaboratively with peers, virtually.

Immersive technology space – A learning suite enabling students to experience real world scenarios, through the use of 360 degree video,  in a safe and interactive environment
IT facilities – WiFi is available throughout the building with charging points with secure storage through out the building
Food and drink – a self-serve kitchen area on the ground floor provides the space to heat food and make hot and cold drinks