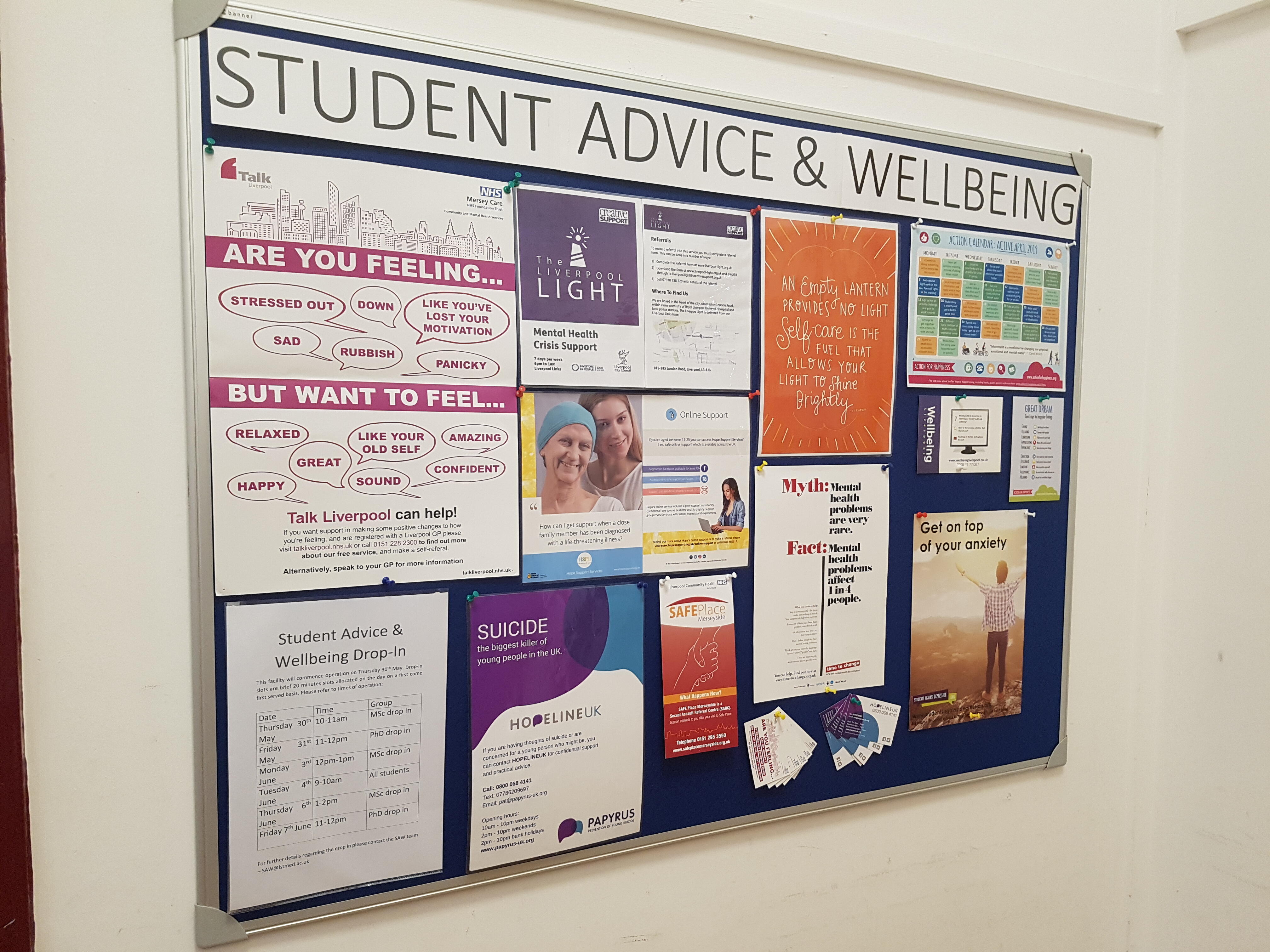 The Student Advice and Wellbeing (SAW) team is here to support you throughout your programme. Members of the SAW team have many different functions and are here to ensure that you feel personally supported and that you have a memorable student experience. We offer in person and remote drop-in sessions, bookable one to one disability support appointments and mental health and counselling sessions. In most instances, sessions can be offered over the phone, email or Microsoft Teams, if it is safe to do so, and time differences allow for this.
Students and staff at LSTM have access to Lifeworks, which is an online personal wellbeing platform that can be accessed 24/7, 365 days from wherever you are in the world. Lifeworks provides information, resources and counselling either in person or remotely. The platform is anonymous, private and safe. We recommend that all students create and account at the start of their students and access the resources regularly to receive tips and suggestions on how to get the most of your studies and how to stay physically and mentally healthy.
We provide information and guidance around adjustments for students with disabilities, one to one mental health and wellbeing support, links to psychoeducation resources and eBooks, careers and professional skills building opportunities, networking events, social activities and a dedicated monthly student newsletter.
The SAW team works with colleagues across LSTM on a Wellbeing Champions project. The Wellbeing Champions are a team of dedicated professionals who have a passion for health, wellbeing and happiness. The team run events and activities throughout the year which focus on bringing people together to celebrate good health and to help members the LSTM community to feel connected. Events and activities are promoted internally and via the Wellbeing Champions Twitter channel @LSTMWellbeing.
Student Experience
The COVID-19 pandemic has changed the way we work, study and socialise. LSTM is committed to providing you with the best possible student experience that you can have during whilst you study with us.
We understand the importance of socialising and making friends whilst studying. During your initial induction to LSTM there will be opportunities to connect with your peers as well as other LSTM students through a variety of sessions that will be delivered face to face and online. Your safety and wellbeing is paramount to us and there will be a combination of face-to-face and online activities. Past activities have included Bake-Alongs and Cinema Nights as well as career enrichment opportunities.
The Student Advice and Wellbeing (SAW) team work closely with LSTM colleagues and Alumni to continually developing activities to support career progression and development. We organise C.V. workshops, "Meet a PhD student" networking events and career talks from both LSTM Staff and Alumni.
Childcare and schools
In the UK, State schooling is compulsory from the September following the child's 4th birthday and is free of charge.  This applies to the children of all international students, except for students on visitor visas. 
If you are bringing school-age children with you, your choice of school will largely be determined by the location of your accommodation.  The Student Experience Officer can assist with finding a suitable school.  
In the term following their 3rd birthday, children (including children of overseas students) are entitled to free part-time nursery education, either within schools or playgroups.  Children below the age of 3 can be cared for in private nurseries.  This will cost around £200–250 a week. 
Personal safety
By international standards, the UK is a safe country, with low levels of violence and street crime.  However, crime is more prevalent in large cities and Liverpool is no exception.  You will need to take extra care of your belongings, not only when you are here, but also during your journey.  It is important not to carry large amounts of cash with you and not to leave your belongings unattended. 
Student Experience  Officer
Tel: +44 (0)151 702 9591
Email: SAW@lstmed.ac.uk