Professor Daniela Ferreira at Global Citizen Live 2021
#GlobalCitizenLive #MoveTheWorld
On Saturday, September 25, Global Citizen will present GLOBAL CITIZEN LIVE, a 24 hour global broadcast and streaming event featuring a lineup of artists, with performances from all over the world, including: Lagos, Paris, New York City, London, Sydney, Seoul, Rio de Janeiro, Los Angeles and Mumbai
World leaders, partners, activists, artists, and everyday Global Citizens, Global Citizen Live will be a movement uniting the world to defend the planet and defeat poverty.
Together, they will be calling for action to prioritize vaccine equity, feed millions who are facing famine, and curb climate change through the Trillion Trees Movement.
LSTM's Professor Daniela Ferreira will be participating in the event talking about vaccine equity and how we need to give more vaccines to low- and lower-middle income countries. 
Head of Clinical Sciences Department, Professor of respiratory vaccines and infection immunology
Daniela is a global leader in Respiratory Infections and Controlled Human Infection Challenge with experience in bacterial challenge, co-infection studies, mucosal immunity (nose and lungs) and vaccine testing and immune responses. She leads a Programme of work on respiratory infections and accelerated vaccine development with over £20million from various funders including BMGF, MRC, UKRI, NIHR and several industry partners. She leads the unique Experimental Human Pneumococcal Consortium in partnership with over 50 laboratories of worldwide experts on respiratory infection and pneumococcal biology.  To date her team has safely challenged over 1800 participants with live bacteria in over 30 clinical studies in their bespoke research clinic at the Accelerator. To find out more about the studies look here.
Her team has played a substantial role in the UK covid-19 pandemic response as a trial site for several covid vaccine studies including the Oxford / Astrazeneca vaccine.
Her research focuses mainly on:
Accelerate development and test novel pneumococcal vaccines using experimental carriage

understanding nasal and lung immune responses and correlates of protection against  respiratory infection with viruses including SARS-CoV2 and bacteria

defining how respiratory virus co-infections (flu, RSV and SARS-CoV2) and host susceptibility (asthma, COPD, aging, smoke) alters responses to pneumococcal infection.
Human Challenge models and Covid-vaccine trials at LSTM
The team has lately used the Human Challenge Facility to conduct Covid-vaccine trials for Oxford AstraZeneca and is working with Pfizer on a five-year clinical trials programme to develop and test pneumococcal vaccines.
If you would like to find out more about how you can support Daniela's work, please contact LSTM Director of Fundraising, Karen Brady.
LSTM's response to vaccine equity
Supporting healthcare facilities in Africa by donating the cost of a vaccine #BumpItForward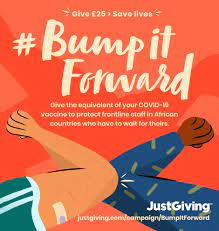 The pandemic continues to put already fragile health systems under considerable pressure amidst a surge in infections across many countries in Africa.  
The Bump it Forward campaign, established by LSTM, raises money to provide urgently needed rapid diagnostic tests and more PPE to help control the spread and protect health workers, and communities.
By gifting the equivalent cost of your vaccine (c.£25) you will be helping to protect healthcare workers in African countries. As the third COVID-19 wave impacts many African countries and only a small percentage of the population is vaccinated.  Rapid diagnostic testing and more PPE will help control the spread and protect health workers and communities until the vaccine reaches them. 
Racial inequalities and COVID-19: Building Back Better for All
As part of a series of COVID-10 Policy Briefings, in response to the challenges of the COVID-19 pandemic, LSTM's Dr Angela Obasi was co-author on 'Racial inequalities and COVID-19: Building Back Better for All. The Briefing tackles the urgent and topical issue of the disproportionate impact of COVID-19 on racially minoritised groups. It highlights that this impact is "not only directly felt in terms of health outcomes but compounds and is compounded by unequal social impacts in housing, education, employment social care/welfare and criminal justice". The Briefing summarises the adverse impacts on Black, Asian and other racially minoritised people and outlines the need for more rigorous exploration and analysis of policy making and policy impacts with regard to racial equity. The authors highlight the importance of meaningful and well-resourced multi-sector partnership in the design and implementation of strategies for recovery and the need for such strategies to be co-produced with communities to help counteract the impact of racial inequalities.
COVID-19 clinical research coalition
LSTM Director, Professor David Lalloo, joined a group of scientists, physicians, funders and policy makers from over 70 institutions from over 30 countries who launched an international coalition to respond to COVID-19 in resource poor settings.
The COVID-19 Clinical Research Coalition aims to accelerate desperately needed COVID-19 research in those areas where the virus could wreak havoc on already-fragile health systems and cause the greatest health impact on vulnerable populations. In a Comment published in The Lancet, the members of the coalition argue that international research collaboration and coordination is needed urgently to support African, Latin American, Eastern European, and certain Asian countries to respond effectively to the worsening pandemic and speed up research adapted to resource-limited settings.