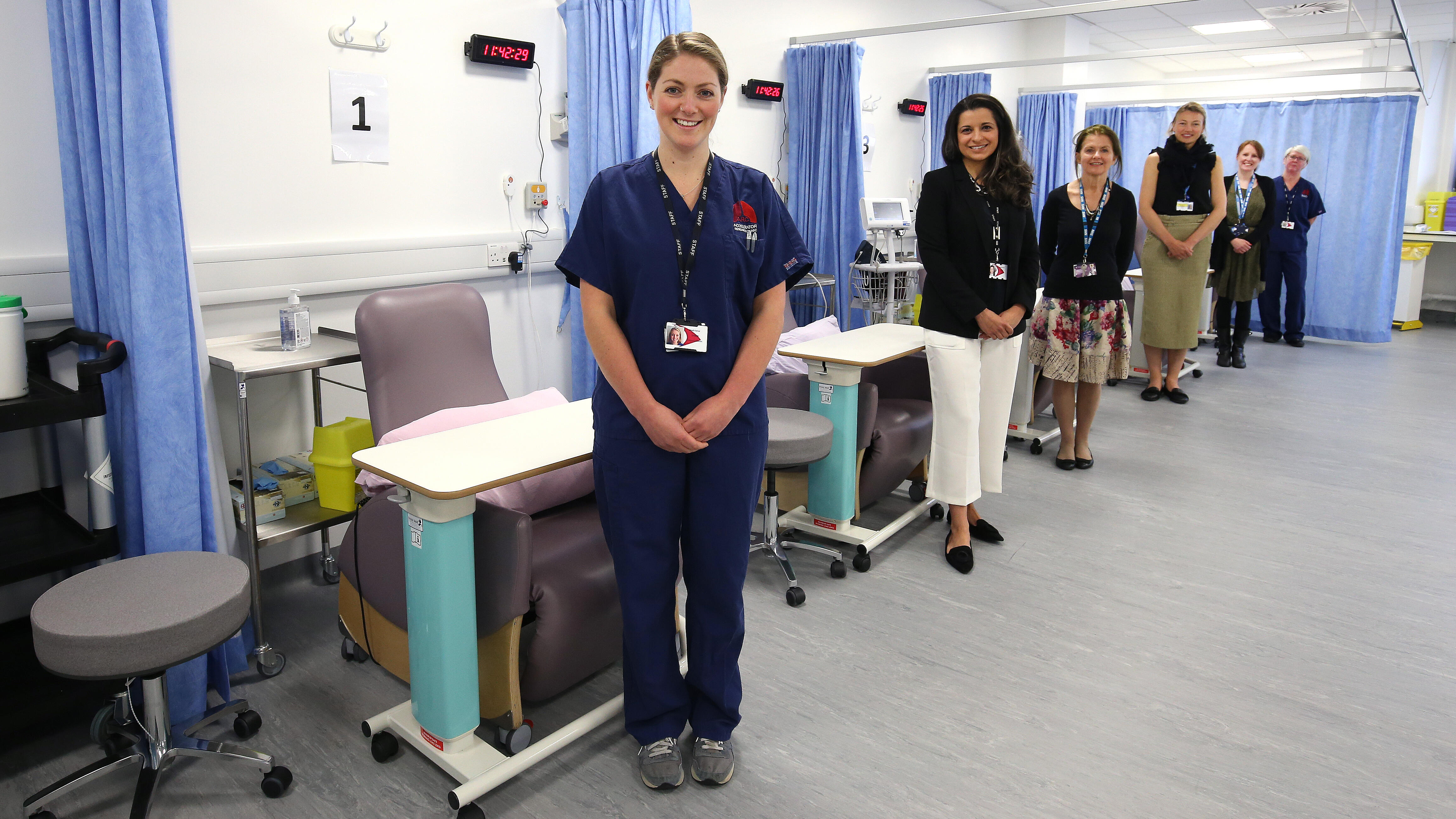 Vaccine researchers at LSTM want to say a huge thank you to all of the participants and volunteers who took part in the Phase III Oxford COVID-19 human vaccine trials in Liverpool, after data has been published showing that it is effective at preventing people becoming sick from the virus.
Phase III results, published in the Lancet, show that the vaccine, which has been developed by the University of Oxford in collaboration with AstraZeneca, has an average efficacy of 70.4% across two different dosing regimens, rising to 90% efficacy in a group receiving an initial half dose followed by a standard dose.
LSTM was named in May as one of the trial sites and recruited more than 900 participants to the trial, the largest cohort outside Oxford. Professor Daniela Ferreira, who leads the team responsible for the management of the trial in Liverpool, said: "It is excellent news that we have a vaccine that is safe and effective, and we are extremely proud of the role that we have played. We were proud to be involved in this trial because we knew that this vaccine would be a truly global one, with Oxford and AZ making a commitment to fair access to the vaccine via the COVAX facility by GAVI and WHO. Having a COVID vaccine available to low-and-middle income countries at cost price is central to LSTM's mission working as we do within some of the world's poorest populations."
Overall, the trial data is based on 11,636 volunteers across the United Kingdom and Brazil, and in Liverpool initial recruitment was of frontline health and care workers in collaboration with local NHS Trusts, Clinical Commissioning Groups and the National Institute of Health Research's (NIHR) Clinical Research Network, North West Coast group. LSTM's Dr Andrea Collins was one of the study leads in Liverpool. She said: "This was a pivotal trial to be involved in and the expertise of our team, the specialist skills of the team at LSTM's Well Travelled Clinic and support received from NIHr CRN, LUHFT and other LHP as well as the dedication of our volunteers meant that it could be undertaken quickly and effectively, recruiting participants from the age of 18 through to those in their 70s and beyond."
Millions of doses of the vaccines have already been produced and, subject to approval by regulators, are ready to be rolled out as part of the UK's vaccines programme for COVID. Key to LSTM's participation was the guarantee that the vaccine would be available at cost price during the pandemic phase. Combined with the fact that the vaccine only needs to be stored at normal fridge temperature, it can be deployed globally, including within low-and-middle income countries.
The team at LSTM are keen to acknowledge the significant part participants and health professionals in the Merseyside area played in getting the vaccine candidate to this stage. Dr Helen Hill was one of the study leads in Liverpool, she said: "As well as the hundreds of participants who took part in the trial, we were supported by nurses and doctors from trusts across Liverpool and Wirral who volunteered their time to assist with conducting the trial , We also while we had a small army of volunteer trial ambassadors who ensured the smooth running of the trial on site by welcoming and directing participants throughout. It has been a fantastic response from those living and working in Liverpool and we want to say a massive thank you to them all. We like to think of this as the year of the vaccine!"
Merryn Voysey, Sue Ann Costa Clemens, Shabir A Madhi, Lily Y Weckx, Pedro M Folegatti, Parvinder K Aley, Brian Angus, Vicky L Baillie, Shaun L Barnabas, Qasim E Bhorat, et al
Safety and efficacy of the ChAdOx1 nCoV-19 vaccine (AZD1222) against SARS-CoV-2: an interim analysis of four randomised controlled trials in Brazil, South Africa, and the UK, The Lancet, 2020, ISSN 0140-6736, https://doi.org/10.1016/S0140-6736(20)32661-1.