Post Doctoral Senior Research Assistant
Louise Ford graduated from the University of Leeds in 1995 with a B.Sc. in Applied Biology and the following year graduated from the University of Liverpool with an M.Sc. in Applied Parasitology and Medical Entomology.  After spending three years working as a research assistant in the Crop Protection Group at the University of Durham she joined the Liverpool School of Tropical Medicine in 1999 working on the role of Wolbachia bacteria in the immune response to filariasis and obtained her Ph.D. in 2003.  Louise began work as a post-doctoral research fellow at the New York Blood Center in 2003 working with Dr. Sara Lustigman on identifying potential drug and vaccine candidates against filarial parasites.  She rejoined the School of Tropical Medicine in February 2007 working with Prof. Mark Taylor in the Filariasis Research Laboratory as a post-doctoral research assistant.
Research
The human filarial nematode diseases, lymphatic filariasis (elephantiasis) and river blindness (onchocerciasis), are important causes of chronic morbidity in the developing world.  World-wide nearly 140 million people are infected and another one billion are considered at risk of infection.  Global control programs are underway using existing drugs that target the microfilarial stage of the parasite life cycle. However, while existing drugs are effective against the microfilariae, they are virtually ineffective against the long-lived adult (macrofilariae) stage. New drugs that can target macrofilariae are urgently needed to ensure the continued success of control programs.
My post-doctoral studies in New York focused on the characterisation of filarial-derived proteins, and the functional analysis of filarial genes, with the aim of identifying essential genes which may be potential novel drug targets.  Using RNA interference (RNAi) technology in filarial nematodes I have been involved in optimising this powerful research tool to study the function of selected filarial genes.  Figure shows uptake of fluorescently labelled dsRNA (red) into adult filarial nematodes and the localisation of a native protein found in the larval cuticle (a) which was diminished after specific RNAi treatment (b).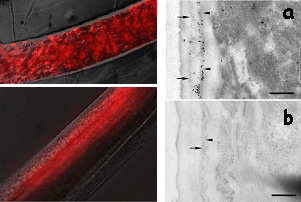 Research in the Filariasis Research Group is focused on the role of Wolbachia bacteria, mutualistic endosymbionts of filarial nematodes, and their interactions with the nematode, with the hosts' immune response, their roles in the pathogenesis of filarial disease and their potential as targets of filarial chemotherapy.  Wolbachia are present in most species of filarial nematodes and are essential for parasite survival and fecundity and are thus seen as an important anti-filarial drug target.  My current research is focused on the development of a novel treatment for filariasis as part of the Anti-Wolbachia (AWOL) drug discovery and development programme.  In order to screen potential novel chemotherapeutic agents my priority is the development of a screening assay using in vitro culture of adult filarial nematodes.