We need your support!
Since January 2021, more than 5,000  generous donors have bumped forward the cost of their vaccine to protect health workers in African countries until the vaccines reach them.  So far we have raised over £285,000 and purchased & distributed over 1.3 million items of PPE, and other life-saving essentials, via our colleagues and partners to 164 health care facilities across seven African countries. 
Give a boost
As the booster dose of the COVID-19 vaccine continues to roll out across the UK, we're calling for your help again.
It is estimated that less than 10% of the population on the African continent have been fully vaccinated.
The pandemic continues to put already fragile health systems under considerable pressure, and new variants emerging risk them becoming overburdened again, when they have not yet recovered from the impact of previous waves.
Help us protect healthcare workers across Africa by 'boosting' your donation, or giving £25, to purchase vital PPE and basic equipment so they are better prepared to support their communities.
Your donations in action
Thanks to the generosity of over 5,000 donors, the Bump it Forward campaign has raised over £285,000 (inc Gift Aid)! We have distributed funds to provide over 1 million items of PPE and basic equipment to protect health workers in Malawi, Kenya, Zimbabwe, Uganda, Sierra Leone, Tanzania, and Liberia.
You may have seen the wonderful news that the first doses of the vaccine have reached many African countries earlier this month via the COVAX programme. This is a great, and promising step, but it could still be some time before they reach our colleagues and fellow healthcare workers, so the Bump It Forward campaign is still playing a vital role in keeping them safe until then.
Your continued support means that we can protect even more healthcare workers across Africa until the COVID-19 vaccine fully reaches them.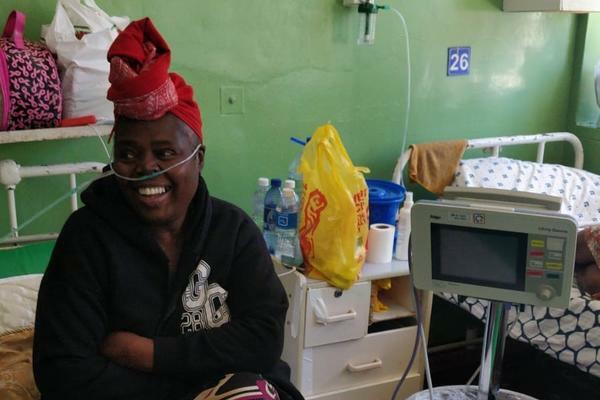 Your donations in action
PPE Handover at the Mbare Hostels Clinic, Harare, Zimbabawe

PPE handover at the Mlambe Hospital, Malawi

PPE handover the the Queen Elizabeth Central Hospital, Malawi

Malawi healthcare workers on a COVID ward, wearing PPE purchased through Bump it Forward donations

Healthcare workers wearing PPE, discharging COVID patient

Dr. Fumbani, Dr. Dingase, Dr. Chanizya and Dr. Gordon in Malawi wearing pink PPE, in recognition of International Women's Day, paid for with your donations.

Healthcare workers wearing PPE, discharging COVID patient
Why is Bump It Forward important?
As the vaccine rolls out in advanced economies, the health inequalities across the world become more stark.  For example, in the UK, the vaccine rollout is well underway with every person eligible for a free vaccination on the NHS. 
In poorer countries, it will take longer for the vaccine to reach even the most vulnerable or frontline workers.  For health systems which are already woefully under-resourced, dealing with a second wave and new strain of COVID-19 is a monumental challenge. 
Hospitals and clinics are operating without the basics to protect their staff and patients. PPE and basic sanitation is in short supply,  frontline workers are dying or are at home sick with COVID-19 – without basic support, fragile health systems will be decimated of their most precious resource at this time – health workers.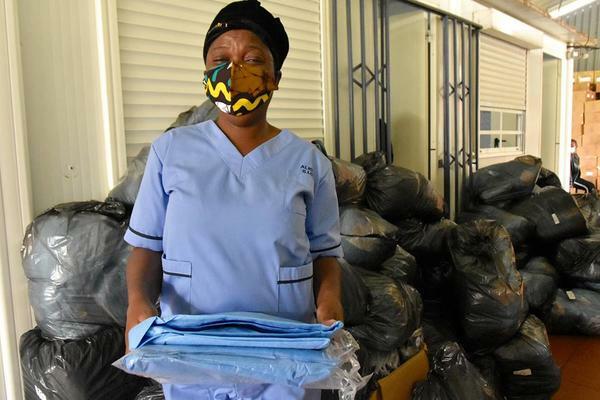 Patrick's story
Patrick Mphasa is a Laboratory Technician at the Malawi-Liverpool-Wellcome Trust Research Programme (MLW). Here he tells us about his experiences of COVID-19, which he has thankfully recovered from.
Hear from our colleagues in Africa on why your donations mean so much!
How to support
You can support #BumpItForward by making a donation by visiting our JustGiving page. It's quick, easy and secure.
We gratefully accept cheques to: 'Liverpool School of Tropical Medicine' and send to: Fundraising Department, LSTM, Pembroke Place, Liverpool, L3 5QA, UK.
 LSTM is committed to good fundraising practice. Our privacy policy for fundraising and supporter engagement can be found here.