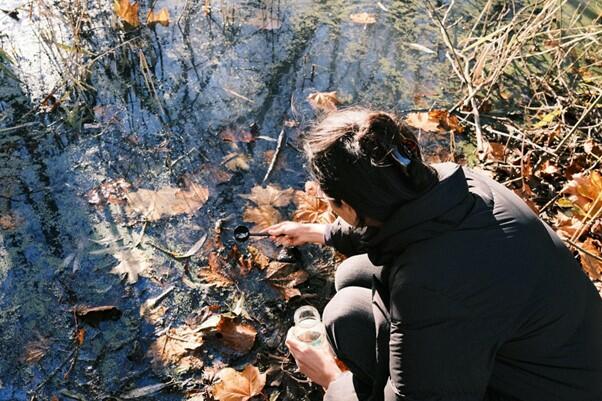 Natasha Niethamer and Tom Hyatt are a pair of art/science practitioners that met while both studying at Liverpool John Moores University. Natasha graduated from the MA Art in Science program in 2020, while Tom is currently studying for a PhD investigating electromagnetic art. Together they have been commissioned to create a pop up museum for LSTMs 125th Anniversary, along with a set of interactive loan boxes for use in local primary schools.
Natasha has a special interest in sci-art activism and public outreach in microbiology and antimicrobial resistance. Her final MA project, an interactive text adventure called Bacteria The Future, follows the heroic journey of a human from the 2050s travelling back in time as a bacteria to administer antibiotics to novel resistant microbes inside Hugh Manity, an unfortunate human in our present day. Natasha and Tom previously collaborated on Microwild, a music/microbe lockdown experiment where videos of local microscopic pond-life are set to 'music for microbes'.
Natasha also has an academic and professional background in microbiology, and since graduating spent time working in Dr Adam Roberts' research lab at LSTM studying AMR mechanisms and evolution of clinical bacterial isolates. She grew up in California, USA and obtained a double major in Microbiology and Molecular Biology at Cal Poly SLO. She worked in plankton research, as an emergency room scribe, and as a university science tutor.
Click here to see an example of Natasha's Microwild.
Click here to see Natasha's Bacteria the Future, A time-travelling Twine game to save Hugh-manity! 

Tom is a polymathic artist, musician, scientist, educator, and maker from Rossendale, Lancashire. After graduating with a Masters in physics and philosophy from Oxford University he moved to London to pursue grassroots music and a career in the arts, while teaching maths and physics. He moved back up to Liverpool after receiving a PhD scholarship to study at the Liverpool School of Art and Design.
His previous art/science projects include the Lost in a Dream, an autodestructive photographic exhibition of a disappearing music scene, published as a book and live music recording. As the darkroom-printed portraits were exposed to light while on display, they continued to darken over the course of a week. In 2019 he also created an Impressionist Colour Laboratory outreach workshop at the Science Museum, London, revealing the science behind 19th century artists' colour choices.
Click here to see Pines in Sefton Park, sunset 17/06/21 - One of Tom's paintings. 
Tell us a bit about your vision for LSTM's 125th Anniversary
T – Our response to the brief, Tropical Medicine Time Machine, aims to take participants on an interactive journey through LSTM's 125 year history, and beyond. It was quite a challenge to try to fit the length and breadth of LSTMs activities into a single cohesive vision, but things started to click together when we started to think about focussing our efforts around four specific 'time episodes'. Each episode will focus on a different pillar of LSTMs activities (disease vectors, travel health, public health, and microbiology), telling the stories of individuals at home and abroad within the context of a particular time period.
What draws you to SciArt collaborations?
N – Visualisations, stories, memes, and silly metaphors were key to my science teaching and learning, especially when tackling largely abstract microbiological concepts.
Later, while pursuing my MA Art in Science, I found an active, inspiring community of scientists and artists working together to innovatively communicate the beauty of their work, recontextualizing ideas to connect to the human condition in new ways.
A favourite quote of mine is by Guerilla Science, a collaborative group of scientists and artists working in 'artistic activism'. They argue that the goal of art/science public engagement "is not to force compliance, which art can never do, but to persuade by creating moving experiences that prompt people to question the world as it is, imagine a world as it could be, and join together to make that new world real."
The creative arts have been used throughout history to explore and share our emotions with others, inspiring collective action and bringing meaning to our lives. Integrating art with science creates powerful tools to convey complex, abstract scientific concepts and bring about change.
T – My scientific background is in physics and philosophy, asking the fundamental questions of what the world is made of and how it all works. For me, painting a picture or writing a song is asking the same sorts of questions, but from the 'top down' rather than the 'bottom up'. You're experimenting with human natures and behaviours, rather than those of subatomic particles, but in both instances you're trying to discover more about the world around you. The difference is that with human nature it's very hard to control all the variables, and so things become 'more of an art than a science'.
History tells us that you can't progress science without adopting some artistic methods, and you can't progress art without using the scientific method either. Sometimes the most efficient way to get what you want in science is to allow for some creative play and see what happens. SciArt collaborations are a good reminder to both artists and scientists that there is a lot to learn from outside isolated cultural silos. 
What do you hope our scientists and audiences will get out of these projects? 
N – Our goal is to get you excited about learning the science behind past, present, and future LSTM research. How have historical contexts such as the first world war, the civil rights movement, and the Covid-19 pandemic influenced LSTM research, and how will our present day behaviours influence future research in global health crises? By encouraging discussion between scientists and non-scientists, the hope is that these conversations will extend beyond the activities we create.
The more we engage others about public health concerns that require global efforts to fight, the more likely we are to inspire community action. Directly inspiring one teacher, parent, young person, or community member can indirectly influence others. Who knows, we could inspire the next major activist of our generation!
T – Having experience in the worlds of science, we know that the barriers to creating public outreach artworks extend beyond being able to handle a paintbrush. Working in scientific research is a full-time commitment, and creating successful artworks that inspire and educate participants is, too. Having an opportunity such as the 125th anniversary of LSTM and the funding support to co-create something together for the public is very special. We're excited to work in collaboration with the various teams and individuals at LSTM to realise something that wouldn't otherwise be possible or easily prioritised in day-to-day research. 
Where can we find you on the web?
Follow Natasha and Tom on social media (Microwild, Natasha's Twitter, Tom's Instagram, Tom's Twitter) and don't forget to also keep an eye on LSTM's socials, too, for progress on the 125th anniversary celebrations.