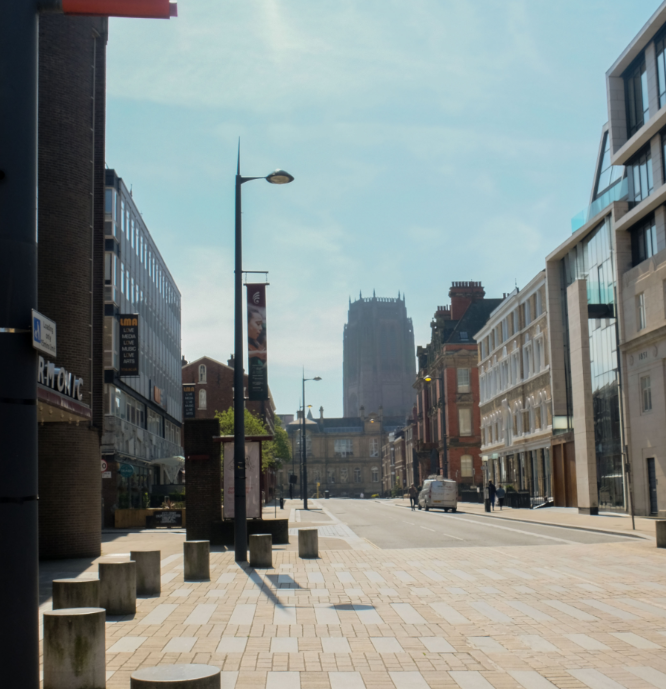 To say this is a difficult time is an understatement. I, like many, have found myself in a difficult situation, worried and scared along with many other emotions which are often hard to describe. Equally, I have seen kind and heart-warming acts that have brought me comfort and a smile to my face. I often ask people how they are and how they are staying positive, which granted, is more difficult now than ever. It is something I have given much thought to, and though it is not a switch one can flick on, there are ways I have found do help. I have learnt to look outside of myself, and to see what and who I am surrounded by, this simple but effective practice has brought more positivity then I thought it would in these somewhat darker times.
I am a proud native of Liverpool, a pride I know is shared amongst not only those from here, but those who live or have lived here and understand what it is to be a part of the city. Though my adoration may seem biased, let there be no doubt that my love for this city and its people is authentic. It is during these difficult times we are reminded what we should be grateful for, and this city reminds me every time.
Liverpool has always been a resilient city; it would not take long for you to familiarise yourself with the hardships it has faced over the decades. However, through difficult times the city has always shown an unwavering strength, a warmth, and a kindness in a capacity I have struggled to find elsewhere.  
You don't have to look far to see the meaningful and important actions taken by its citizens and you will be reminded how special this city is. Whether it is help offered by those with more prominent roles in the city, such as Everton in the Community supporting foodbanks and distributingfood packages to families in need, amongst other services. Or whether it be action taken by smaller organisations and businesses, giving what they can.
The efforts of local independents during recent times is something that I have a large admiration for.  Liverpool's independents that help make the city so special have gone out of their way to support the local community, even whilst finding themselves in difficult territory. Establishments such as Oktopus, Vietnom and Maray, just to name a few have shown what it is to be part of the community. Oktopus donated a generous amount of food to The Secret Kitchen Liverpool- an amazing service who provide food to the city's more vulnerable. Vietnom cooked and delivered meals to 60 nurses, doctors and other key workers at the Royal Hospital and Maray provided free food for frontline workers. These are just a few examples of the local independents ensuring Liverpool's key workers and most vulnerable are fed. Not only are Liverpool's local business helping with food donation and distribution, The Merchant pub has purchased 3D printers and are involved in PPE production for the NHS free of charge! You cannot help but feel grateful when you are surrounded by people who care and will do and give what they can for those who need it.
Apart from looking to the people of the city and their kindness, happiness and appreciation can be found by looking at the city itself. On designated walks in the city where peacefulness is currently heightened, there is a calmness and a comfort in that though disruption is present in every other aspect of our lives, there is still normality in being able to see the flowers and trees blossom in spring and to hear the birds still singing. I have always known this to be an attractive city, but now more so than ever I appreciate its beauty.
Liverpool is home to the LSTM, the first institution of its kind dedicated to tropical medicine. An institution that is renowned for amazing work across the world improving the lives of many. Crucially, LSTM is again devoting resources and research in efforts to fight against the COVID 19. As an LSTM student I always reminded how proud I am to be a part of this community.
It is this amazing city that I look to for positivity. Thank you, Liverpool. Thank you to the people who make it. Thank you for giving me something to look forward to.
Oktopus: - Instagram: @hello_oktopus   Twitter: @Hello_Oktopus
Vietnom: - Instagram: @vietnom_liv
Maray: - Instagram: @marayrestaurant Twitter: @MarayRestaurant
Merchant:- Instagram: @themerchantliverpool
Everton in the community: - Instagram: @evertonin the community  Twitter:@EITC
LSTM recently launched a COVID-19 Emergency Response and Resilience Fund to raise vital funds to tackle the pandemic both in the UK and overseas. To find out more about the fund and how you can support us, please click here.