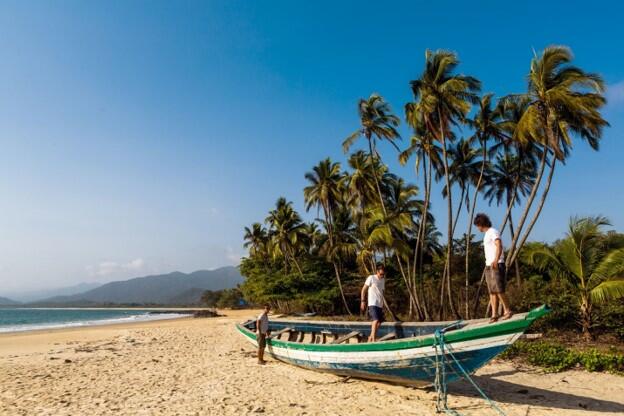 Without being apologetic or sounding like an advertiser who stands to gain personally from an advert, let me say this, it's fantastic to work in Africa and other places that I would preferably call the tropical regions of the world. One does not need much convincing to understand why this is so, and this is the simple task I want to accomplish in writing this blog.
During lectures in the DTMH program and other infectious disease-related courses, we may easily drift to the view of tropical regions as dangerous places where there is a battle among the major killers of the human race to get the unenviable prize of being the deadliest cause. The participants in this race range from direct pathogens to vector-borne diseases to poor social and health infrastructure to violence and weak regulations. Surrounded by these, you also have to deal with slow internet, substantial income inequalities, visible poverty, and regular power cuts.
As such, you must be very passionate about helping the poor inhabitants of these countries with no regard for your safety and comfort to work in these regions. So being a saint on the one hand and being highly risk-tolerant on the other are fundamental traits for the caliber of people who replace the "comforts" of their jobs in the "developed" world for a career in such regions.
It takes a bit of both reasons to migrate from one's familiar homeland to any other part of the world. I salute all migrant workers, including the many admirable tutors in the DTMH course, whose careers in these regions help put a lid on the many disasters that threaten global health from emerging and re-imaging high consequence pathogens. However, there is a lot to their career, with the benefits outweighing the risks.
That said, this article seeks to throw light on the many positive things that come along working in the tropics. I intend to convince colleagues and readers to consider careers in the tropical region and to get you hopefully to ask, is it not better, after all, to work in these places?
Have you ever wondered, how come there is hardly anyone who midway through their work in these regions left for the "developed" world with a determination never to go back because of their horrible time there? Or in other words, haven't you noticed the pride, love sentiments, and sense of connection to these places that tutors have when talking about these places even while narrating all the poor health and social indicators? They sound committed, motivated, and inspired every time to go back and do more. They sound possessed even by the sounds, tastes, and weather of these places.  What is it that attracts and keeps them wanting to go back again and again and again?
In summary, even before I start digressing, the secret here is that these experts/expatriates live the lives of the top 1% in the "developed" world and maybe more. To put this in context, let us first understand that there is enormous diversity among and within countries in the tropical regions. As such, these societies have evolved to cater well for people in different wealth/income brackets. Another fact that will help us appreciate the context is that what we need for survival is food, water, shelter, and of course, WIFI for the expatriates.
On food, there is easy access to fresh fruits and vegetables that are less exposed to processing during production and are more affordable to the average expatriate compared to their country of origin. Big supermarkets containing all the products that you may need are present in the big cities. The gaps created by the insufficient electricity supply from the public grid is filled by well maintained and operated backup generators that leave you energy sufficient without worrying to pay any bills at the end of the month.
Mobile phone coverage continues to grow, but there is already a considerable coverage that will leave you with a little yearning for more and usually paid for by the employing institution.  A common reason why you want to get to your phone and talk to someone is that you feel lonely. It is much easier to make connections/friends and friendships quickly blossom to family levels, and it is therefore not rare to find expatriates who naturally and proudly so describe these places as their second home. Thus, it is easy to match the needs of keeping in touch with friends and family elsewhere with the available coverage, and loneliness, therefore, becomes a rare exposure.
Expatriates usually live in nice big houses that may even have a beautiful and well-kept lawn. The workplace may often have the same features. For expatriates who take along their family, they enjoy the abundant social support that exists in these settings demonstrating the old African adage
"It takes a whole village to raise a child."
Domestic-help is cheap. It is much less expensive and efficient to have domestic-help with the kids, and also with general cleaning and laundry. Usually, these homes enjoy additional friendly services from their house-help or security guard.  Although they earn less from their job, they are happy to help with chores that are not included in their job description-a term they cannot even relate to and genuinely do not care.
A comment I received from a friend (an expatriate) as I was preparing this blog is central to this topic. She said:
"I love the slow pace of life. It felt so relaxing to change from my life in the US where I was running all the time". The social norm of taking time out of one's workday for tea was surprising and positive, but that does not happen in the US"
We may not admit it publicly, but it is true that now and then, we wish for a break from the cycle of meeting deadlines and creating even more as a result, to a break in a Caribbean island where we can switch off and pretend life is all about rest and fun. In the tropics, you do not have to wait so long for your finely scheduled fun time called 'leave.' You can enjoy these precious moments every weekend as you visit a nearby tourist destination to have a good time. Your weekends end with phrases like: 'Good lord or heavens, I feel so energized, and I look forward to tomorrow' and not 'ah it's going to be Monday again tomorrow.'
We can debate about where to put the balance between productivity and happiness. However, we agree that it is neither good for productivity nor happiness when society operates as a big, complex machine that churns out a lot of products at the expense of our individual and collective happiness. It is nice to take a step back, chill out and aspire for better productivity as a happy individual and society.
A sense of fulfillment is a rare experience in the industrialized world where workers feel like an expendable cog in a big machine. On the other hand, a sense of accomplishment is a collective experience in the less industrialized nations of the tropics. As my colleague also put it:
"I love the opportunity to be able to help and take a project from start to finish, which is very fulfilling. Of course, in emergencies like Ebola, you are not necessarily working in your area of expertise, and you get a chance to grow your skills in a different capacity."
I want to believe most of the expatriates in the health sector are not driven by wanting to make more money, unlike those representing multinational companies. Be assured, however, that there is a lot of money to be made in addition to your career growth. In addition to the fact that you get paid at least the same as you would have in the "developed" world, your additional allowances and the affordable living standards translate into more savings for you at the end.
Finally, the nature of the landscape and availability or lack thereof of social amenities in the field means you will without any conscious efforts be expending a lot of energy walking about to get things done. As a result, you stay fit in the size that is right for you. The people around you may either inspire you to lose weight, given their body weights or may challenge your concepts of beauty as they may have a different taste of elegance. Society leaves you with an acceptance of what they consider beautiful or at least the understanding that beauty lies in the eyes of the beholder in contrast to the fierce industry-designed adverts to convince you otherwise.
There are endless things to see and places to visit. The sight of ancient paintings, cultural performances, magnificent wildlife becomes a routine, as you move from one place to another to get your tasks completed. Slow traffic, which is a horrible thing in other regions, could be a cultural experience of a lifetime as you stand to witness a vibrant business alongside these roads and expressions of hope, love, and sense of community in the music and conversations along the streets and in public transports (I recommend you watch this video).
We may infect you with our microbes but also affect you with our optimism, hospitality, generosity, sense of community and brotherhood, sense of fulfillment, worth, and making a difference. See you in Africa, the homeland of the tropics and the world. 
Dr Jalloh has been kindly supported by the Harriette Kelso Scholarship which supports students from Sierra Leone and Tanzania to study the DTM&H at LSTM on a fully-funded scholarship. If you would like to find out about how you can support students to study at LSTM, please click here.