Twitter: @carey_i
I live in Blantyre, Malawi where I work at the Malawi-Liverpool Wellcome Trust as part of a research group on sepsis led by Dr Jamie Rylance. The work we are doing is related to how we can safely manage patients with sepsis in sub-Saharan Africa.
The Global Health MSc was recommended to me by my supervisor, Jamie Rylance.
Sepsis is a life threatening consequence of infection, affecting almost 50 million patients every year; 11 million of whom go on to die (Rudd, 2020).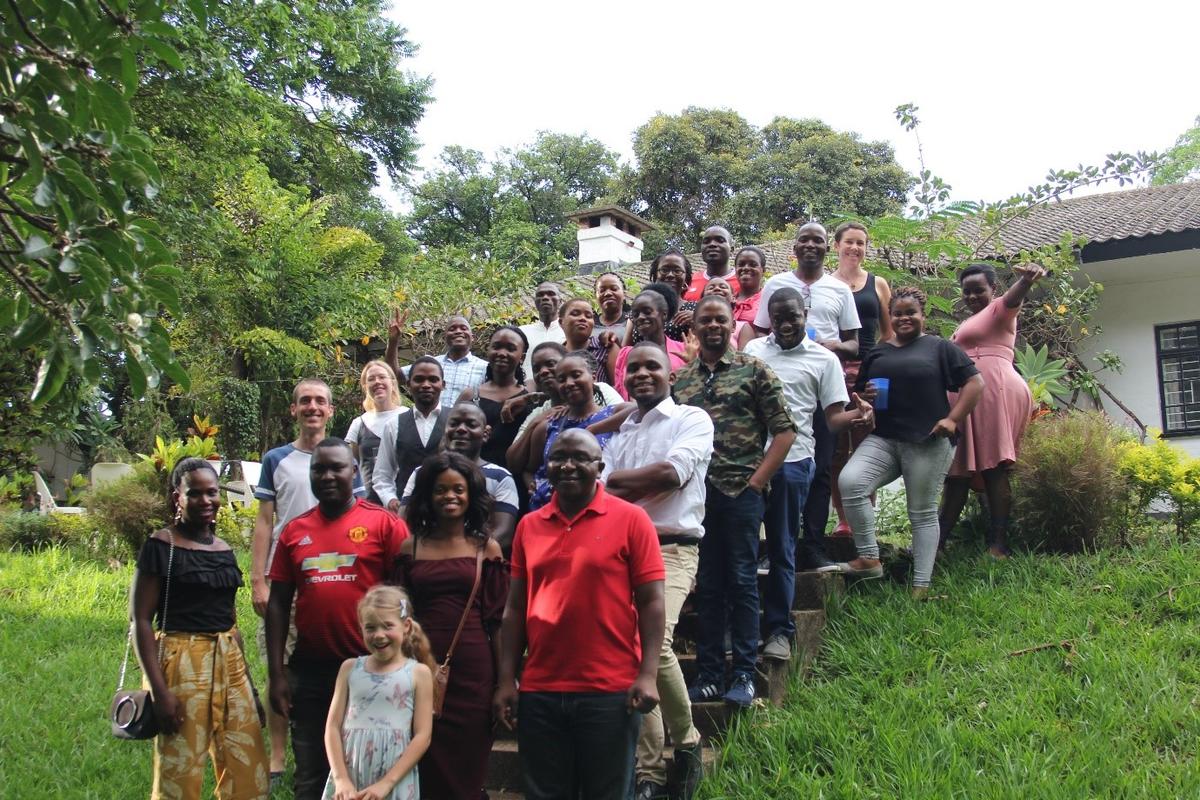 Patients with sepsis in Malawi are young, the median age is 34, and a large majority are living with HIV (Lewis, 2019). Patients often wait a long time at home before coming to hospital; nearly 30% delay presentation by more than 2 weeks. When they do arrive, it is often in a very compromised state. Almost a third of those with severe sepsis admitted to hospital in Blantyre die (Lewis, 2019).
Currently, guidelines for adults with sepsis emphasise quick fluid 'boluses' (fluid given quickly through the veins via a drip) to normalize blood pressure and improve blood supply to vital organs. A large well conducted trial in sub-Saharan Africa showed that fluid given in this way to children with sepsis increases death (Maitland, 2011). It is not clear whether the same is true for adults.
Our team is interested in how the heart and lungs respond when adults with sepsis are given fluid therapy. We use a combination of bedside techniques at regular time periods to investigate this. We use lung ultrasound to look for evidence of fluid filled or 'water-logged' lungs and a type of ultrasound (echocardiogram) to look for strain on the heart (pictured below).  
We use a special handheld camera that can take high resolution images of the microcirculation under the tongue.We are also very interested in the smallest blood vessels in the body called the microcirculation. These vessels play a critical role in organ failure and death in sepsis.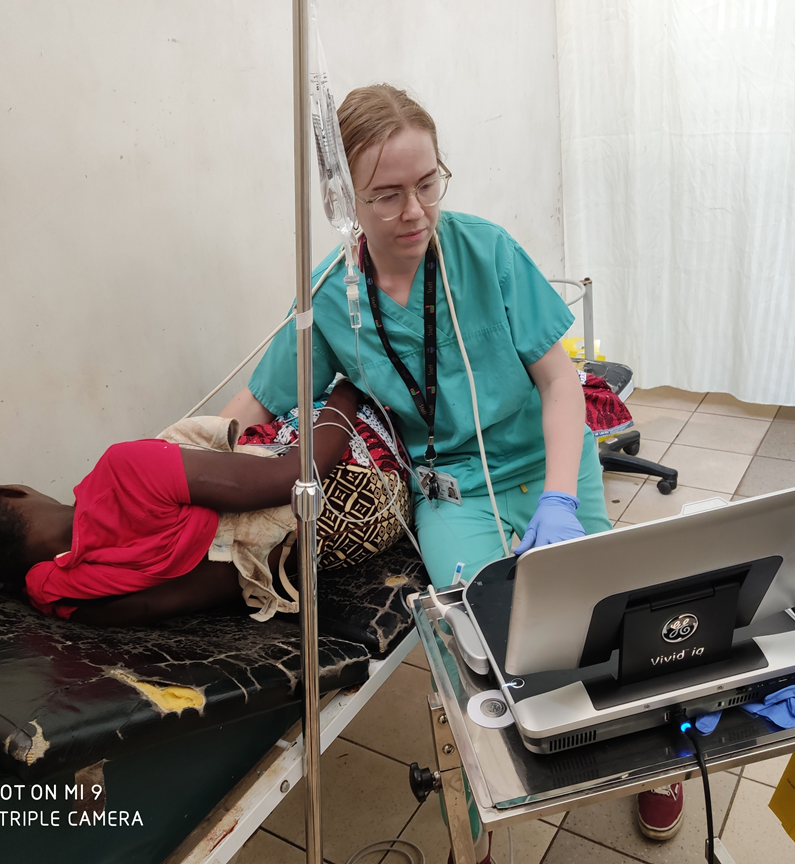 We hope to use this information to model predictors of adverse outcomes in adults presenting with sepsis in Malawi. This information could be used to inform clinical trials designed to answer the question: is fluid bolus therapy more harmful than conservative therapy in adults with sepsis in sub-Saharan Africa?
Global Health MSc
The Global Health MSc is a part-time distance learning degree which means all modules are delivered online over a two-year period. There is the flexibility to work when you have time but with sufficient structure and deadlines to maintain focus. There is also the option to download the material in advance if you know you are going to be in the field or travelling with limited internet access.
Brightspace is the online platform and virtual learning environment where you can access content and engage with your tutors and colleagues. You are assigned a personal tutor who is available for regular meetings and support when needed. Topics within the modules contain a discussion board where you can interact with classmates from all over the world. The topical debates within the online discussion groups are one of the unique aspects of the course.
The core modules are Global Health, Research Methods and Leadership in Health Systems Management. There is support to develop academic skills needed at postgraduate level and prepare you for life beyond an MSc degree. The study skills section of Brightspace contains interactive modules to help with critical thinking, writing, group work and reflective practice. Reflective practice is a skill I have developed immensely as a direct result of this course.
The assignments often involve developing a solution to a specific global health related issue. For example, forming a communication strategy for a new government policy. As a clinical researcher, I had not fully considered the steps beyond developing the evidence. An understanding of the translation of evidence into policy is essential for anyone considering a career in global health. The group work assignments involve working collaboratively with colleagues across different time zones, another key skill for working within global health.  
The Research Methods module is particularly useful for those involved in or thinking of going into research. It teaches critical analysis of both quantitative and qualitative methods, evidence synthesis and use of structured appraisal tools. There is an optional Qualitative Methods or Epidemiology and Statistics module, depending on your particular interests. With the dissertation, you have the opportunity to plan, seek ethical approval and carry out your own research project.
I recommend the MSc in Global Health with LSTM to those who have a passion for global health and wish to formalize this with the academic and leadership skills needed to make an impact in their field.
All images used with permission.
References
Joseph M Lewis, Michael Abouyannis, Grace Katha, Mulinda Nyirenda, Grace Chatsika, Nicholas A Feasey, Jamie Rylance, Population Incidence and Mortality of Sepsis in an Urban African Setting, 2013–2016, Clinical Infectious Diseases.
Maitland, K., Kiguli, S., Opoka, R. O., Engoru, C., Olupot-Olupot, P., Akech, S. O., Nyeko, R., Mtove, G., Reyburn, H., Lang, T. and et al. (2011) 'Mortality after fluid bolus in African children with severe infection', New England journal of medicine, 364(26), pp. 2483‐2495.
Rudd, K. E., Johnson, S. C., Agesa, K. M., Shackelford, K. A., Tsoi, D., Kievlan, D. R., Colombara, D. V., Ikuta, K. S., Kissoon, N., Finfer, S., Fleischmann-Struzek, C., Machado, F. R., Reinhart, K. K., Rowan, K., Seymour, C. W., Watson, R. S., West, T. E., Marinho, F., Hay, S. I., Lozano, R., Lopez, A. D., Angus, D. C., Murray, C. J. L. and Naghavi, M. (2020) 'Global, regional, and national sepsis incidence and mortality, 1990–2017: analysis for the Global Burden of Disease Study', The Lancet, 395(10219), pp. 200-211.
For more information about our online MSc Global Health programme, please visit https://www.lstmed.ac.uk/study/courses/global-health