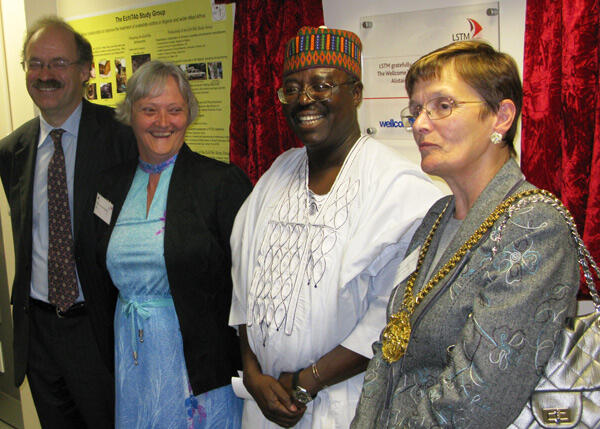 The fit-out of LSTM's Centre for Tropical and Infectious Diseases (CTID) and the refurbishment of the Alistair Reid Venom Research Unit have now been completed.  The work was funded by a £2 million grant from the Wellcome Trust and today LSTM welcomes its director Sir Mark Walport, the Lord Mayor of Liverpool, Councillor Hazel Williams, and the Director EchiTAB Study Group, Dr Abdulsalami Nasidi, to celebrate final completion.
LSTM Director Professor Janet Hemingway said :"CTID is a £23 million state of the art facility which puts LSTM at the forefront of infectious disease research, bringing together a multidisciplinary team of scientists capable of taking a scientific idea from 'molecule to man'.  Research being undertaken here is addressing new challenges in the treatment of infectious diseases and is at the very heart of LSTM's long term plans to generate products to directly improve health in the developing world.
"The Alistair Reid Venom Research Unit is a unique facility which has helped to save many thousands of lives through its key role in the production of antivenom.   Nearly 100,000 people die each year from snake bite, many in Nigeria where LSTM and the Ministry of Health have established the EchiTab Study Group to resolve the antivenom crisis in Nigeria and improve the treatment of snakebite worldwide."
Sir Mark unveiled a plaque acknowledging the support of the Wellcome Trust and praised the work of LSTM, saying: "Excellent research requires excellent facilities - the splendid Centre for Tropical and Infectious Diseases will maintain the Liverpool School of Tropical Medicine at the forefront of research work to prevent and treat the major diseases that kill millions of people throughout the world. The Alistair Reid Venom Research Unit is of global importance in snake venom research and in the development of antivenoms that are essential for the effective treatment of snake bite, which is an important and neglected cause of death in many parts of the world."
-ends-
Billy Dean, Development Officer 
Office: +44 (0)151 705 3272 
Notes to Editors
The Liverpool School of Tropical Medicine (LSTM) has been engaged in the fight against infectious, debilitating and disabling diseases for more than a hundred years and continues that tradition today with a research portfolio in excess of £159 million and a teaching programme attracting students from over 70 countries.