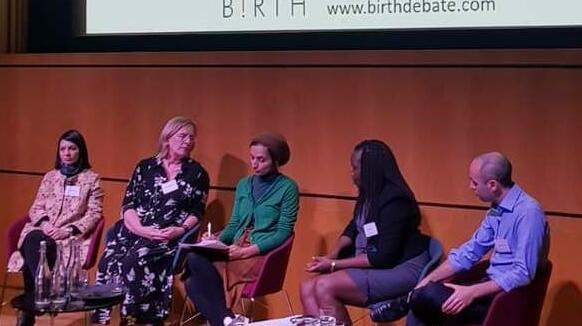 The B!RTH Project, which is coordinated by LSTM, performed two of its plays in front of an invited audience at the Wellcome Collection in London.
The evening included performances of two of the seven B!RTH plays, 'Orchid' by Mῦmbi Kaigwa, addressing the burden of obstetric fistula in Kenya, and 'Q&Q' by Liwaa Yazji, which focuses on the realities of pregnancy and childbirth through conflict, based on the situation in Syria. 
Following the performances there was a panel discussion and interactive debate with questions from the audience, facilitated by Channel 4 News journalist Fatima Manji. The panelists were Professor Nynke van den Broek, Head of LSTM's Centre for Maternal and Newborn Health (CMNH), Dr Benjamin Black, an obstetrician and gynecologist from Médecins Sans Frontières (MSF), Dr Ayesha Ahmed, lecturer in Global Health from St George's, University of London (UCL) and Mary Otuko, UK Programme Manager of the FORWARD Charity.
The discussion focused on the positive actions needed to make the necessary changes to reduce maternal mortality, the importance of research to address some of issues raised in the performances. And how in conflict settings the societal, economic and cultural challenges further impact women's health.
The panel spoke from their own experiences about the importance of taking away the stigma associated with health problems such as fistula so that women would come forward and seek professional health care. Both panel and audience acknowledged the importance to listen to the women affected to share and make visible their stories to illustrate the vast inequality that still exist in maternal health across the globe. 
The audience, made up of invited influencers from non-governmental organisations, professional bodies and academia, asked further questions about engagement with local communities and the difference between emergency responses and long-term planning as well how researchers can be instrumental in directing donors to invest in the right areas.
B!RTH is a unique fusion of science and theatre, using 7 plays written by 7 female playwrights from 7 different countries to raise awareness around global health inequality. The plays premiered at the Royal Exchange Theatre in Manchester in 2016 and have since been performed in Edinburgh, Dublin, Liverpool and at the World Health Organization (WHO) in Geneva, as well as being used as an educational tool around the world.
The plays and following panel discussion can be viewed here

'Orchid' and 'Question and Question', along with the five other B!RTH plays, are all free to download and use as tools to educate, raise awareness and encourage debate at www.birthdebate.com