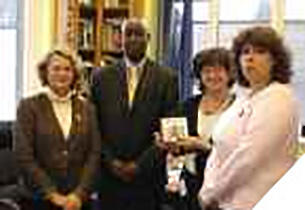 Mr Paul Kasimu, Barclays¹ Regional HR Business Partner for the East African Region has visited the Liverpool School of Tropical Medicine to hear of the many HIV/Aids initiatives in which the School is involved around the world.
He was welcomed to the School by Director, Professor Janet Hemingway and Chairman Rosemary Hawley and met members of LSTM's HIV/Aids programme.
Experts working on the programme are currently helping in the UN's Global Fund initiative to identify strategies which will enable AntriRetroviral Therapy to be made available to the millions of people who need it.
Mr Kasimu learned that in countries like Kenya , the name of the School has come to mean comfort and help to thousands of people living with HIV/Aids. The place many turn to for support is one of the 100 or so Liverpool Voluntary Counselling and Testing Centres, named as such because they were started by the School.
He also learned of the School¹s connection with Amangwe Village in South Africa , a holistic care centre for people affected by HIV, including orphans. The HIV/AIDS Knowledge Programme supports this centre through research, consultancy advice and programme management and through raising money and resources to fund educational and emotional needs of children affected by the HIV pandemic.
Mr Kasimu was himself was responsible for implementing the first Barclays Africa HIV/Aids Assistance programmes in Botswana . The programme was subsequently rolled out to other businesses in Africa and voted one of the top comprehensive work place programmes in the world by UNaids in 2003. 
Further information from Eileen Taylor, Press Officer, 0151-708-9393
or 0778 66 13604.