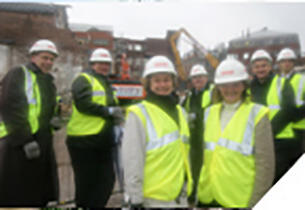 The Liverpool School of Tropical Medicine (LSTM) has embarked on an exciting new phase in its 107 year old history with the demolition of buildings on an adjoining site to make way for a state of the art Centre for Tropical and Infectious Diseases. This will link via a bridge with the existing school building in Pembroke Place. 
The school has secured £18 million of public funding for the project, with the Northwest Regional Development Agency (NWDA) and the Merseyside Objective One Programme, each investing £9 million in the new centre which will double the size of the school. 
The new international institution is due for completion in 2007 and is being built by Shepherd Construction of York. The Centre will be the home of ground breaking research for new drugs and vaccines for some of the world's deadliest diseases and for the development of new insecticides to defeat the malaria-carrying mosquito. 
The Gates Foundation has awarded 50 million dollars for malaria related research projects in the new centre. The European Commission has recently given over £10 million for a research programme to be based at the new centre for developing new drugs for malaria. 
Said Professor Janet Hemingway, Director of the School: "The new centre is an integral part of our exciting plans to double the size of the School over the next five years. The School is a unique organisation - the only one capable of initiating, validating and trialling new drugs, vaccines and insecticides for current and emerging infectious diseases." 
Steven Broomhead, NWDA Chief Executive, said: "The NWDA is delighted to support the development of this state of the art facility, which will ensure that the LSTM remains at the cutting edge of scientific endeavour and build on the Northwest¹s impressive reputation as a leading region for biotechnology." 
Note to Editors
In the six years since the NWDA was established it has: 
Created or safeguarded 170,000 jobs
Created 9,000 new businesses 
Reclaimed 3,500 hectares of brownfield land 

Levered £2 billion of private investmentThe Northwest Regional Development Agency - Investing in England's Northwest. 
View images of the region - www.englandsnorthwest.com/imagebank 
Issued by Eileen Taylor, Press Officer, Liverpool School of Tropical Medicine, tel: 0151-708-9393; mobile 0778 66 13604