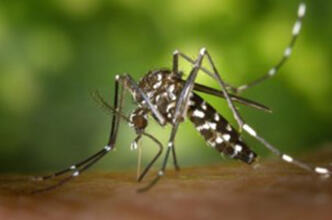 Dr Kline started by providing some detail about the Aedes albopictus, or Asian tiger mosquito, which originated in South East Asia.  It is a very invasive species first recorded in USA in Houston, Texas in 1985 and now found in over 1000 counties in more than 30 states. He talked about its travel throughout Florida and the fact that it is very similar to the Aedes aeqypti, the yellow fever mosquito, explaining that both are diurnal or day biters.
He explained that the Aedes albopictus is a vector for Eastern Equine Encephalitis, Western Nile Virus and dengue fever. He went on to say that as a species they are more difficult to control than others, given that they are very adaptable in terms of their habitat and breeding grounds.
He went on to talk about research that has been carried out into a number of commercial and residential traps and attractants to establish which are most effective for surveillance and trapping the Aedes albopictus and other species. He explained how the different traps worked, using colour contrasts or hoods, heat, light CO₂, or adding Octenol or lactic acid as lures - with one trap even using the sound of a dog's heartbeat.
He described how they simulated a backyard environment in their large cages at USDA-ARS, releasing 500 adult females between four and eight days old to test the various traps and look at the impact of adding the lures in different combinations. Results show that a combination of Octenol and lactic acid was most effective in attracting the Aedes albopictus, but with many other species it was more effective not to add any lures at all.
He concluded by describing other parts of the life cycle, such as sugar feeding, artificial baits and response to flowers. He looked at further research that needs to be undertaken in relation to surveillance and controlling the species and exploiting this work in relation to oviposition and breeding sites.