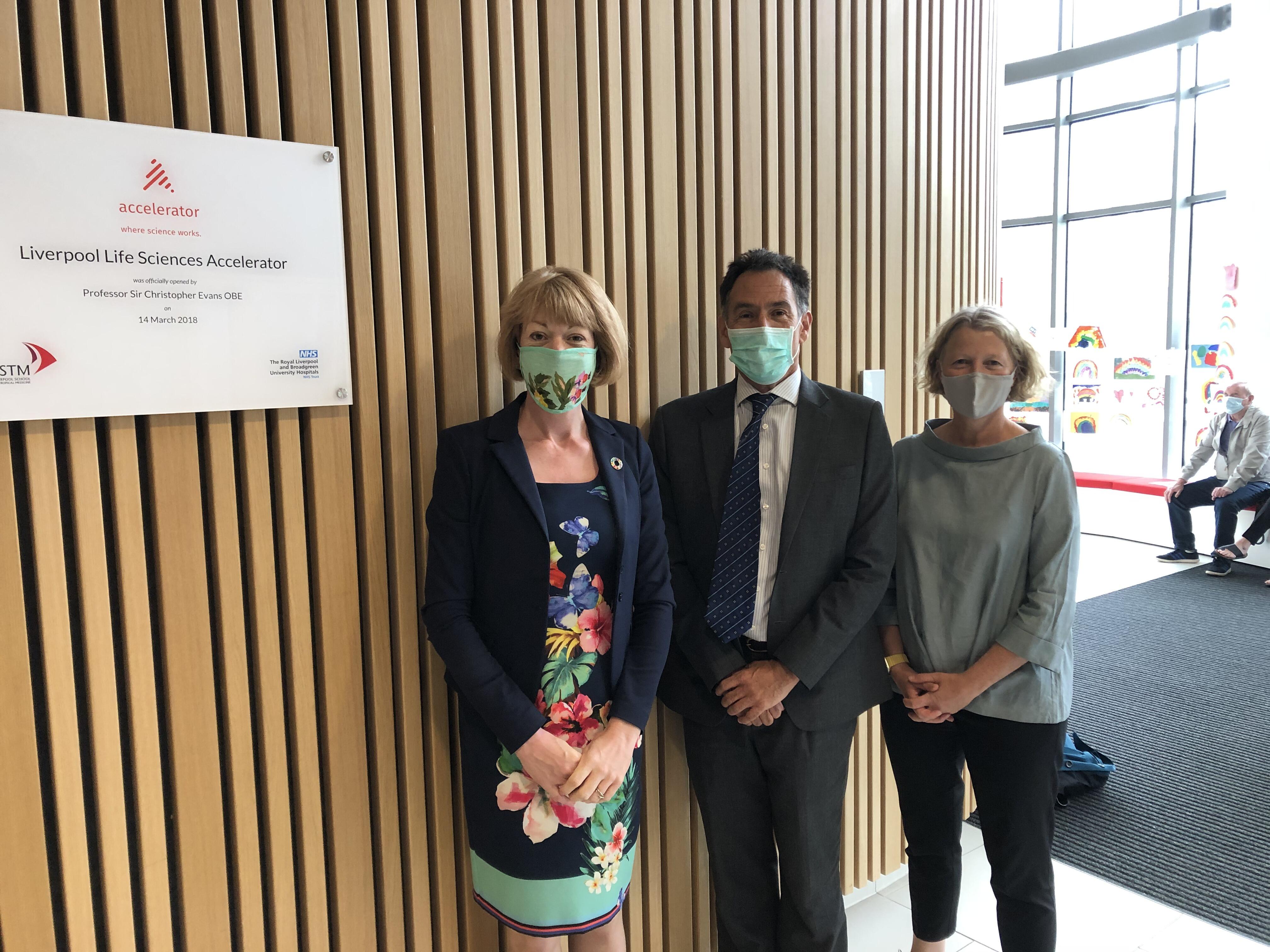 LSTM played host to a ministerial visit from the Foreign and Commonwealth Office and the Department for International Development (DFID). The visit by Global Health Minister Wendy Morton MP, Parliamentary Under Secretary of State, came as it is announced that UK aid will support the Liverpool School of Tropical Medicine (LSTM) in its research on preventing the spread of infectious diseases such as tuberculosis and in strengthening health systems in fragile countries. The announcement will help to identify new ways to save thousands of lives from infectious diseases, with support from the UK Government.
The £15.5 million funding announcement, made by Minister Wendy Morton, took place during a virtual discussion with international scientists and health experts on how international research can help stop the global spread of infectious diseases, with focus on how to manage the current coronavirus pandemic.
Minister Morton said: "Coronavirus is having a devastating effect in the world's poorest countries, threatening already fragile health systems and hampering the fight against other deadly diseases. Liverpool scientists are working incredibly hard with colleagues in the UK and around the world to help fight infectious diseases and save lives. Today's global discussion reinforced the need for international co-operation on research to fight this pandemic."
Minister Morton was joined in the virtual discussion by Professor Charlotte Watts, Chief Scientific Adviser at the Department for International Development as well as scientists from LSTM and countries like Nepal and South Africa. They discussed the different impacts coronavirus may have on developing countries, and especially how it is affecting already-fragile health systems and the fight against other deadly diseases like tuberculosis which kill millions each year.
During the visit, Minister Morton met with scientists from across LSTM who are leading the fight against the current coronavirus pandemic through researching the development of new therapeutics, diagnostics and vaccines including Professor Giancarlo Biagini, Dr Tom Fletcher, Dr Ana Cubas Atienzar and Professor Daniela Ferreira. In addition, she met with Professor Robert Harrison to hear about the DFID-funded snake venom research programme which supports the discovery and development of effective, affordable and safe snakebite treatments in India and Africa.
Professor David Lalloo, Director of Liverpool School of Tropical Medicine, said: "Much of our research and clinical work in recent months has been refocussed onto the COVID-19 pandemic in the UK and overseas, but at LSTM we have been acutely aware of the particular impact that the virus is having in low income settings with a high burden of other disease. Our work has always focused on research and strengthening capacity in disease endemic countries, and we must ensure that recent advances in disease control and improving health outcomes programmes are not destroyed by the pandemic. This new UK aid funding will enable LSTM to continue address the impact of COVID-19 and other infectious diseases on some of the world's poorest people."
The new UK aid funding will support a consortium of international, regional and national health research and policy organisations working in Africa and the UK to improve equitable access to quality tuberculosis (TB) services to limit the spread of the disease and prevent deaths, ultimately moving towards reaching global targets to eradicate TB. This will be achieved through the introduction of new TB diagnostics, treatments and vaccines. The Research Programme, Leaving no-one behInd: transforming Gendered pathways to Health for TB (LIGHT), will tackle both the root causes of, and responses to, gender related barriers for men needing to access relevant health services.
Professor Bertie Squire, Dean of Clinical Sciences and International Public Health at LSTM and Research Director of the Programme "There is increasing evidence that men have been left behind in global efforts to end the TB and HIV epidemics.  They form a substantial proportion of the "missing cases" of 4 million people with TB, who are missed due to under-diagnosis, under-treatment and under-reporting. In addition to the burden this places on their health, it means that they contribute to continuing transmission, including to women and children. It is important to now shine a light on men and boys to find gender transformational ways to address the intersection of poverty and masculinity to End TB. We are delighted to have been awarded this funding through the RPC competitive process. We anticipate being able to deploy almost £8m strategically over the coming six years."
Amid fears that coronavirus is leading to a rise of other diseases around the world as overburdened health systems struggle to cope, UK aid will also support research into how to strengthen these health systems in the most vulnerable places, like conflict zones. The UK aid funding will also support the ReBUILD for Resilience which, over 6 years, will look at health systems in fragile contexts experiencing violence, conflict, pandemics and other shocks. The aim is to produce high-quality, practical, multidisciplinary and scalable health system research which can be used to improve the health and lives of many millions of people.
LSTM's Dr Joanna Raven said: "Two billion of the world's poorest people live in fragile and conflict-affected settings and that figure is rising, fuelled by growing inequality, violence, conflicts and other shocks including the current COVID-19 outbreak. In these shock-prone contexts, and with growing threats from climate change, population displacement and epidemics, the progress towards universal health coverage is slow. This funding will help us to understand how we can develop stronger and more resilient health systems which deliver both local and global health."
The visit was concluded with a round table discussion on possible developments, over the next 1-2 years, in the current coronavirus pandemic.  LSTM scientists gave expert opinion on these possible scenarios and advised on what the UKs response should be.