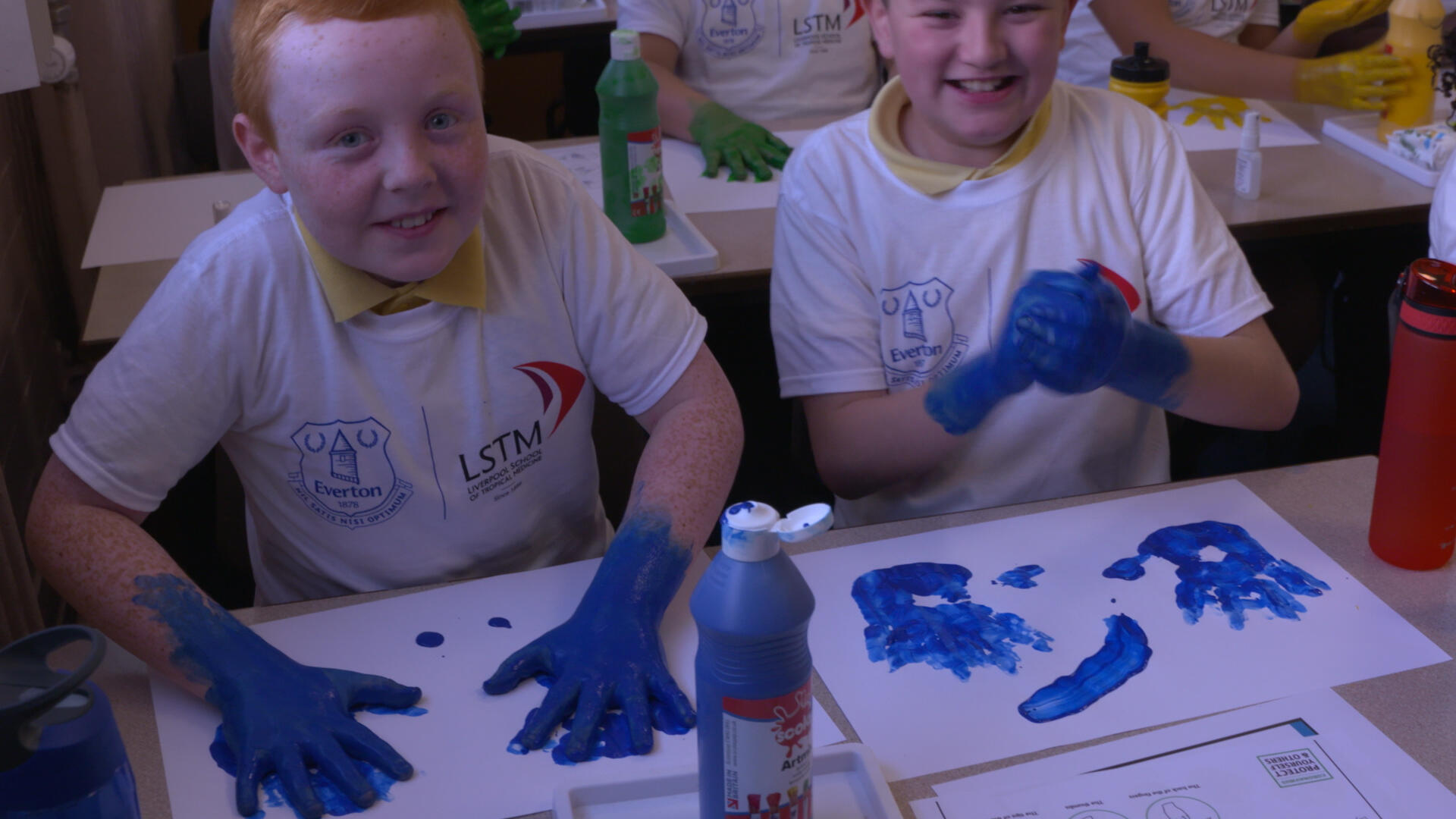 Two of the oldest and most respected organisations on Merseyside, Everton and Liverpool School of Tropical Medicine (LSTM), are now working together to advance community awareness of scientific research and share key messages on combatting coronavirus.
The pandemic has created unprecedented economic and health challenges around Merseyside, the UK and beyond. By partnering together, Everton's community reach and LSTM's scientific expertise will be used for community outreach and engagement initiatives delivered by Everton and Everton in the Community as part of its Blue Family campaign.
A series of visits by LSTM's STEM ambassadors to primary schools that are part of Everton's Schools Supporters' Club Programme and Everton in the Community outreach initiatives commenced this week, combining the passion and interest in football with scientific education.
LSTM researcher Sarah Begg and PhD student Rachel Byrne visited Wavertree Church of England School and was joined by Everton player Mason Holgate via video, to deliver an engaging and interactive scientific session.
Everton defender Holgate helped lead the children's questions for the STEM Ambassador, and the children participated in an activity using blue paint to understand why thoroughly washing hands is so important to avoid the spread of germs.
The pupils also watched a video of Holgate doing timed keep-ups to give them an idea of how long they should be washing their hands to help combat the virus.
"It was so nice to be able to deliver this first visit," said Rachel Byrne. "Using football analogies to show pupils how fascinating science can be - and that it is something they can have a career in later - is so important."
Everton defender Mason Holgate said: "Science has never been more important. Being able to be a part of this session and to help the pupils learn more about such an important topic is really exciting - and something I'm proud to be involved in."
Professor Denise Barrett-Baxendale MBE, CEO of Everton Football Club, said: "As a football club, we have a very special relationship with so many people across the city - and across the world. We are committed to using those relationships to help communities during these incredibly challenging times. This collaborative partnership with the Liverpool School of Tropical Medicine is an example of two great institutions working together to make a real difference to people's lives at a time when such spirit and endeavour is needed more than ever."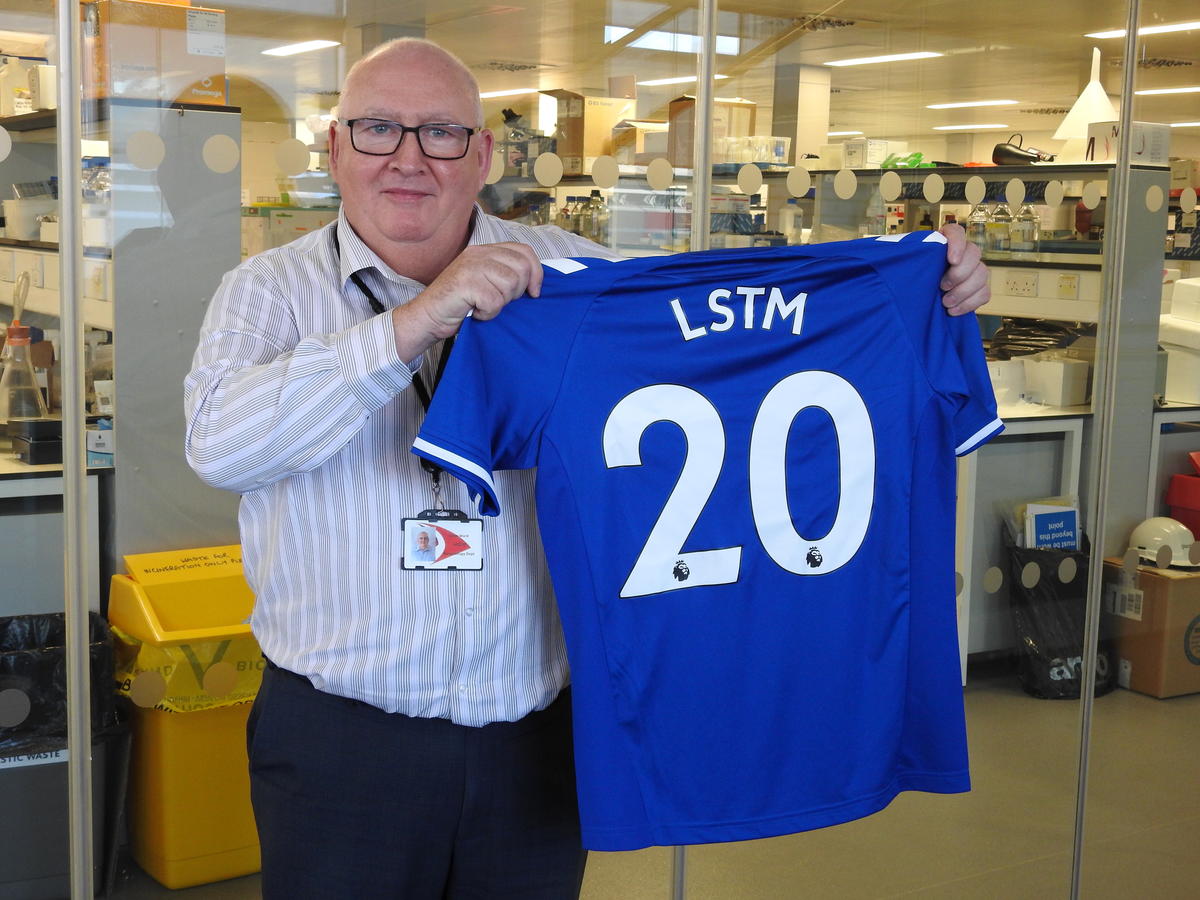 Professor Steve Ward, LSTM's Deputy Director and lifelong Everton fan said: "To be able to work with Everton and Everton in the Community to show what we do as a research institution and how it helps health outcomes here in Liverpool, the UK and overseas is so important. And to have the opportunity to show school children that a scientific career might also be possible for them is even more rewarding. The school visits are just the first initiative we are working on together, and we are looking forward to planning many more, based on key issues where it is important to raise awareness and support the health needs of our community."
Richard Kenyon, CEO of Everton in the Community and Everton's Director of Marketing, Media & Community, said: "The extensive range of programmes delivered by Everton in the Community and the enormous reach of the Club combined with the School of Tropical Medicine's ground-breaking work in the field of research presents a unique engagement and exciting opportunity. Working together we can expand the awareness of the important research being done at the School while also encouraging more young people in our city to take an interest – and potentially pursue careers – in science and related subjects."
Lisa Vaughan, teacher at Wavertree Church of England School, said: "The children were really excited to get involved in the session and it led to some really pertinent questions. Practical science is a great way to engage with learning, and as a teacher it is really exciting to see Everton and the Liverpool School of Tropical Medicine working together to inspire children to look at science as a career - and understand how important it is to everyday life. Bringing football and science together, and showing how they are connected, really captured the children's imagination. I know that they will all be going home and sharing their new-found knowledge – which is one of the key aims of these sessions."
Visits will continue across Merseyside throughout the current school year – and will act as the pre-cursor of further collaborations between Everton and LSTM over the next three years, culminating in LSTM's 125th anniversary in 2023.