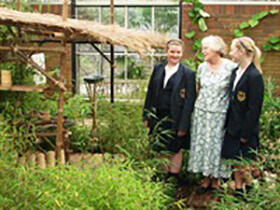 A tribute to ex-Far East Prisoners of War (FEPOW) has opened at Ness Botanical Gardens, South Wirral, England. The FEPOW Bamboo Garden recreatespart of a jungle encampment on the Thai Burma Railway. Originally created for the Royal Horticultural Society show at Tatton Parkin July 2010, the garden has been expanded and now includes an audio trail which helps visitors understand the garden and the artefacts on display and is free to visit.
LSTM's involvement with treating ex-FEPOW datesback to 1946 and continues today with research conducted by Professor Geoff Gill and Meg Parkes. "This garden literally brings to life for the public a still little-known aspect of WWII history. It has been created in order to link Ness's unique collection of bamboo to cross-curricular work done by pupils at Pensby High School for Girls in Wirral," said Meg, who has led a two-year, Heritage Lottery (HLF) funded project at Pensby.
The HLF project is centred on the oral history archive recorded by LSTM. A website www.captivememories.org.ukhas also been developed explaining the history and sharing downloadable resources and audio clips from the interviews with FEPOW, designed for education groups and the public.