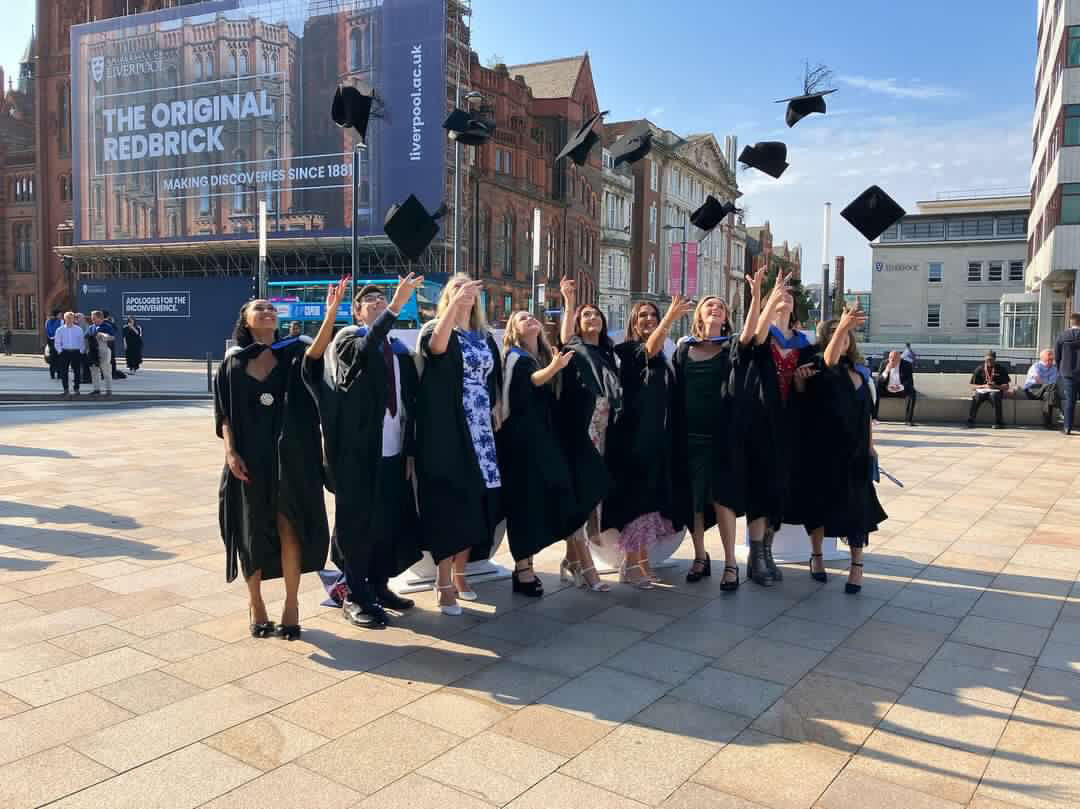 Last month a rare sunny day saw the graduation from University of Liverpool of the Tropical Disease Biology BSc students, who were taught by LSTM staff. Top prizes were won by Abbie Connor, Abigail Cawley, Clarissa Pieri and Ella Foreman.
As well as being the first placed student in the Tropical Disease Biology (TDB) programme, Abbie Connor was awarded the Royal Society of Biology Top Student Award in the School of Life Sciences. She said:
"It has been an amazing three years. The teaching quality and support from LSTM staff is superb. My supervisor, Professor Penelope Phillips-Howard, was also outstanding and a fantastic support during my final year project on HIV prevalence and treatment-seeking behaviour among adolescent schoolgirls in rural Western Kenya. Receiving these awards is an honour and I am looking forward to continuing my studies in September at LSTM on the MSc Tropical Disease Biology programme"
 The prize for the student coming second in the TBD graduating class was awarded to Abigail Cawley, who said:
"Studying at LSTM has been an absolute pleasure and has ignited my passion for a research-lead career. Through my interactions with professionals based at LSTM, I have gained unique insight into the challenges posed to research in the tropics. Undoubtedly, my final research project based within the Vector Biology Department was the highlight of my studies, and with such supportive staff invested in my learning I have been inspired to pursue a Master of Research degree at LSTM"
 Intercalating medic, Clarissa Pieri commented that: "I am very grateful to have received a prize for being the third highest honours average in the Tropical Disease Biology BSc. For me, achieving a degree in Tropical Disease Biology has been a great opportunity and extremely rewarding. The programme had been both challenging and fascinating, delving deep into the complexities of diseases that affect millions of lives in tropical regions. I have acquired transferable skills which will be useful in the future. I particularly enjoyed completing my research project on the control of the urban malaria vector Anopheles stephensi in India. The Tropical Disease Biology degree has shaped and directed my future career. It was a privilege to have the unique and inspiring experience of studying at LSTM".
Ella Foreman, who was supervised by Professor Mark Taylor and Dr Shannon Quek, produced the best research project in Tropical Disease Biology for her project on the human filarial parasite, Brugia malayi.
"Whilst working on my project I was able to gain an insight into what a career in this field would entail as well as being lucky to work with dedicated staff who enabled me to develop my skills. The opportunities and diverse learning choices have led me to pursue a master's degree in Tropical Disease Biology at LSTM. I am really looking forward to being able to become part of the wider community and impact on the school in the future".
LSTM wishes the Class of 2023 TDB BSc graduates all the best for their future studies and careers. Whether you studied with LSTM for three weeks or three years, you are a part of a community of global health leaders who want to make a difference. Stay connected with us and join our alumni and friends network.