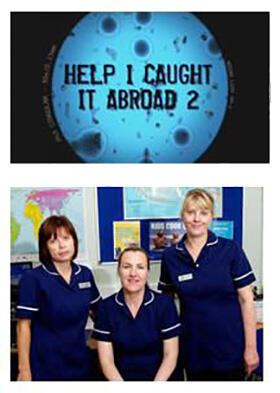 An observational TV documentary following the care and treatment of tropical disease patients in Liverpool airs next Tuesday on ITV1.  A film crew were given exclusive access to follow doctors and nurses at the Liverpool School of Tropical Medicine (LSTM), Well Travelled Clinics (WTC) and The Royal Liverpool University Hospital this summer.
The film features patients suffering from a range of conditions including malaria, snakebite, leprosy and parasitic infections which attack the liver and eyeballs and captures the unique relationship between the three institutions as they provide a seamless 'triangle of care' to patients needing very specialised diagnosis and treatment.
Viewers discover LSTM's collection of venomous snakes, crucial for the production of antivenom which saves hundreds of lives every year, and the state-of the-art facilities housing colonies of sandflies and mosquitoes, some of which feed on a doctors' arm during the film.
The film also shows how tropical diseases are diagnosed, the world-class care that patients receive at The Royal Liverpool University Hospital from consultants and doctors to help them recover from their diseases and the role of professional pre-travel health consultations in preventing travellers picking up disease in the first place.  The overall message is to seek advice before you travel and if you feel unwell or notice any symptoms whilst overseas or after your return, don't wait; seek advice from your GP as soon as possible.
Help! I caught it abroad 2, ITV1 9pm Tuesday 7th September 2010. 
-ends-
Watch the programme again on ITV player here
Alan Hughes, Communications Manager
Office: +44 (0)151 705 3308