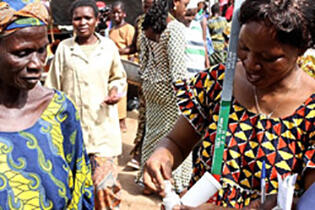 Professor Moses Bockarie, Director of the Centre for Neglected Tropical Diseases, based at LSTM, has noticed a recent surge in publications discussing the use of ivermectin to kill mosquitoes. A trend that reflects an integrated approach to the control of malaria and neglected tropical diseases (NTDs). In an article in yesterday's Financial Times, Professor Bockarie outlined the need for better cooperation amongst disease networks. Growing mass drug administration programmes in Africa to tackle lymphatic filariasis and onchocerciasis (river blindness) have had an impact on the cases of malaria reported in those areas
Likewise Long-lasting insecticide impregnated bednets provided to tackle malaria are also effective in reducing the burden of lymphatic filarasis. However this approach is not yet as coordinated as it could be "Some groups are really not talking to each other," Professor Bockarie says.
De-worming programmes in Kenyan schools have allowed researchers to gather accurate information on the use of insecticide treated nets in the homes of the children. Nets that prevent mosquitoes biting and transmitting malaria and some NTDs. Researchers found that not all nets being distributed were being used in homes. Providing malaria and NTD control programmes with a better picture of net coverage in these areas.