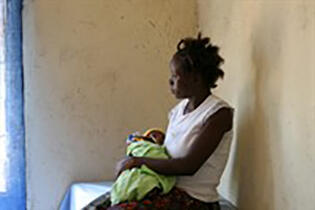 How a person's gender affects their healthcare has been the subject of a number of studies at LSTM and a continual factor in the delivery and management of healthcare in some developing countries. To mark International Women's Day 2011, three women from LSTM highlight work involving gender, equity and health.
Dr Rachel Tolhurst, Lecturer in Social Science and International Health
In international health programming we need to understand and address the way that women's and men's roles and relations affect their health and healthcare needs. In my work I draw on my social science background, and my long-standing commitment to women's rights. I work closely with Dr Sally Theobald and other staff in the International Health Group and across LSTM, through the Gender and Health Group, to provide research evidence for governments and organisations to promote greater gender equality in health, a process often known as gender mainstreaming.
Our approach involves promoting women's and girls' rights and access to services, but also working with men to achieve this and meet their own needs. Examples include our recent organisation of a seminar series that brought together practitioners, advocates and researchers from 15 countries to discuss the achievements and challenges facing us in gender mainstreaming.
Disseminating our conclusions should help others in this work. We are also developing a programme of research with international partners in Kenya, Uganda, India and Bangladesh, aimed at better understanding how to help women and men change the way they negotiate sexual relationships to prevent HIV/AIDS.  Another current piece of work involves conducting a review of the current evidence about how aspects of gender, such as women's autonomy, decision making power and access to resources, and men's roles, affect young children's health and survival. This review will be used to develop advice for UNICEF country officers about how to understand and address these issues in their programming.
Dr Nynke van den Broek, Head of LSTM's Maternal and Newborn Health Unit
Each year almost 500,000 women die from complications of pregnancy and childbirth. Many more survive but will suffer ill health and disability as a result of these complications. In addition an estimated 4 million neonatal deaths and a similar number of stillbirths occur each year accounting for almost 40% of all deaths under 5 years. More than 95% of all these deaths in mothers and newborns occur in Asia and sub-Saharan Africa.
I am an Obstetrician Gynaecologist with over 25 years experience of working in developing countries and Head of the Maternal and Newborn Health Unit at the LSTM where I lead a team of 13 committed and enthusiastic staff who come from a variety of countries and backgrounds. Our work focuses on women and their new born babies, trying to ensure that all women have skilled birth care.
Often the type of care women receive is of a very poor quality and we have developed a set of tools to improve quality of care and training packages to ensure the care that health care providers give is effective, timely and is more women and baby friendly.
Working closely with governments and organisations like the World Health Organization, UNICEF, the UK Department for International Development and the  Royal College of Obstetricians & Gynaecologists, we help identify the key components of health care needed and how these can be provided.  My current work focuses on research which evaluates the effect of implementation of the identified interventions or 'packages of care' to see if these really make a difference and save lives. This is an exciting area of new research called translational or operational research.
Eleanor MacPherson, PhD student
Over the past 20 years, HIV/AIDS has had a devastating impact on the lives of millions of people around the world.  In Southern Africa women have borne the brunt of the epidemic.  They are now more likely to become HIV positive than men and the most likely to care for family members when they get sick with HIV.
The fishing industry in Malawi is highly gendered. Men almost exclusively carry out fishing, whereas women tend to process, dry and sell the fish.  Recent research has shown that people working in the fishing industry in developing counties are particularly vulnerable to HIV.  They often live in geographically isolated areas with little access to health care.  My PhD research is concerned with understanding why men and women living in fishing communities in Southern Malawi are so vulnerable to HIV.  In particular it is investigating how women's social and economic position in this context can make them vulnerable to HIV.