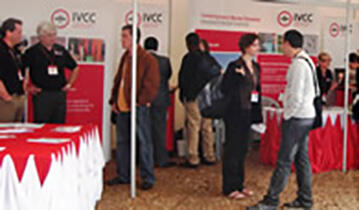 IVCC is hosting a symposium to disseminate the latest advances in monitoring and evaluation of vector control programmes at the 5th Pan-African Multilateral Initiative on Malaria (MIM) conference in Nairobi, Kenya, 1-6 November 2009.  Advanced tools for monitoring and evaluation will also be showcased, including live demonstrations of the new Malaria Decision Support System (MDSS).
The symposium, on Tuesday 3 November, will bring together four experts in monitoring and evaluation, chaired by IVCC's Chief Executive Officer, Professor Janet Hemingway.  Jacob Williams, Themba Mzilahowa, Anna Winters and Immo Kleinschmidt will present abstracts on various aspects of monitoring and evaluation of vector control.
The MDSS, being demonstrated on IVCC's stand in the exhibition area, is a best practice, continuous surveillance system that integrates monitoring and evaluation data from a malaria control programme and presents it in a web-based, real time geographic format to assist with intervention planning.
The system is in final development but an interactive screencast will demonstrate the main features and functionality to delegates.  Copies of the screencast will be available for delegates to take away and trial on their own computers.
The stand will be staffed with key project advisors who will be able to explain and discuss the benefits of MDSS and our other monitoring and evaluation systems and analytical tools, including:
The Vector Population Monitoring Tool - a suite of simple DNA-based kits which will quickly gather species, infection and resistance status of mosquito vector populations
The Insecticide Quantification Kit - a simple to use kit which can quickly determine how much insecticide remains on a bednet or indoor surface.
The stand will also carry details of our developing portfolio of public health pesticide projects to discover new Active Ingredients and new and repurposed formulations, in partnership with the major agrochemical companies.  Key project advisors will be on hand to discuss these projects in more detail.
Tom McLean, IVCC's Chief Operating Officer, said: "MIM is the ideal opportunity for us to announce our monitoring and evaluation tools, bringing together as it does the key enablers and users of vector control programmes in Africa". 
– ends –
For further information, images and interview requests on aspects of vector control during MIM, please contact:
Alan Hughes, Communications Manager
M: +44 7759 243969 
Notes to Editors
The IVCC's symposium, 'Monitoring and Evaluation of Vector Control' is being held in the Tsavo Ballroom 1, KICC, at 1430 on Tuesday 3 November.
The IVCC's exhibition stand is at 23-26 in the main exhibition area.
The IVCC is a Product Development Partnership (PDP) established as a not for profit company and registered charity to overcome the barriers to innovation in the development of new insecticides for public health vector control and to develop information systems and tools which will enable new and existing pesticides to be used more effectively.
We aim to identify opportunities for the development of new products, strategies and tools for improved vector control, and to enable and support those projects by the development of partnerships that bring together the complete set of resources (technical, enabling and financial) to bring those products to market, or the strategies into broad dissemination.
The 5th Multilateral Initiative on Malaria (MIM) Pan‐African Malaria Conference, Sunday, 1 November to Friday, 6 November 2009, will bring together more than 1,500 scientists, policymakers, health care workers and activists from throughout Africa and around the world. Panellists and speakers will present the latest research on tools and strategies that could one day save millions of lives, and discuss ways to increase access to them among the world's poorest populations.