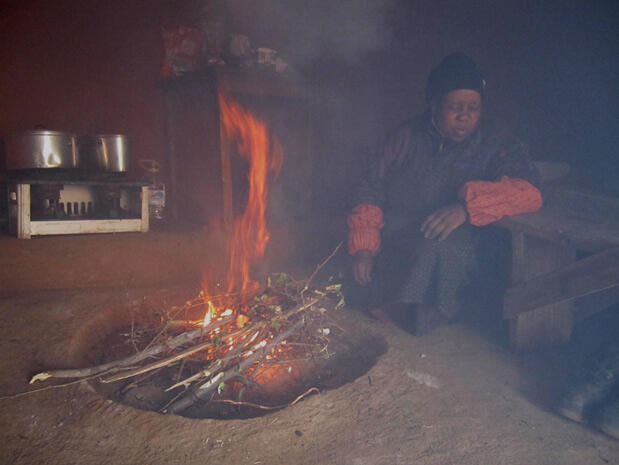 A research team from Liverpool has been awarded £2.7m to fund a trial that could benefit some of the most deprived communities around the world.
Experts from Aintree University Hospital (AUH) and the Liverpool School of Tropical Medicine (LSTM) are leading on the development of the project, which will enable them to investigate how to reduce the effects of domestic smoke inhalation. This is a problem in low and middle income countries around the world, where open fires, used for heating, cooking and lighting, are commonly used inside the main living quarters of homes.
Dr Kevin Mortimer, a Respiratory Consultant at Aintree University Hospital and a Senior Clinical Lecturer at LSTM, who helped secure the funding with Professor Stephen Gordon, said: "It is the poorest people in the world who use open fires in their homes, which are often basic structures with poor ventilation. The harmful effects of the smoke inhalation lie between passive and active cigarette smoking. Chronic obstructive pulmonary disease (COPD) is an example of one of these harmful effects and is an area of great clinical and academic expertise at Aintree University Hospital."
It is estimated that just under half of the world's population live in such conditions, with those affected being primarily women and children who spend the most time in the home. Excessive smoke inhalation can cause pneumonia, COPD and cardiovascular disease, accounting for more than two million deaths annually. The importance of this problem has been highlighted by the Global Alliance for Clean Cookstoves, which is backed by US secretary of state Hillary Clinton and Hollywood star Julia Roberts.
The two year study will track 10,000 children aged under five who live in randomised villages in Malawi. The homes of the children involved in the study will be supplied with two clean cookstoves to see if the new stoves will stop the children getting pneumonia, a major cause of death in this age group.
Dr Mortimer said: "The cookstoves burn the same fuel used in the open fires but much more efficiently, which reduces the amount of smoke emitted by around ninety per cent. The implications could be enormous and benefit millions of people around the world."
Prof Janet Hemingway, Director of LSTM, added: "This project could see a huge impact in the reduction of pneumonia and other pulmonary infections, especially amongst small children who are particularly at risk in Malawi and other low income countries. LSTM is proud to be working with Aintree University Hospital on this project and other research into respiratory infections."
The money has been awarded by the Joint Global Health Trials Scheme, a partnership of the UK Department for International Development, the Medical Research Council and the Wellcome Trust.
ENDS
Notes to editors
1. Aintree University Hospital is a large teaching hospital providing a wide range of acute and non-acute specialties. It provides general acute services to a population of around 330,000 residents in the North Liverpool, South Sefton and Kirkby areas and provides specialist services to a population of 1.5 million residents across the North West and North Wales.
2. Liverpool School of Tropical Medicine (LSTM) has been engaged in the fight against infectious, debilitating and disabling diseases for more than a hundred years and continues that tradition today with a research portfolio in excess of £200 million and a teaching programme attracting students from over 50 countries.
For more information, please contact Michael Sluming, Communications Officer – Media and PR, on 0151 529 4706 or michael.sluming@aintree.nhs.uk
For LSTM Press contact Jayne Moore – Moore Media T: 0151 244 5526 M: 0777 384 6962 E:jayne@mooremediauk.com