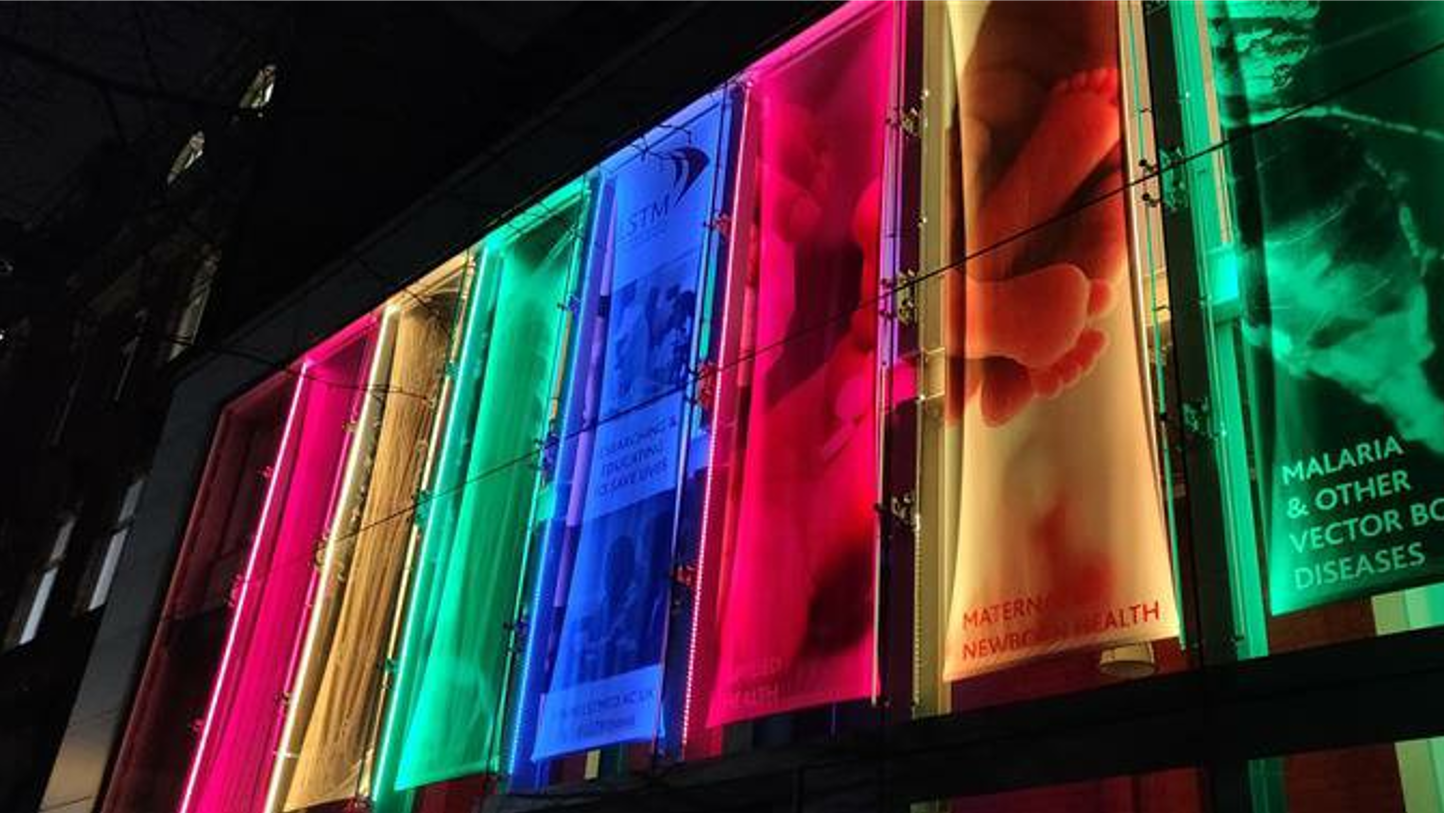 LSTM's estate will light up in the colours of the rainbow to raise awareness of LGBTQ+ History Month this February.
LGBTQ+ History Month is an annual celebration that provides education and insight into the issues faced by the LGBT+ community and works to combat prejudice against them.
It has taken place each February since 2005 in the UK and observes lesbian, gay, bisexual, and transgender history, and the history of gay rights and related civil rights movements.
LSTM's LGBTQ+ Network has organised a varied programme of virtual events for 2021 with something for everyone. Students, staff, friends, and the wider community are warmly invited to join us in celebrating and commemorating LGBTQ+ history. The theme for this year is 'Body, Mind and Spirit.'
James McMahon, LSTM LGBTQ+ Network co-chair said "I am delighted that we have the full support of LSTM to celebrate LGBTQ+ History Month.  We have such a diverse staff and student body so it's fantastic to see LSTM recognising the LGBTQ+ communities' contribution to the university."
The overall aim of LGBTQ+ History month is to promote equality and diversity for the benefit of all. This is done by:
Increasing the visibility of LGBTQ+ people, their history, lives, and experiences in the curriculum and culture of educational and other institutions, and the wider community.
Raising awareness and advancing education on matters affecting the LGBTQ+ community.
Working to make educational and other institutions safe spaces for all LGBTQ+ communities.
Promoting the welfare of LGBTQ+ people, by ensuring that the education system recognises and enables LGBTQ+ people to achieve their full potential, so they contribute fully to society and lead fulfilled lives, thus benefiting society as a whole.
What's on?
Relaxation Sessions with Wellbeing Champion Lesley Bennett – To be run throughout February.
Wednesday 10th Feb (TBC): Talk: A personal view of Liverpool's LGBTQ+ history.
Friday 12th Feb:  LSTM LGBTQ+ Network Social & Quiz
Wednesday 17th Feb: Yoga with Marie sponsored by the LGBTQ+ Network – Click here to join
More events to be announced shortly. Follow us on Twitter (@LgbtqLstm) for regular updates throughout February.
For more information on LSTM's LGBTQ+ Network, visit: www.lstmed.ac.uk/LGBTQ+ 
Did you know? The rainbow flag is a sign of hope, social change, peace, and inclusion.
Read the story behind a more inclusive design.