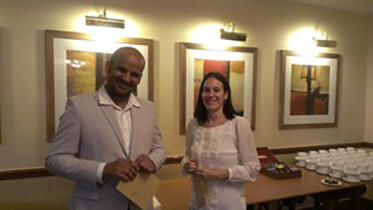 The annual Post Graduate Research Conference 2013, held in Liverpool's Marriott Hotel, was attended by more than 100 research students, their supervisors and interested LSTM staff members. 16 students gave a 15 minute presentation each on the subject of their thesis. In addition 18 students gave a poster presentation highlighting the various themes, aims, methods and outcomes of their research topics.
Congratulations to Waleed Al Salem and Vanja Kovacic and Waleed Al Salem (pictured) who both won prizes for the best talks.
Winner Vanja Kovacic presented on the 'Effect of Community Involvement on Sustainability and Cost-Effectiveness of human African trypanosomiasis Control Interventions.' As there is renewed vigour in efforts to eliminate neglected tropical diseases including sleeping sickness, efforts are being made to develop more cost-effective methods of tsetse control.
Runner-up Waleed Al Salem presentation title was on 'Cutaneous Leishmaniasis in Saudi Arabia: Characterisation of Parasite Isolates and Differential Clinical Responses to Treatment.'  Cutaneous leishmaniasis is the most prevalent vector-borne disease in the Kingdom of Saudi Arabia, but very little is known about its epidemiology.
The winners for best Poster presentation were Oluwakemi Tesfazghi on 'Maximising the Translation Potential of New Malaria Control Tools through Application of Health Economics and Policy Analysis', Clair Rose on 'The peritrophic matrix proteome of Glossina morsitans morsitans, vector of African trypanosomiasis' and Aymen Madkhali on 'The Binding Profile of Plasmodium falciparum Isolates that Express DBLβ to ICAM-1 Variants'.
Overall the standard of presentations and posters was extremely high and for the first time the conference could be followed on Twitter.