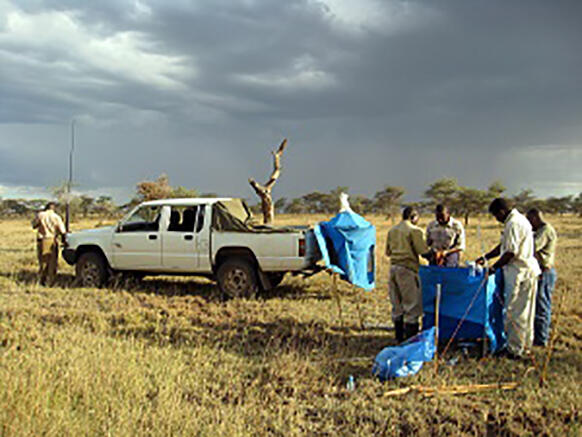 Researchers at LSTM are recipients of funding as part of a £20.5M committed by the UK to combat zoonotic diseases worldwide. Four UK Research Councils, the department for International Development (DFID) and the Defence Science and Technology Laboratory (Dstl) will fund the Zoonoses and Emerging Livestock Systems (ZELS) programme, which has been launched in London today.
Zoonoses are diseases that are capable of passing from animals to humans and ae estimated to have cost more than $20BN in direct costs globally between the years of 2000 to 2010. As well as threatening human and animal health zoonoses affect livestock production, causing economic and social harm to communities in developed and developing countries.
Over five years the ZELS programme will fund 11 projects in developing countries in Africa, south Asia and south east Asia, bringing together expertise from the human and animal health sectors. One such project is being led by LSTM's Professor Steve Torr and will focus on the damage caused by sleeping sickness.
Tsetse flies transmit trypanosomes, microscopic parasites which cause sleeping sickness (Human African Trypanosomiasis or HAT).  There is no preventative vaccine or drug for the disease and it is ultimately fatal if left untreated.  In eastern and southern Africa, about 12 million people are at risk of Rhodesian HAT, an acute form of the disease caused by Trypanosoma brucei rhodesiense.
Professor Torr explained: "Rhodesian HAT is especially difficult to control because the trypanosome which causes it is present in a range of wild mammals and livestock.  In wilderness areas, tsetse flies infected after feeding on wildlife can spread the disease to people and livestock in surrounding areas, and livestock can consequently become a source of further infection to people.
"Over the next three years, our team made up of researchers from the UK, Tanzania and South Africa will identify cost effective and 'ecologically smart' strategies to control HAT in order to protect local people living around the Serengeti, focusing on disease hotspots at the boundary between wilderness and settled areas.  Tsetse flies also carry other trypanosomes that cause serious disease in livestock, so control of HAT will also bring added benefits in reducing livestock disease and boosting the productivity of small-holder farmers."
Entitled Tackling Human African Trypanosomiasis on the edge of wilderness areas, the project involves six institutions, including LSTM and will receive around £600,000 in funding. During the three years researchers will develop recommendations for farmers, doctors, veterinarians and managers of wildlife areas for control of the disease in humans and animals in the Serengeti area, and generate guidance on monitoring and managing HAT in wilderness areas.
Collaborators on the project are LSTM, The Roslin Institute, University of Edinburgh, Scotland's Rural College, University of Glasgow, South African Centre for Epidemiological Modelling and Analysis, Tsetse and Trypanosomiasis Research Institute in Tanzania.