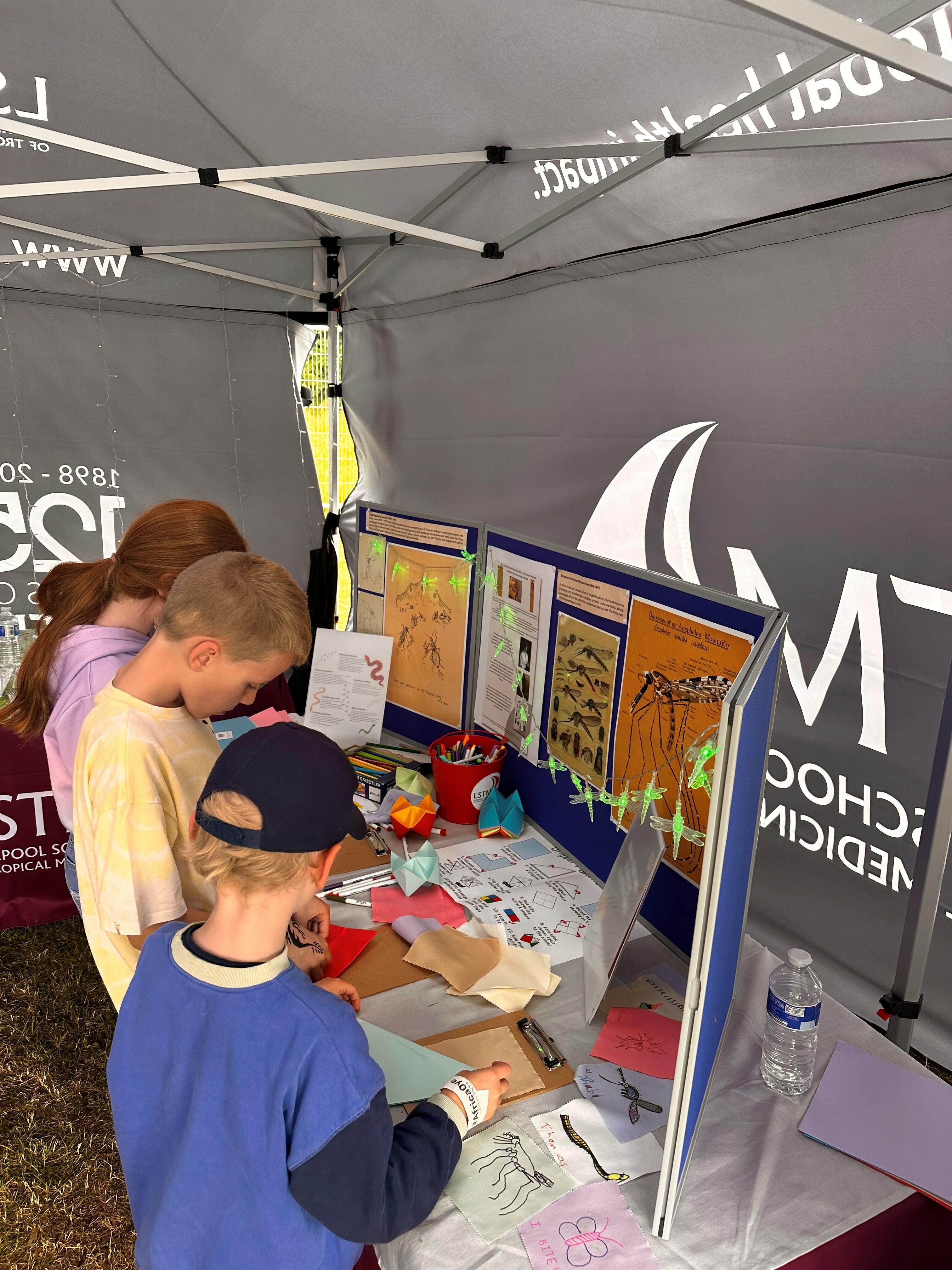 The weekend saw Africa Oyé, the UK's largest annual free celebration of African music and culture, take place in Sefton Park in Liverpool.
Over 400 festivalgoers had the opportunity to explore elements of Tropical Medicine Time Machine, transporting them across the annals of LSTM's past, present, and future learning about our vital work in the areas of disease vectors, travel health, public health, and microbiology. The Tropical Medicine Time Machine was created by Sci-Art practitioners Tom Hyatt and Natasha Niethammer and funded by The National Lottery Heritage Fund, as part of the project 'LSTM-Past, Present, and Future.'
To celebrate LSTM's 125th anniversary, its staff and students have worked with Tom and Natasha bringing together the institute's science and history in a unique way. The Africa Oye audience were immersed in the stories of how LSTM's early scientists have impacted on its science and work today, and how this legacy is addressing the major health challenges facing humanity now whilst inspiring the next generation of scientists.
The Tropical Medicine Time Machine was operated by a team of scientists including Vector Biology's Naomi Dyer, Christida Wastika, Alessandra Lanfrancotti, and Dr Lucas Cunningham and International Public Health's Neele Wiltgen Georgi who engaged the audience with their research.
LSTM's Public Engagement Manager, Dr Elli Wright, commented: "LSTM has a regular presence at Africa Oye, and it was wonderful to bring the Tropical Medicine Time Machine to the festival audience. Everybody was incredibly engaged - with many questions being asked by the visitors including why people are susceptible to mosquito bites and how LSTM is able to work with communities in Sub-Saharan Africa and beyond."
This work is funded by The National Lottery Heritage Fund in partnership with LSTM Past, Present and Future, reflecting on the school's history as part of its 125 year anniversary. LSTM would like to thank lottery players for their support in enabling this important project to go ahead.