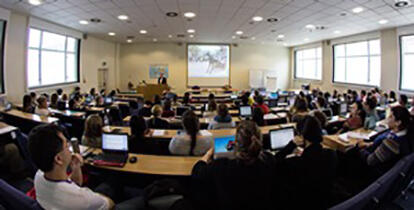 This week 88 doctors from as far afield as Australia, China, Pakistan, USA and Europe, join us for the three month Diploma in Tropical Medicine and Hygiene (DTM&H).
For over 100 years LSTM has been delivering the course to assist physicians preparing for or practising in tropical and resource constrained settings. Our graduates go on to work with government and non-government organisations throughout the world.
The intensive three month course is accredited by the American Society of Tropical Medicine and Hygiene (ASTMH) and is taught through a mix of lectures, practicals, tutorials and a range of seminars which provide opportunities for small group work. Written and practical examinations are held at the end of the course.
Director of Studies, Dr Tim O'Dempsey said: "The course is a must for those wanting to practice in the tropics. We explore the clinical presentation, diagnosis and management of children and adults with diseases that are common in resource constrained settings, including the world of parasites and insect vectors, with plenty of 'hands on' experience in the lab. We also emphasise the importance of public health, including social, cultural and economic factors that impact on health and well-being, consideration of which is crucial both for an understanding of epidemiology, and for the successful planning, implementation, monitoring and evaluation of health services and disease control programmes."
He continued: "Physicians come from all over the world to participate in the course, and we aim to provide them with the best possible learning experience. Over the course of three months, we share our experiences, becoming a 'community' of learning.  As we move on, into new or different 'communities of practice', we continue to communicate and support one another long after the course is over."
The next course will start in September this year and details of entry requirements and application forms can be found on LSTM's website.