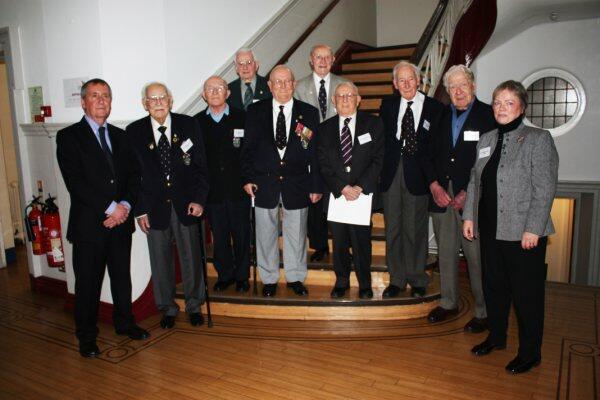 Sixty six years after their incarceration as Far Eastern Prisoners of War (FEPOW), eight veterans are being reunited at Liverpool School of Tropical Medicine (LSTM) today to discuss their experiences and contribute to a unique education website.  The veterans, aged between 86 and 95, represent the last remaining survivors from over three and a half years captivity under Japanese forces during WWII.
LSTM's Professor Geoff Gill has invited the veterans to be guests of honour at the historic FEPOW medical history meeting and is chairing a round table discussion between the veterans and an audience comprising representatives from the Imperial War Museum, Queen Mary's Hospital Roehampton, medical military personnel, FEPOW historians and medical researchers.  One of the subjects under discussion is how tropical diseases continue to affect the armed forces today, an issue that will be explored at this meeting by LSTM alumnus Lt Col Mark Bailey, Royal Army Medical Corps Consultant Physician at the Royal Centre for Defence Medicine.
FEPOW Steve Cairns, aged 92, is travelling up from Somerset for the historic meeting. He was a patient in Liverpool in the late 1940s.  He says: "I owe a great deal to LSTM and the nursing I received at both Mossley Hill and Smithdown Road hospitals.  My experiences there laid the foundation for a lifetime in FEPOW welfare work.  I believe FEPOW everywhere owe a debt of gratitude to the work carried out by staff at LSTM and I am proud to have played a part in it."
Teachers and sixth form pupils from Pensby High School for Girls are participating as interviewers. The students are working with LSTM's Meg Parkes and Professor Gill, whose longstanding work in this area has culminated in this project, which is being funded by the Heritage Lottery Fund.  David Ritchie, Head of History at Pensby says: "For some years we have investigated the impact of WWII on both soldiers and civilians. The opportunity to work with LSTM to investigate aspects of FEPOW history will provide the students with an invaluable cross-curricular learning experience."
More than 2,000 FEPOW are known to have received medical treatment by staff at LSTM since 1946 including several of those in Liverpool today.  Many others took part in tropical disease investigations up to the 1980s, contributing to research into a range of tropical illnesses that had affected them during their post-war lives.
 -ends-
For further information, please contact:
Alan Hughes, Communications Manager
Office: +44 (0)151 705 3308
Mobile: +44 (0)7759 243969 
Notes for editors
Liverpool School of Tropical Medicine (LSTM) has been engaged in the fight against infectious, debilitating and disabling diseases for more than a hundred years and continues that tradition today with a research portfolio in excess of £130 million and a teaching programme attracting students from over 70 countries.
The Heritage Lottery Fund (HLF) enables communities to celebrate, look after and learn more about our diverse heritage. From our great museums and historic buildings to local parks and beauty spots or recording and celebrating traditions, customs and history, HLF opens up our nation's heritage for everyone to enjoy. Since 1994 it has supported more than 26,000 projects, allocating over £4 billion across the UK.        
The Learning Lighthouse (TLL) aims to provide schools and the general public with an opportunity to access emerging, innovative technology, enhancing curriculum and enriching multi-media skills through interaction. Offering courses and activities for all areas of the curriculum, TLL specialises in multimedia, digital imaging, music technology and in particular video production