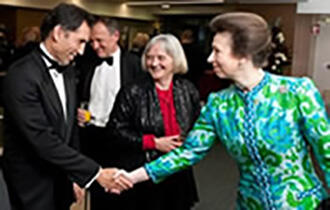 HRH The Princess Royal was guest of honour at LSTM's Annual Vice Presidents meeting held in London earlier this month.  The Princess, Patron of LSTM since 1990, heard Director Janet Hemingway report on a year of consistent progress and delivery against strategic objectives.
"Despite the challenging economic climate, we have continued to expand, increasing our research grant and contract income and introducing new learning and teaching programmes.  It was a great honour and a tribute to the hard work of everyone involved to be able to report on so many achievements," commented Janet.
Reflecting on the year after the event, Janet said: "Each and every month in 2009 has been marked with a significant milestone for LSTM.  In January, a team led by LSTM identified the genetic basis for resistance to insecticides in one of the major malaria-carrying mosquitoes in Africa and in February, work began on a £1.4 million project with the University of Liverpool to develop antimalarial drugs which will work in new ways to overcome the parasite's emerging resistance to traditional drugs.  March saw the Malaria in Pregnancy Consortium, led by LSTM, being awarded with a further €3.6 million from the European and Developing Countries Clinical Trials Partnership, to undertake research to optimise the use of antimalarial drugs.
In April, LSTM launched a Diploma in Humanitarian Assistance based in South Africa, to ensure that local humanitarian workers have access to specialist training in planning for and managing disasters to minimise suffering and loss of life.  In May, we began a £1.1 million project to develop a field screening kit to detect resistance to public health insecticides in mosquitoes to allow control programme staff to act to more quickly to control resistance and hence the spread of disease.
In June, LSTM scientists helped to develop an ingenious new technique to co-opt adult mosquitoes into applying insecticides onto their own breeding grounds and in July, we began working with partners and universities across Africa as part of a £30 million initiative to strengthen research into science and health on the continent, funded by the Wellcome Trust.
In August, we began a €1 million project to provide technical assistance to the Libyan government to finalise the development of a national HIV strategy and programme of support and in September, we announced the establishment of a UK International Health Links Centre to provide information, advice and guidance for those involved in developing and strengthening links between health organisations in the developing world and in the UK, supported by the Department for International Development (DFiD).
In October, a team of our scientists announced the development of a tool to more effectively calculate antimalarial drug doses using age-based dosing regimens and in November, I congratulated the first students to graduate from Syria's Centre for Strategic Health Studies, established by the Syrian Ministry of Health with in depth support and training from LSTM.
Finally, December saw the Centre for Neglected Tropical Diseases, hosted here at LSTM, receive a £10 million grant from DFID to support countries in tackling lymphatic filariasis  – a crippling disease more commonly known as elephantiasis, causing acute illness, disability and disfigurement.
I would like to take this opportunity to thank our staff here in Liverpool and around the world and all our partners, funders and supporters for the part they have played in helping us to make a difference to the health and welfare of people in disease endemic countries in 2009."
-ends-
For further information, please contact:
Alan Hughes, Communications Manager
Email: a.p.hughes@liv.ac.uk
Office: +44 (0)151 705 3308
Mobile: +44 (0)7759 243969 
Notes to Editors
The Liverpool School of Tropical Medicine (LSTM) has been engaged in the fight against infectious, debilitating and disabling diseases for more than a hundred years and continues that tradition today with a research portfolio in excess of £140 million and a teaching programme attracting students from over 70 countries.